Take Caution: Re-testing Key Resistance Ahead of Fed/Earnings/NFP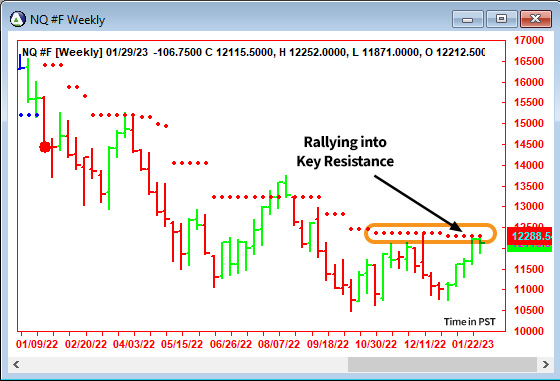 With the strength of the market this month, many are feeling like the worst is behind us, but not so fast. We've been talking a lot about the great opportunities to catch this swing higher, but that's what it was, a swing trade.
After several months of downward pressure on the markets, a bounce could play out as it did, simply as a function of market dynamics. Interestingly, we find ourselves again, at this key resistance level, just ahead of news. This is not to say it it cannot continue up through.
On the contrary, we had been viewing this level as a potential roadblock, as part of our analysis weeks ago when we were considering the long trade. We point to weekly resistance as a potential target for short term trades. Or for longer term analysis, certainly looking to lighten exposure.
This makes even more sense here, ahead of Fed, earnings on mega-caps: META, AAPL,GOOGL, and AMZN, and then non-farm payrolls on Friday.
Join us for Live Analysis & Education
Join us Tuesdays and Thursdays at 5pm ET (2pm PT)
Ron Carbone -Veteran Trader & Educator at AbleSys will go over the latest AbleTrend trades on the chart: Click here to sign up
You can also view the latest recordings on demand by accessing the webinar archive
Test Drive AbleTrend: 30-day Trial Offer
---