1. The Signals
Experience Trading Clarity with Proven Signals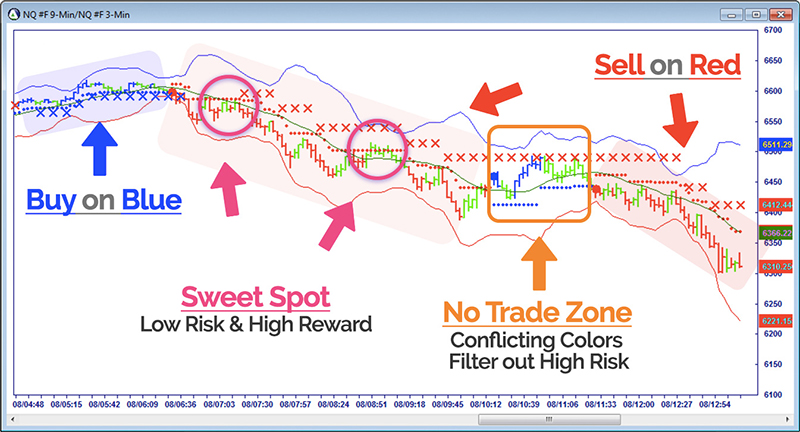 Our Signature Guidance Chart combines two time frames to produce a stronger signal.
Filter out choppy market trading signals, which would be losing trades.
2. Software
Intelligent Workspace Design, Intuitive Charting Package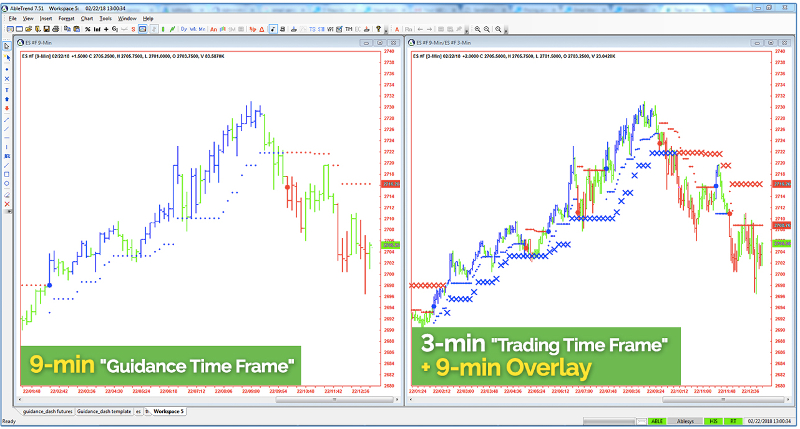 Trade with the Strong Hands
Following our best practices, we overlay signals generated from a longer term guidance time frame on to our trading charts.
For example, by overlaying 9-min signals onto our 3-min chart, intraday traders can make sure that they are trading with favorable odds.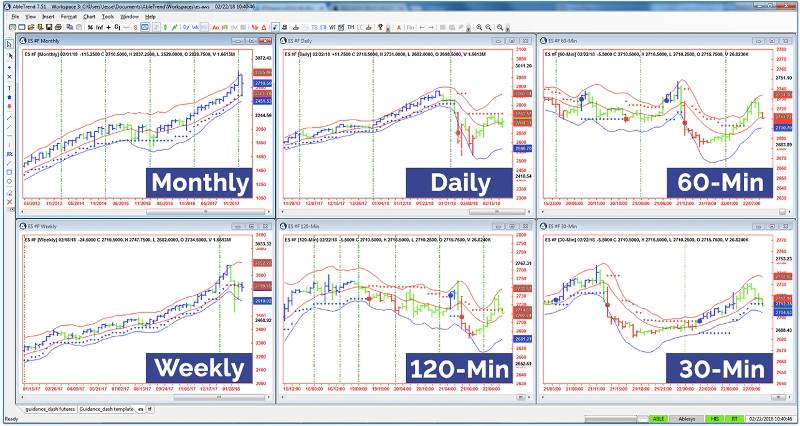 Never Lose Sight of the Big Picture
The best trades are made when you have the full perspective for long term & short term market participants.
AbleTrend makes it easy for you to gain perspective at-a-glance.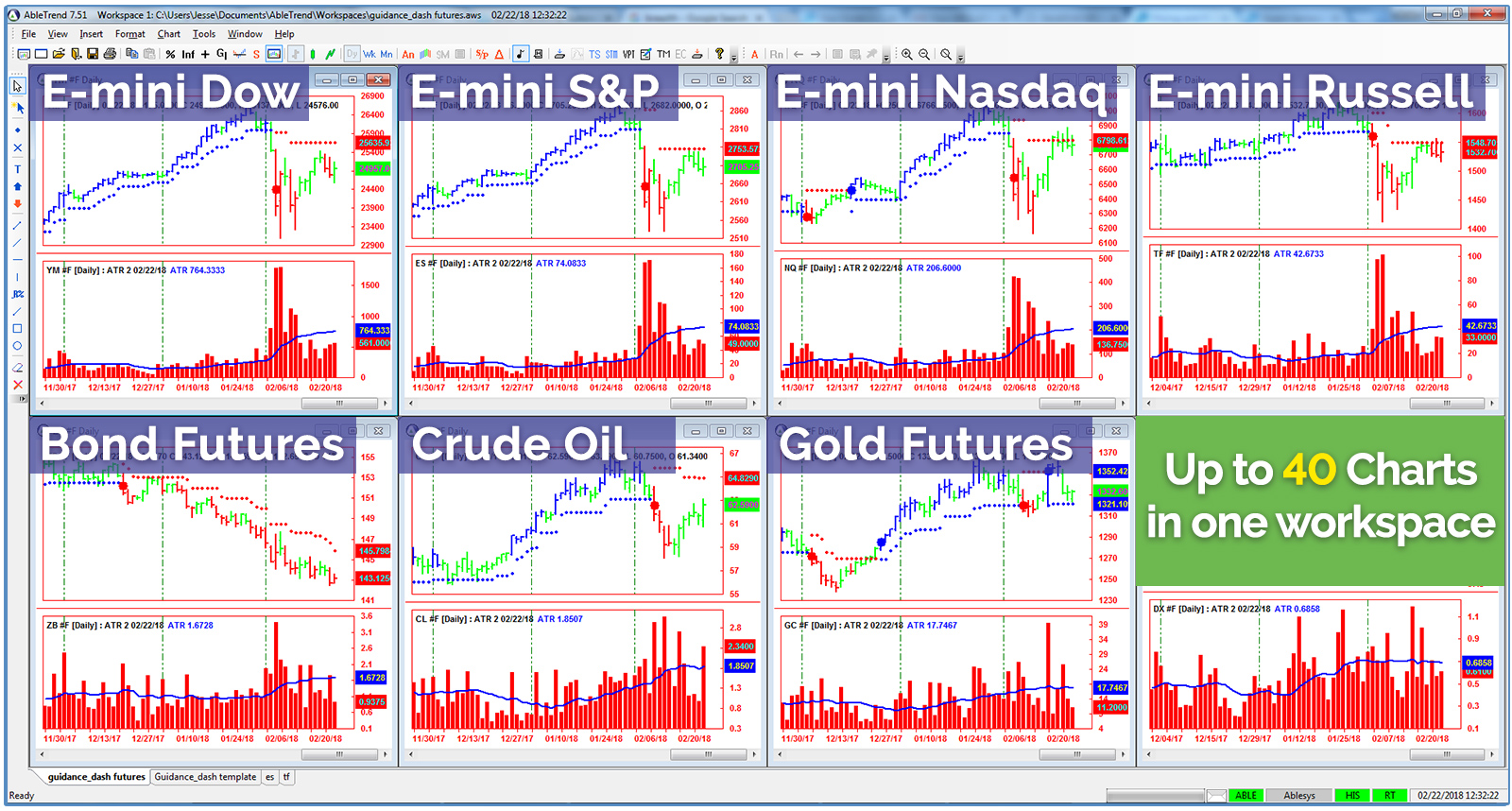 See the Market Trend At-a-Glance
AbleTrend displays up to 16 charts in a workspace. Configure your charts once, then track the key markets & manage total portfolios at-a-glance.
The efficient framework of the software smoothly runs up to 16 workspaces simultaneously.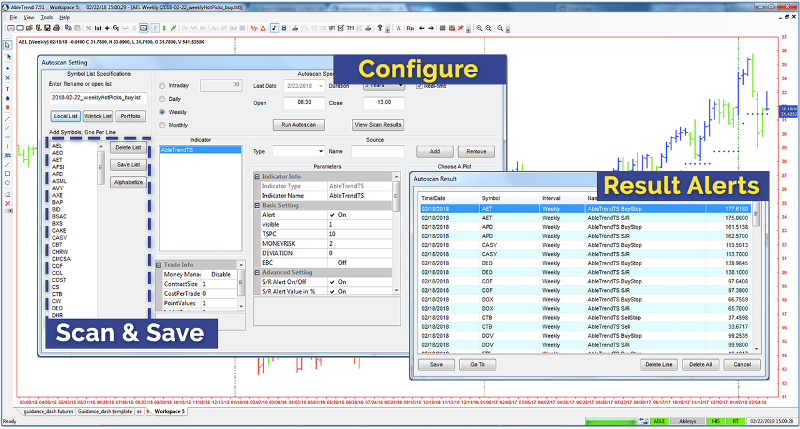 Never Miss Another Opportunity
AbleTrend's Autoscan feature allows users to scan and manage symbol lists. Run the scan and AbleTrend generates a complete alert results list.
Visually scan through results to discover timely new trade setups.
Seamless Data Connection
Streaming Data Included for Stocks and Futures (15-min Delay).
Real Time Streaming Available via eSignal or Broker Supported Connections.
ADD-ON AbleTrend Signals are also available as an add-on for NinjaTrader, eSignal and TradeStation.
$128

FOR 30-DAY

Full Version of AbleTrend 8.0

Trial Package Details:
FULLY functional for any markets: stocks, futures, e-mini.
FREE one-on-one training and trading consultation ($$$ value).
FREE technical support with TOLL FREE phone number.
FREE 15-min delayed data of the US and global markets ($80 value).
FREE one month WinTick Professional for stock picks.
FREE webinar and training resources.
You have no any obligation to renew or to buy anything.
30-Day trial is an one-time deal for new users only, and only once.
Risk-Free 30-Day Trial
Try AbleTrend for yourself for just $128,
there are no trick or automated billing after the trial.
Your trial price can be credited toward lease or purchase.
If you don't absolutely love AbleTrend after trying it for yourself,
we'll refund you the cost of the trial.