AbleTrend Mobile (ATM)
AbleTrend Mobile (ATM) app provides trading signals of AbleTrend indicators for mobile phones and pads. It covers 15-min delayed the U.S. and global equity and futures markets. You may use ATM app to watch the trading signals anywhere and anytime.
What is AbleTrend?
AbleTrend is trend-following indicators that identify trend changes instantly.
AbleTrend provides objective support resistance levels.
AbleTrend trading signals are award winning and time tested. ATM includes AbleSys classic TS indicators. Also, it includes other trend-following indicators, such as STARC bands, MACD and Moving Average etc.
Currently most trading apps at market place are like a "quote" table - providing stock data information. ATM is different. It's designed to be simple and straight forward. It's right to the point providing two key information for users: (1) trend (market direction) and (2) key support/resistance. You will clearly know your positions right or wrong at anytime. It specifically tells when to buy or sell, when to exit, where to place stops, and guides you through the trades at any moment when you need help or advice. This is the major difference between our ATM and other trading apps.
ATM is a mobile app for Android OS 4.0 or above mobile devices - tablets or phones, such as Samsung, Motorola smart phones etc.
Features of ATM
Streaming AbleTrend signals

Unique "trend scale" indication for each symbol

Intraday, daily or weekly charts

Multi workspaces open - quick tracking your stock portfolio

Easy swipe workspaces
Easy swipe charts

30-40 multi-charts simultaneously running

Signal alerts

Stock data included ($100/month value)

Turn key classic mobile app operations
---
Workspaces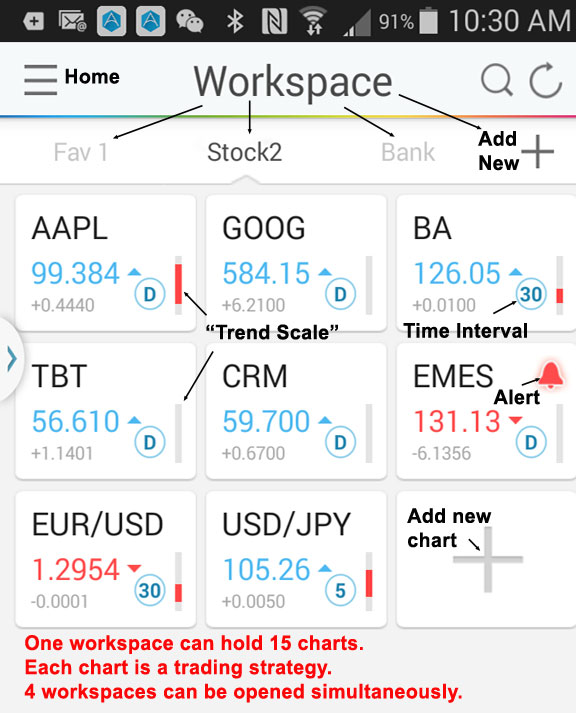 "Trend Scale" empowers you to see all of your market trends, and how strong the trends are at a glance. Blue indicates uptrend and red indicates down trend. When you open ATM, it will go to the first workspace directly. You may simultaneously open 4 or more workspaces, each workspace can hold up 15 charts, and each chart is a trading system (strategy). Workspaces are cloud-based, you can get anywhere and anytime with different devices. Easy swipe to change to another workspace. Touch the symbol, it will show up the trading chart.
There is no complicated manual needed for this app. everything is easy and straight forward. If you know how to use smart phone, you have no problem to learn the operations of this app.
---
Trading signal charts
Default trading signals of AbleTrend are automatically applied to each chart - buy/sell/stop/exit signals. You may change its time interval - 15, 30, 60, 120, 240-min, daily, weekly or monthly. You may change style of the chart (bar, candlestick or line), also change indicators.
You may swipe (right or left) the top part of the chart to view another chart in the workspace
You always can go to "Home" (see icon above chart) at any time, then quickly go to another workspace or search a chart.
Touch symbol name on top part to change symbol.
Touch the interval icon on top part to change interval.
Swipe down to show the quick setting bar and icons.
---
ATM "Home" menu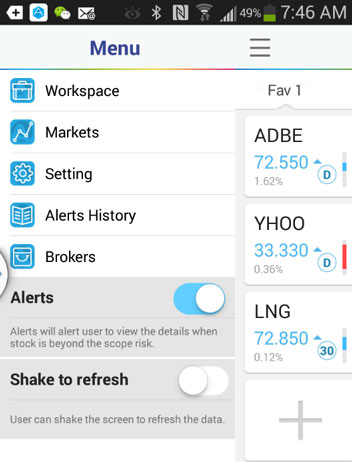 ---
Alerts

If there is any alert, you will hear the alert sound, with one touch the alert icon on the top of your cell phone it will go to the chart.
For Apple's iOS, such as iPhone, iPad and Mac, our ATM app will come in the future.
---
Testimonial
"I am very pleased with AbleTrend Mobile. My business is such that from April till December, I am rarely able to be near a computer. I wait for the AbleTrend signals and place an order through my broker...all from the convenience of my phone. I also trade weekly options and never get into a trade till AbleTrend Mobile confirms on a daily and/or hourly basis, the direction I am trading. I would definitely recommend AbleTrend Mobile to anyone who loves to trade but the busyness everyday life keeps them from being able to sit in front of the screen all day." - Dave Wolski, Oswego
---
---
Known Issues:
If CPU of your mobile devices is not strong, don't open too many workspaces and charts simultaneously. Also, based on screen size, find your own limit how many charts in one workspace.
Because it's a mobile app, performances are depended on speed of your Wi-Fi and networking connection (3G or 4G).
Sometimes if the ATM app opens for hours, and might losing connection with our servers, you may hold the bottom button for a few seconds to show all opened apps, then swipe to close the opened ATM. After this, open ATM app again for a fresh connection.
Place orders to broker's account (order executions) is still under constructions. At this time, open both ATM and your broker's order apps at the same time, switch back & forth to place orders.