Trend is a trader's best friend. Enormous profits can be made if one can identify a trend at its early stage and be able to follow it with minimum risk. AbleTrend has been designed to seek to do just that. Now with the new release of AbleTrend 7.0 Portfolio Performance (APP) module you will have the power that other professional fund managers lack.
AbleTrend Portfolio Performance (APP) module is a new milestone of AbleSys and major release in last 25 years. With more than two decades of cumulative feedback from AbleTrend users worldwide and continuous endeavor in researching and developing, we have now brought the AbleTrend to a new level of excellence.

Only AbleTrend has won Stocks & Commodities magazine readers' choice awards of triple* trading systems for 23 years in a row (1997 - 2019).
*including stock trading systems, futures trading systems & option trading systems
WHAT IS ABLETREND PORTFOLIO PERFORMANCE (APP)
APP is an add-on module for AbleTrend software, a fully automatic portfolio scan and tracking system with statistical back-testing system performance reports. It provides 100% mechanical buy and sell signals with visual equity line comparisons. It's designed for fund managers to select markets, to know the best combinations, to tract portfolio performances vs. S&P 500 index or other indices, to compare buy/hold strategy with system trading models etc. Most functions are just one click away. This APP brings most wanted features of fund managers to every ordinary investors or traders. After using APP you will never trade portfolios like before!
APP use AbleTrendTS trading signals which are based on the time-tested, award-winning AbleTrend technology. Unlike other systems depending on curve fitting, AbleTrend reveals the fundamental principle of the market moves, therefore it is dynamic and universal for all markets. It makes no difference whether the markets are stocks, bonds, futures, commodities, forex or any other freely traded markets. The new automatic system-scan capability is built in for optimal parameters and exit rules. Multi-market AutoScan works for both real-time and end-of-day, also it works for intraday, daily or weekly charts. Its incredible progressive adaptability to the ever-changing markets makes APP is second to none! What is even more fascinating is that you can adjust the risk factor according to your personal preference. Equipped with this most sophisticated technology, you can trade like a pro.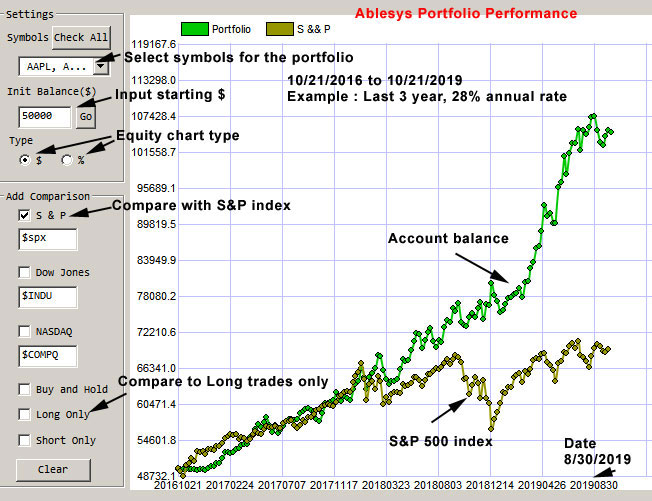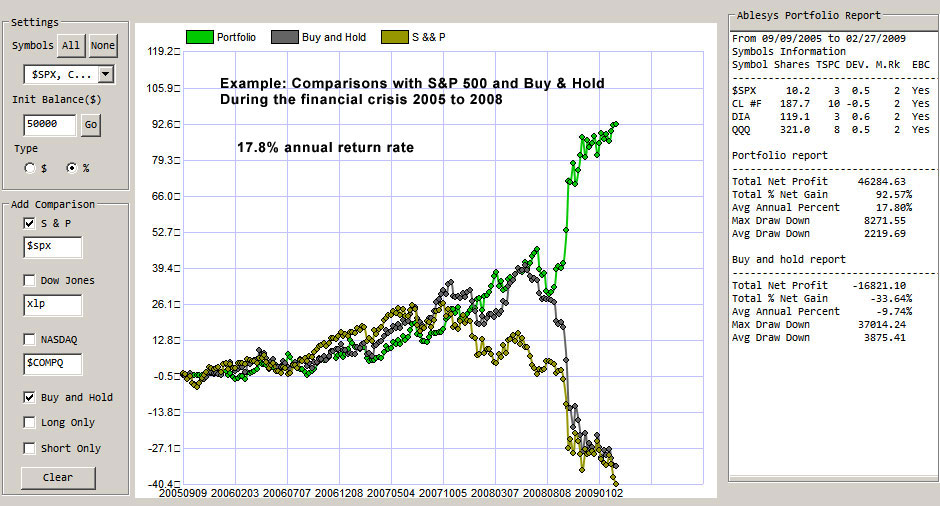 Order APP Module You must have AbleTrend 7.0 EOD version or above to use the APP.
EASY TO LEARN AND USE
Simplify, simplify and simplify. While some people like to make simple things complicated, we are able to make complicated things simple. The new APP is base on AbleTrend workspace – each workspace is portfolio. It can hold 40 charts simultaneously, it can be weekly, daily ot intraday charts. First you use a table to setup your portfolio. With one click, AbleTrendTS will auto scan to pick up the optimal parameters for each market. With another click APP will popup equity chart comparisons of the portfolio, you may see its performance vs. S&P 500 index directly. APP also has another major function to scan all type of market combinations, and show you what the best combination for your markets. Back testing reports and equity lines information can be output and save.
On each chart of the workspace AbleTrendTS will provide specific buy/sell signals with Large Blue Dots or Large Red Dots along with sound alerts. There are no complicated charts to interpret. Overall, the APP add-on to AbleTrend trading system is designed to be focused, flexible, fast and friendly. You have complete power, and yet you will find it is easy to learn and use.
ADVANCED CONCEPTS
AbleTrend integrated some of the most advanced knowledge and some of the most brilliant concepts ever published about the markets in the last three decades. Although the concepts underlying AbleTrend are based on extensive knowledge and complicated logic regression, AbleTrend itself is simple, visual, easy to use and accurate. In general, Stock and Commodity trading has large potential rewards, but also has large potential risks. Trading with a minimum risk is every trader's dream. You will see how well AbleTrend works in real time trading. Take a look for yourself, it is far beyond your imagination! AbleTrend is not like other programs on the market that work only under certain market conditions, for example, some only work with bull markets, but not the bear markets; or vice versa; others only work for a while and then fail. AbleTrend has been on the market for 13 years now, and it has performed in a variety of markets worldwide. The main difference is that most trading software programs are designed as a result of arbitrary ideas. They are mainly designed to trade against the market move while AbleTrend is based on the most fundamental principle of market move, and is automatically updated with every time frame. As many of you know the basic calculations of AbleTrend software never change in the last 30 years, same as its day one created.
SEEK PROFITS
With the back testing power of the time-tested AbleTrend system, it's like having a compass in the trading wilderness. What an incredible advantage for those who have it! AbleTrend 7.0 is a mechanic trading system, yet it's universal and dynamic to the fast changing markets. Seek huge profits with this most powerful tool ever created!
SEE THE DIFFERENCES
Over the 25 years, we have studied over 500 indicators and created over 100 of our own. Among all the indicators ever created, it is our opinion that AbleTrend is the most fundamental, powerful, practical, and reliable. In our opinion AbleTrend indicators are much more powerful than similar-looking systems sold from $4,000 to $30,000. At first glance, you might think other products on the market are similar to AbleTrend, but they are not AbleTrend. If you have other systems in hand, display them along with AbleTrend using the same data. You will clearly see the differences, especially in the vicinity of any key turning points. We think you will be able to separate the two after this simple comparison.
WIDELY-SOLD TRADING SOFTWARE
AbleTrend was first introduced to the market in 1995, and tens of thousands of copies have been sold since then. AbleTrend has been honored with the Readers' Choice Awards of Stocks & Commodities Magazine for 23 consecutive years from 1997 to 2019. Users have been enthusiastic about the program's performance, and many have renewed their AbleTrend lease year after year. A user comments "I have spent over $30,000 on trading software over the years. AbleTrend is the first piece of trading software that I come across, which is simple to use and has a built in algorithm that actually works and can consistently make money." Read what users are saying about AbleTrend in the testimonial section of this brochure.
WHAT'S NEW IN APP
One-click load portfolio table to full workspace.
Support up to 40 symbols in a portfolio.
More power in AutoScan – you may one-click to run AutoScan for whole portfolio.
Most wanted portfolio back testing reports using AbleTrend trading strategies.
Real-time AutoScan becomes reality for intraday charts.
Advanced portfolio setup - you may combine stocks, futures, forex, bonds etc. to one portfolio. And, you may select time intervals for each market and combine each performance to one report – net profits, maximum draw down, % gain / loss, Profit Factor, winning rates and much more.
Comprehensive Equity Lines comparison tool - You may show equity line of the portfolio for ALL markets or a part of markets, and one-click to compare with S&P index, or Dow, or Nasdaq, or Buy/Hold strategy, or LONG only or SHORT only etc. APP provides world class portfolio selecting and tracking tools visually to see its performances, and to know the best combinations for best profits or best maximum draw down etc.
In short, APP represents time tested strategies plus world class charting tools. It empowers you finding the best strategies, back testing them and winning in the real world trading. APP add-on to ASCTrend 7.0 is designed to be fundamental, focused, flexible, fast and friendly, so that well-integrated flow of information can be at your fingertips and at the right time.
COMPANY OFFER
For a limited time only, a special one-month trial offer is FREE that you must have one month trial of AbleTrend 7.0 trial for only $99. This is a full working real time version of APP for AbleTrend 7.0. You may use it in your actual trading to make profits, and you may back test any portfolio with your historical data and make your risk-free decision later. FREE tutorial video clips are on our web site for viewing online. You may do your own research and write a trading program the hard way - Or lease this APP program! This bargain price will not last long. Normally as in the past, our new released software price would be doubled or tripled in next a few months. This is a very limited new release offer.
As a result of 25 years of effort and huge amount of research funds, AbleTrend 7.0 and new APP are priceless. However, we at AbleSys appreciate the support from you in the past years, and would like to present you a very special New Release offer: if you order two year lease of the new APP module ($1000).
This special New Release offer will end on February 29, 2020.
Order APP Module You must have AbleTrend 7.0 EOD version or above to use the APP.
FAQ for AbleSys Portfolio Performance (APP)
APP is not AbleTrend software, it's brand new product of AbleSys specially designed for position portfolio trading.
How much is a 1month trial and how much after that?
It's $99 for 30 day trial. After it's $600/year or $999 for 2 years.
I already have a permanent license so how can I try it for 1 month?
We don't have free trial. 30 day trial is $99.
How does it work?
If you have a valid license of the APP, simply go to AbleTrend 7.0, click the "PP" icon to popup the APP Windows' interface.
How do you find the stocks?
APP is used for position trading with daily, weekly or monthly charts. You cannot threw any stock in, then expect good results. It's called "Garbage in and garbage out". The first thing to use APP is stock picking. You may use WinTick seamlessly to select potential stocks from those lists by "AutoScan":

WinTick Expert
Hot Watch List for Next 2 Weeks with Buy/Sell Signal
Weekly Buy Signal
Top Rated Stocks for Position Trading
Best Performance Stocks for Position Trading

Refer how to AutoScan with WinTick.
If when your back testing and changing the signals your curve fitting and anyone can look back and curve fit and make the back testing look good. Isn't that wrong and dangerous going forward?
Back testing for position trading at least need run 3 to 10 years with good results. The longer testing, the more reliable. It's rare suddently change completely in the next 2-3 months. This is common practice of most fund managers. If you cannot see the trading system winning in the past, how can you trust its winning in the future? You thought any trading systems can generate good back testing results. Wrong! Only few trading system can. Most software in the market don't have back testing ability at all. They cannot get good back testing results for a long time, or cannot work for any markets. They try to curve fit certain market in a short time. You simply cannot use those "trading system" or "trading strategies" without long term good back testing! Of course, hypothetical performance results have many inherent limitations. Past Performance is Not an Indicator of Future Results.
Order APP Module You must have AbleTrend 7.0 EOD version or above to use the APP.
IMPORTANT DISCLAIMER: ALTHOUGH WE BELIEVE THE INFORMATION AND THE DATA PRESENTED ARE ACCURATE, ABLESYS CORPORATION AND THE DEVELOPER NEITHER GUARANTEE THEIR ACCURACY NOR ASSUME ANY LIABILITY. PAST PERFORMANCE IS NOT A GUARANTEE OF FUTURE RESULTS. HYPOTHETICAL OR SIMULATED PERFORMANCE RESULTS HAVE CERTAIN INHERENT LIMITATIONS. UNLIKE AN ACTUAL PERFORMANCE RECORD, SIMULATED RESULTS DO NOT REPRESENT ACTUAL TRADING. NO ASSUMPTION SHOULD BE MADE THAT ANY ACCOUNT WILL ACHIEVE PROFITS OR LOSSES THE SAME AS THOSE SHOWN.