AbleTrend trading software identifies trend direction by color: Blue signals an UP trend, red signals a DOWN trend, and green signals a SIDEWAYS market.
STOPS are indicated by red dots and blue dots. Red dots are sell positions stops for down trend. Blue dots are buy position stops for up trend. AbleTrend stops are designed to help you stay in the big move with a minimum risk, yet not get stopped out.
AbleTrend trading software uses the state of the art features of AbleSys trading platform to generate bar and dot colors on your choice of 1-minute, 5-minute, tick, daily or weekly bar charts.
Traders worldwide have spent countless hours and millions of dollars trying to pinpoint trend reversals, with limited success. Part of the reason is that the traditional trend-spotting tools have been inaccurate…or slow…or both. Happily, all that's changed…
Powerful AbleTrend Software gives you a "Roadmap To the Future" for ANY Market
AbleSys Corporation, developer of the revolutionary S&P day trading system - the system used by many high-profile professional traders – has made trend-spotting instant and automatic with a powerful new program called AbleTrend. AbleTrend is 100% objective and 100% automatic. It is fully compatible with most popular platform real time streaming data feeds. It works equally well for stocks, ETFs, futures, Forex, bonds, mutual funds, options or any freely traded market.
AbleTrend trading software is actually four indicators bundled together into one comprehensive program. AbleTrend UP indicates uptrend by blue bars, AbleTrend DOWN indicates down trend by red bars, and green bar signals a SIDEWAYS market.
AbleTrend2 and AbleTrend 3 are TREND-STOPS indicators. Using the market's own rice action objectively, the TREND-STOPS give you specific stop points and profit targets for every trade. The stops are even adjustable according to your personal risk tolerance, so you can achieve maximum profits with minimum risk.
High Profits and Low Risk
Over the years, the developers of AbleTrend trading software have tested over 600 indicators, including more than 100 they developed themselves. Of all those 600-plus indicators, the four in AbleTrend are the most powerful, practical and reliable.
Only AbleTrend trading software has won Stocks & Commodities Magazine Readers' Choice Awards of triple* trading systems for 21 years in a row (1997 – 2017, *including stock trading systems, futures trading systems & option trading systems).
The 30-day trial version is a complete full working version for you to use for a whole month!
To order your software or to request details, please Sign Up Now, we'll send you the detail information. You may also Order It Online, and start to use it in a few minutes.
The 13f filing for Q4 of Warren Buffet's Berkshire Hathaway reported that the investor bought a large value of AAPL stock, which might be the main force that drove Apple stock to soar during the recent Apple stock uptrend. The problem is, a report such as this is not published until long after the quarter is over. If you follow the news in order to follow the big money, you will generally catch the trend late, and will be entering while winners are already taking their profit and driving the stock down. You may wonder if there is a tool that will give you a signal when the big money is starting to invest in a stock. Yes, there is! That's exactly what AbleTrend trading signals provide. Here is the AAPL chart with AbleTrend Guidance Chart signals applied.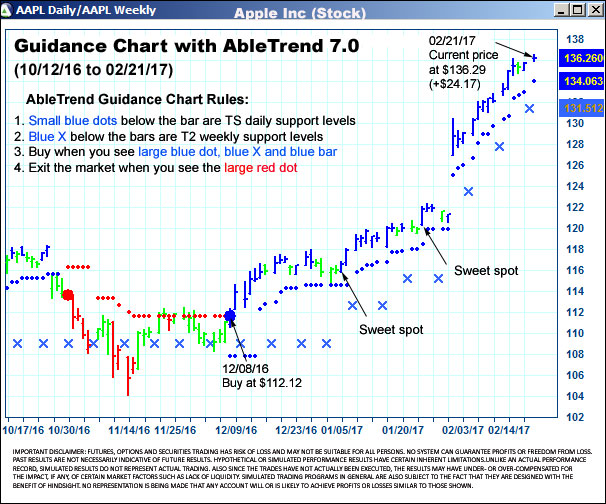 As we can see from the above chart, AbleTrend gave a buy signal at $112.12 on 12/8/2016 with four confirmations provided by AbleTrend's large blue dot, a blue bar, a small blue dot, and a large blue X. Each of these AbleTrend trading signals is independently calculated to offer strong confirmation of the final buy signal.
While it may be fun to talk about this as news, we could have done materially the same thing simply by following signals generated by the price action as clarified by AbleTrend Guidance Chart signals.
AbleTrend Guidance Charts can catch and follow big money activity for all stocks. Here are two more examples.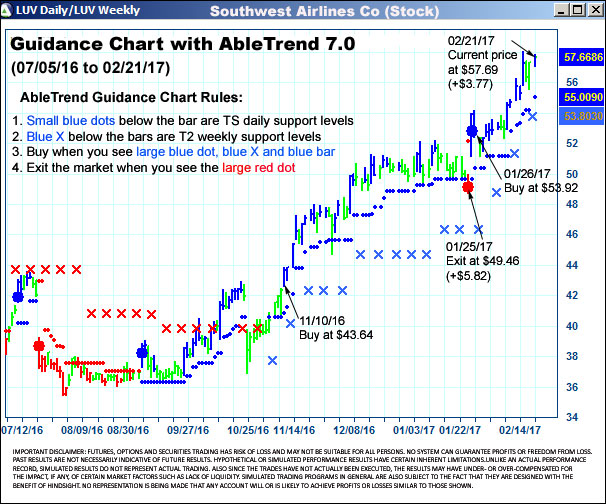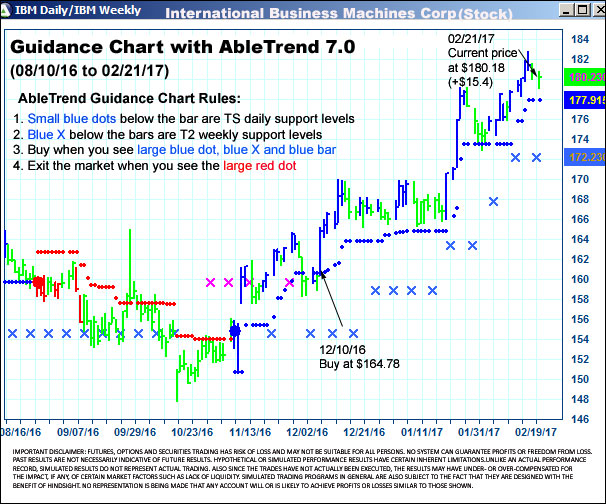 AbleTrend Guidance Chart Rules Are Simple and Consistent
AbleTrend Guidance Charts consolidate all the market information into clear trade signals that are simple and consistent, so that you can easily learn and master a skill that will serve you well throughout your trading career.
Get Prepared Now for the Upcoming Market Trends
President Trump's pledge for "phenomenal" tax reform pushed stocks to record highs. This is good news for traders because nobody can win when the market doesn't move. But how do we recognize real moves from short-term blips? AbleTrend Guidance Charts help you filter out false signals in choppy markets. When a real market trend...
more