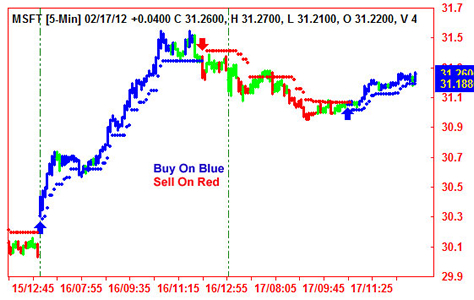 AbleTrend identifies trend direction by color: Blue signals an UP trend, red signals a DOWN trend, and green signals a SIDEWAYS market.
STOPS are indicated by red dots and blue dots. Red dots are sell positions stops for down trend. Blue dots are buy position stops for up trend. AbleTrend stops are designed to help you stay in the big move with a minimum risk, yet not get stopped out.
AbleTrend uses the state of the art features of AbleSys trading platform to generate bar and dot colors on your choice of 1-minute, 5-minute, tick, daily or weekly bar charts.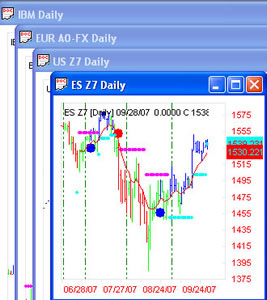 Universal and Robust
Trend is a trader's best friend. Enormous profits can be made if one can identify a trend at its earliest stage and be able to follow it with minimum risk. AbleTrend has been designed to do just that. Now with the AbleTrend 7.0 you will have the power that some major institutions lack.
AbleTrend is universal. It works with any market and with any time interval. It does not matter whether the market trades stocks, bonds, futures, Forex or any other freely traded market. It works well with Position trading, swing trading or day trading.
100% Mechanical and Automatic
AbleTrend has many time-tested trading strategies built-in. 100% mechanical trading system. Blue dots are Buy signals and red dots are Sell signals with sound alerts. Each of classical AbleTrend indicators and each built-in indicator can be back-tested.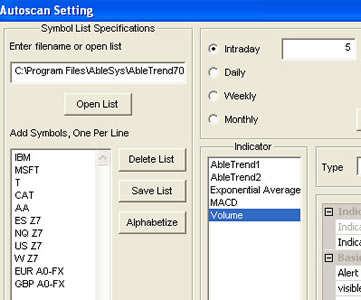 AutoScan
AutoScan monitors your custom symbol list in real time and gives AbleTrend Buy or Sell alerts instantly. All real-time AutoScan charts are updated by real-time tick data. This power greatly enables you to diversify your trading portfolio, find good trading opportunity in real time. It works for intraday, daily or weekly charts.
Simplicity
Simplify, simplify and simplify. While some people like to make simple things complicated, we are able to make complex things simple. Unlike many packages on the market, which need extensive chart analysis, or require "votes" from a set of traditional indicators, AbleTrend 7.0 provides specific buy and sell signals with no discretionary decisions to make and with no interpretation necessary. AbleTrend 7.0 is even powered with Parameter Auto-Selection (PAS) capability for optimal exits and optimal trading intervals.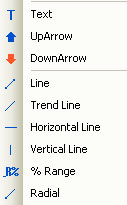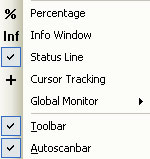 Comprehensive Tools
AbleTrend 7.0 = Time Tested Strategies + Comprehensive Charts & Tools
High performance is validated by back testing with historical data. Test your trading strategies before you risk your money in real trading.
Trade Virtually Anywhere
Through the Internet, AbleTrend software uses state-of-the-art online data, which includes real-time streaming tick data, 15-minute delayed data and end-of-day data. No other platform is required. All of the tick data and daily data are stored in central data servers. You may now trade virtually any market, anywhere and anytime in the world through the Internet. The data may be imported and exported through text files.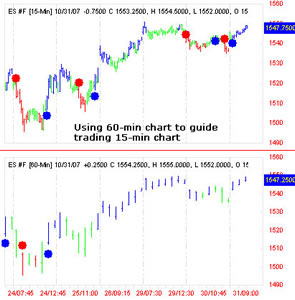 Advanced Charts
Single chart
Multiple chart
Percent chart
More workspaces & more charts
Each chart can hold 4 or more symbols. Each workspace can hold 16 charts. You may open 8 workspaces at the same time.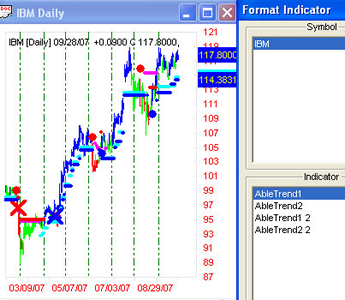 Each Indicator Is a Strategy
Each indicator can be added to the same chart a few times with different settings. It provides different trading signals on the same chart.
One click to add your custom analysis. One click will bring back all settings of your specific setup indicators, parameters, colors, style, weight are exactly the ways you had setup. You may easily share with your friends or other users.
30-Day Trial
Don't trade another day without AbleTrend 7.0! Price and Order

Only AbleTrend has won Stocks & Commodities magazine readers' choice awards of triple* trading systems for 20 years in a row (1997 - 2016).
*including stock trading systems, futures trading systems & option trading systems

AbleTrend has been ranked #1 in the Top 10 Most Popular Trading Systems by Stocks & Commodities Magazine
Testimonials
"Among all the trading software I bought, AbleTrend 7.0 is the most simple and easy to use, and it works." - Dr. Edward Christy, Michigan
More
If you have been searching for an advantage in the world of trading signal of stock trading, investing and technical analysis, the AbleSys Trading Signal, Trading Software and Trading System is for you. With industry leading programs, such as AbleTrend 7.0 Trading Software and ASCTrend trading software Indicators, you are utilizing the most insightful, powerful and popular software suite of its kind. Perfect as
swing trading software
and as
technical analysis software
, no other company in the financial world today can help you make more informed investing decisions. With more and more people jumping into investing on their own, the market is flooded with good intentions that often don't turn out for the best. You need a
stock option trading signal system
that can help to demystify the trading signals. AbleTrend 7.0 trading signal software and ASCTrend trading signal Indicators offer the best software,
stock trading analysis
, and execution in the industry. There is a reason why professional investors all over the globe use this software suite: because they want the latest information, the fastest trading signal executions and the easiest to read analysis instantly. Invest like a professional each time you play the market with AbleTrend 7.0 Trading Software, Trading Signals and ASCTrend trading signal Indicators.