AbleTrend Signals for Recent Popular Stocks
AbleTrend Signals in the Vicinity of Market Crises
Stocks and ETFs are most likely the cornerstone of your investing portfolio, but did you know that you can employ long-term and short-term strategies in tandem to achieve your investment goals?
Long term passive holdings are what most investors think of when it comes to owning stocks or ETFs.
These holdings can be simple, such as indexing with ETFs or index funds to track long term market returns
Investors can also select specific sectors, or bet on companies they believe in.
One of the key elements is that these assets can be held for over a year to gain favorable tax treatment as long-term capital gains.
Active trading foregoes the simplicity of the passive approach to try to time buys and sells around fluctuations in price
There are significant opportunities for additional returns for those who can buy when the price is low and sell when the price is high
Being able to tell the difference is not easy, but if done correctly, can result in far greater returns, especially on a risk adjusted basis.
That means equal or greater returns, for enduring equal or less volatility.
Options Strategies can be a way to achieve many specific investment goals.
Options can be used to hedge risk on positions, as in the case of buying puts (like insurance against on your stock holdings).
Investors can also buy options straight up (without the stock position) to gain leveraged stock exposure
Since most options expire worthless, many investors sell options to collect premium against their stock holdings.
There are many options strategies, but the exposure can be summarized as being more or less bullish/bearish. Buying options outright is more directional, and using spreads is less directional.
How can software help you with your stock trading?
Stock trading software is primarily going to aid investors in the active trading and options trading strategy area. Here are a few of the key tasks that software can help you with
Charting the stock price can help you visualize what a stock's price is doing and where it is going. Software should make it easy to see your stocks at a glance, and quickly tell if you should make any changes
Stock picking or stock selection is key to stock trading since some stocks move a lot & some stocks have a very steady characteristic. There are specific stock picking strategies that you can employ that would help you filter down to the stocks that will fit your stock trading strategy
Signals and strategies for when to buy & sell – this is the key to active trading, since the signals and strategies are your rules to know when to buy, how long to hold it, and how to manage the risk. Good stock picking & good trading signals work hand in hand.
To learn more about how the AbleTrend 7.0 software package can help you with each aspect of stock trading, check out the product info
---

Only AbleTrend has won Stocks & Commodities magazine readers' choice awards of triple* trading systems for 27 years in a row (1997 - 2023).
*including stock trading systems, futures trading systems & option trading systems
The 30-day trial is your first small step toward lasting trading success. By starting with AbleTrend, thousands of traders have gotten a fresh new way of looking at the market, and unlocked the magic logic of markets. After using AbleTrend, you will never see the markets in the same way before.
AbleTrend is a universal trading system software that can be applied to any market and any time chart. It provides specific buy, sell and exit signals with back testing reports. You may use the back testing reports and virtual paper trade simulations for verifying the trading strategies before you risk the real money. It's easy and straightforward. Most traders can clearly see how well the AbleTrends signals work in just a few days.
This provides you the first hand experiences to play the real full version of the software before you make the purchasing decision. You don't have to make either of those decisions yet! With our 30-day trial offer, you can experience our full suite of products & receive one-on-one online meeting consultation. The fee that you paid for the trial will be your credit for ordering our software within 30 days.
Click Here or email sales@ablesys.com or call 510-495-0976.
---
What Do You Get?
30-day trial is an one-time deal for new users only. You have no any obligation to renew or to buy anything.
Offers you the first hand experiences to evaluate and to test drive the software in any way you prefer.
FULLY functional for any markets: stocks, futures, e-mini, and bonds etc.
FREE web access of member login area for video training resources (over 10 hours).
FREE technical support with TOLL FREE phone number.
FREE one-on-one training and trading consultation ($$$ value).
FREE one month WinTick Professional ($60 value).
FULL credit of your trial money given (equivalent of FREE 30-day trial) towards any annual or permanent license upgrades within the trial period.
FREE AbleSys EOD data for indices, stocks, futures, commodities, mutual funds ($30+/month value)
The 30-day trial is for New User only and limited to one month only.
---
Example of stock chart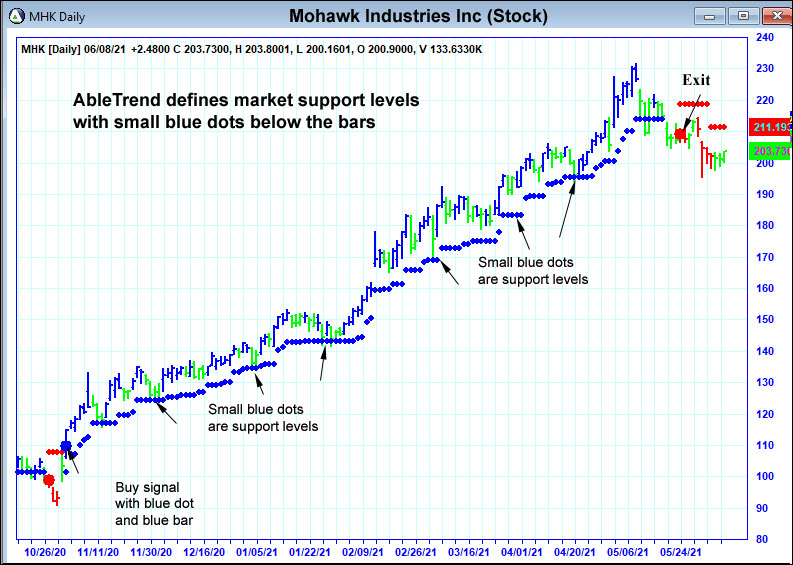 ---
---
---