For active futures traders, many traders primarily trade the E-mini products on the Chicago Mercantile Exchange (CME).
Trading the E-mini futures products has a number of benefits:
Simplicity: Trading the e-mini products provides a very simple way get long or short exposure to the market, particularly the stock indices like the S&P 500 (ES), NASDAQ (NQ), Dow (YM), and Russell 2000 (RTY).
Additionally, you can simplify your trading process, focusing on just a few e-mini products rather than ever changing watch lists.
Low trading costs & capital requirements: Most futures brokers have very low trading costs, and margin requirements for the amount of market exposure that you can get
Tax Advantages: Futures 60/40 tax treatment means that your gains from trading E-minis will receive favorable tax treatment vs gains from stock trades
What is a Trading System?
A trading system is a rules-based way to approach to the markets. A trading system is the foundation for your trading decision making. A winning trading system is one that gives you an edge & will help you to stay on the right side of the market.
Trading systems should encompass:
Trade identification – Where is there a Buy/Sell trading opportunity?
Open position management – How do you stay in your winning trades?
Risk management – Where to get out to cut losses short or take profit?
Since E-mini trading involves leverage, which magnifies both the gains and the losses, risk management is the most important factor for success. Opportunities become more plentiful for intraday traders when volatility increases, but it also makes it riskier. Timing entries for low risk, and using stops with discipline are the key factors for a successful E-mini trading system.
Identifying and Capitalizing on Opportunity
A key function of any E-mini trading system is to clearly define market entry and exit. This involves not only spotting opportunities but also recognizing when to take profits or cut losses. If the rules form an effective trading system, you should be able to get an idea of how a system would perform using historical price action.
Here's an example of how trading system results can be tracked over time:
You can sign up to get more details about the trading rules & historical model results on the page
Managing a live trade
By far, the most challenging aspect of futures trading is open position management. When the price action is moving fast & gains and losses are ticking up and down, it is quite easy to get bewildered.
Many times, traders will end up cutting off winners and letting losers run. A good E-mini trading system can help stop this from happening.
Significant support/resistance level
A good entry is one that starts working for you with minimal heat to start.
Staying in a position is easier when you know that key levels are protecting your trade. Prices will bounce of strong levels, allowing you to get the most out of your entries
Knowing the true support/resistance levels that are significant to the market helps you to get good entries & helps you to stay with your winners
If you're looking for a new system to improve the performance of your E-mini trading , check out the E-mini software solutions available at Ablesys today.
---

Only AbleTrend has won Stocks & Commodities magazine readers' choice awards of triple* trading systems for 27 years in a row (1997 - 2023).
*including stock trading systems, futures trading systems & option trading systems
The 30-day trial is your first small step toward lasting trading success. By starting with AbleTrend, thousands of traders have gotten a fresh new way of looking at the market, and unlocked the magic logic of markets. After using AbleTrend, you will never see the markets in the same way before.
AbleTrend is a universal trading system software that can be applied to any market and any time chart. It provides specific buy, sell and exit signals with back testing reports. You may use the back testing reports and virtual paper trade simulations for verifying the trading strategies before you risk the real money. It's easy and straightforward. Most traders can clearly see how well the AbleTrends signals work in just a few days.
This provides you the first hand experiences to play the real full version of the software before you make the purchasing decision. You don't have to make either of those decisions yet! With our 30-day trial offer, you can experience our full suite of products & receive one-on-one online meeting consultation. The fee that you paid for the trial will be your credit for ordering our software within 30 days.
Click Here or email sales@ablesys.com or call 510-495-0976.
---
What Do You Get?
30-day trial is an one-time deal for new users only. You have no any obligation to renew or to buy anything.
Offers you the first hand experiences to evaluate and to test drive the software in any way you prefer.
FULLY functional for any markets: stocks, futures, e-mini, and bonds etc.
FREE web access of member login area for video training resources (over 10 hours).
FREE technical support with TOLL FREE phone number.
FREE one-on-one training and trading consultation ($$$ value).
FREE one month WinTick Professional ($60 value).
FULL credit of your trial money given (equivalent of FREE 30-day trial) towards any annual or permanent license upgrades within the trial period.
FREE AbleSys EOD data for indices, stocks, futures, commodities, mutual funds ($30+/month value)
The 30-day trial is for New User only and limited to one month only.
---
Example of e-mini chart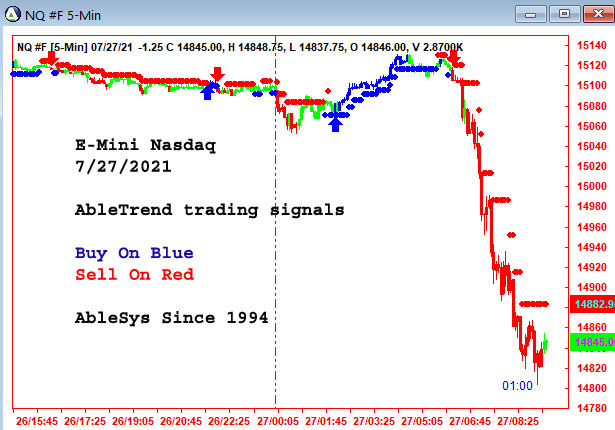 ---
---
---