Why Stockholders Need AbleTrend to Thrive in today's Volatile Market
Look inside to discover:
Market turmoil is the ultimate test of what's a super stock and what's not
Re-evaluate your portfolio with AbleTrend during today's volatile market
AbleTrend was designed to excel in volatile markets
AbleTrend singles out super stocks to buy on the dip
How to Use SQQQ and QID to protect one's stock portfolio
View AbleTrend signals in historical crises
AbleTrend: Trusted award-winning trading software for 26 years
Buy on blue, sell on red, for trading made easy
1.
Market Turbulence

Is the

Ultimate Test

of Whether You Have a

Real Super Stock

or Not

The stock market has seen a terrible start to the year, and many investors are bracing for it to get even worse. On Jan. 25 the S&P 500 index was almost 10% below its previous high, the Nasdaq-100 index was off nearly 15% from its peak, and the Russell 2000 Index was down almost 18% from its latest high. Many believe there have never been as many historically bearish signals facing the stock market as there are today. During this market turmoil, however, while ultra-speculative assets are leading the way down, resilient super stocks could find their floors under current prices. Super stocks continue to shine, but investors need a way to find them.
2.
Re-evaluate your portfolio

with AbleTrend during today's

volatile market

Market turmoil provides a chance to upgrade your portfolio. AbleTrend's buy on blue, sell on red signals help you distinguish with clear vision the super starts from overbought stocks. With AbleTrend color coded signals placed on the chart, you will be able to distinguish two types of stocks amid this stock market volatility:
a. Overbought Stocks with AbleTrend sell signals
b. Stocks that are testing AbleTrend support
With AbleTrend buy on blue and sell on red signals on the chart, you will clearly see the differences between overbought stocks and strong resilient stocks:
a. Examples of overbought stocks
A Trade Works Until It Doesn't. Trading the Right Stock at the Right Time is Key The awful truth about a roller coaster market is that both the bears and the bulls end up losing. The bears often act too early, and by the time the market rolls over, the vast majority have given up. The bulls, who have been told to buy every dip, stay in the trade much too late.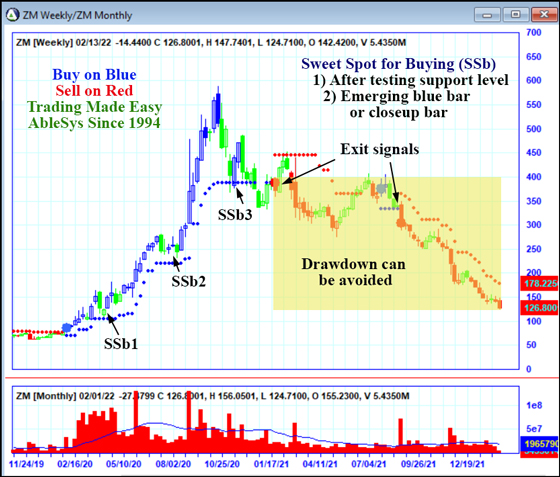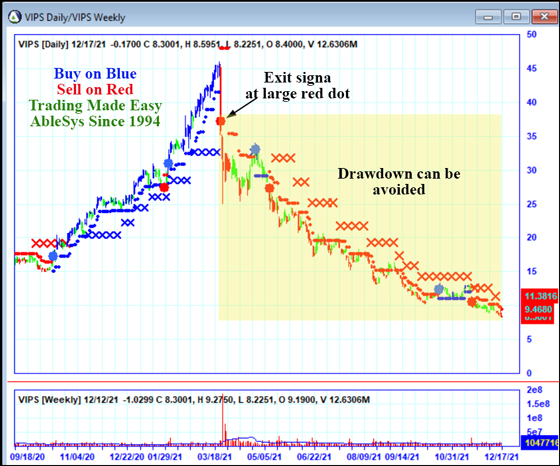 b. Examples of Stocks Testing AbleTrend Support
Your best option is to trade stocks that are resilient during volatile market conditions, if you have a way to find them. AbleTrend provides clear signals with support levels for these stocks. If you have AbleTrend you can use it to re-evaluate your stock portfolio and be able to sit tight with those stocks with confidence. Here are some examples.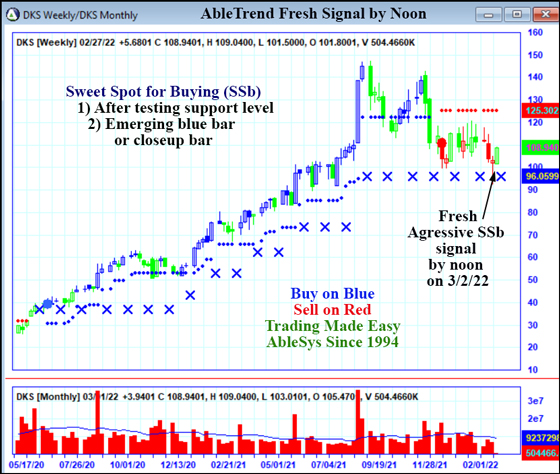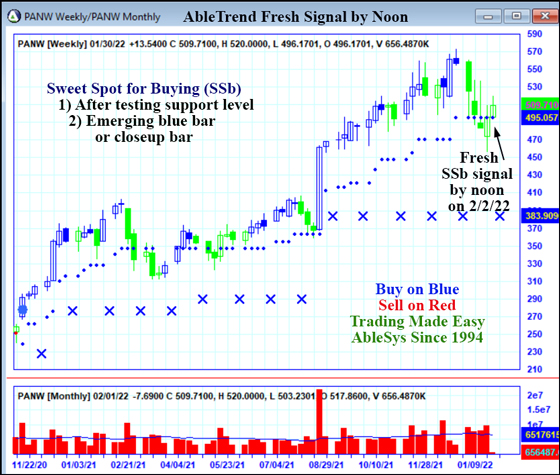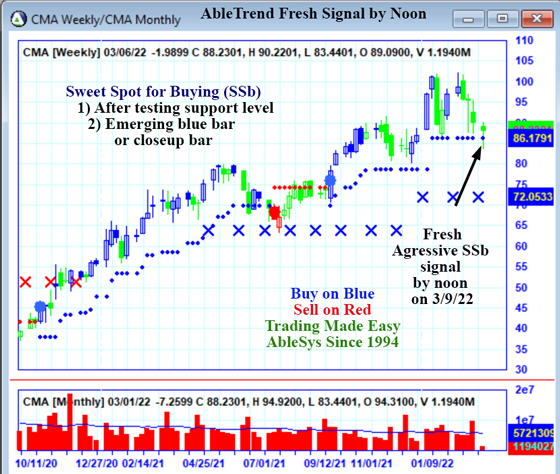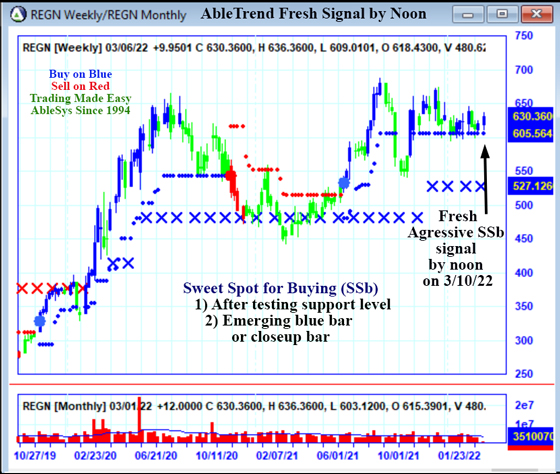 Benefits of AbleTrend signals:
Award winning Time-tested signals

Robust signals that have worked in all markets for 26 years
They work in bear markets and bull markets
They work for stocks, commodities, futures, and currencies

Back testable

You can view AbleTrend signals on your historical charts
Re-evaluate your stocks with AbleTrend signals, see clear signals on the historical charts, buy on blue sell on red.
You can trust the signals; they remain the same as they were generated.

Visual and easy to use

Clear signals at your fingertips
No calculations required by you
3.
AbleTrend

was designed to

excel in volatile markets

Trading is risky because of the volatility. On the other hand, volatility provides opportunities as well. AbleTrend was designed to take advantage of the volatility of the market.

Imagine what it would be worth to you, if you could spot potentially exponential stocks before they take off. Just as important, imagine how much distress can be avoided by cutting losses early, in response to systematic exit signals.

If you don't recognize the true market support levels…then fear will drive you out of the market when you should stay, or you will stay in the market too long with losing positions. AbleSys blue dots show clearly on your chart. If you can read these signals you could do better than most fund managers. It's time to take charge of your retirement account with AbleTrend.
4. AbleTrend singles out
super stocks

to

buy on the dip

To take advantage of volatility you can bottom fish and put more cash to work when prices are more attractive than they were earlier. AbleTrend Sweet Spot signals help you to do just that.

Our new service "Fresh Sweet Spot Signals by Noon" is a great resource for traders seeking to find super stocks at bargain prices. We post fresh signals every day. Here are some examples:

On 12/6/2021 We posted a Fresh Sweet Spot Signal for EXPE by Noon: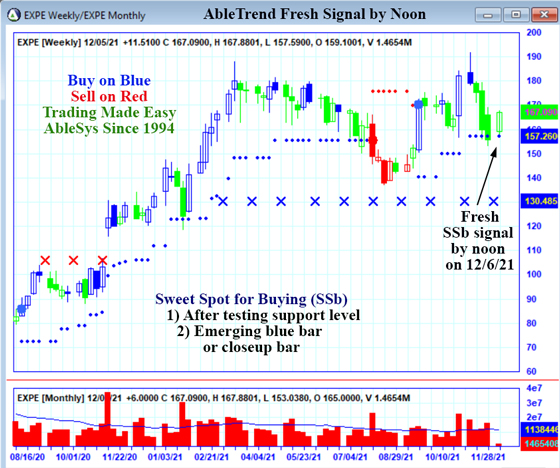 On 2/16/2022 we posted a Fresh Sweet Spot Signal for EXPE by Noon in Progress: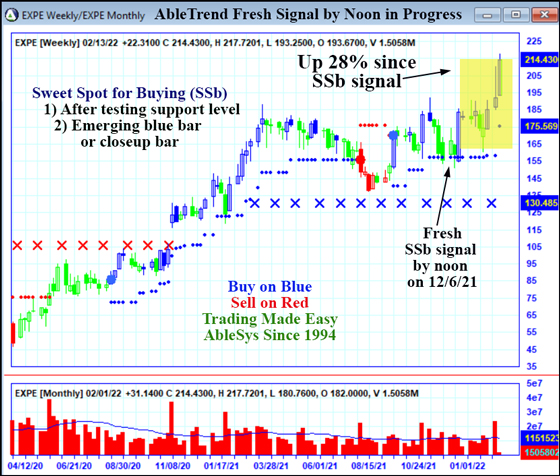 On 12/17/2021 We posted a Fresh Sweet Spot Signal for XOM by Noon: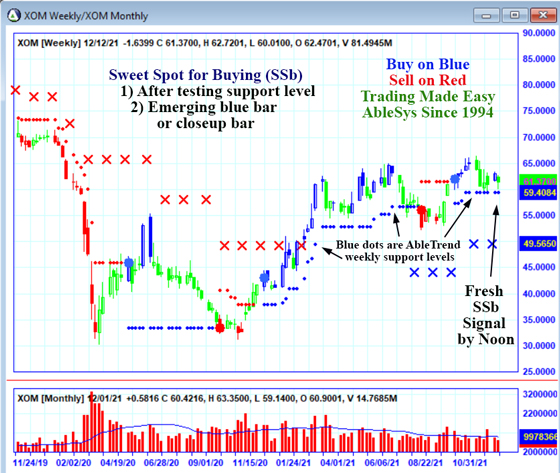 On 2/16/2022 we posted a Fresh Sweet Spot Signal for XOM by Noon in Progress: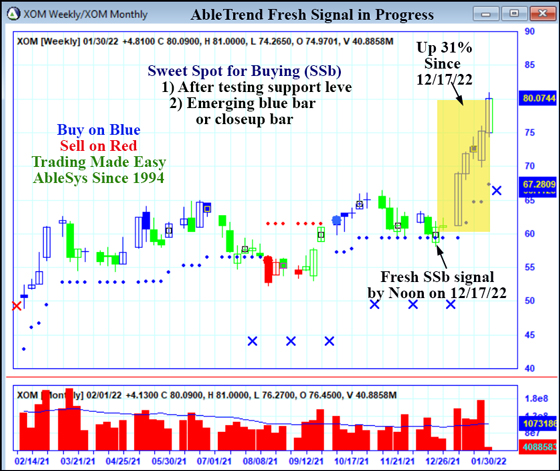 On 11/22/2021 We posted a Fresh Sweet Spot Signal for FCX by Noon: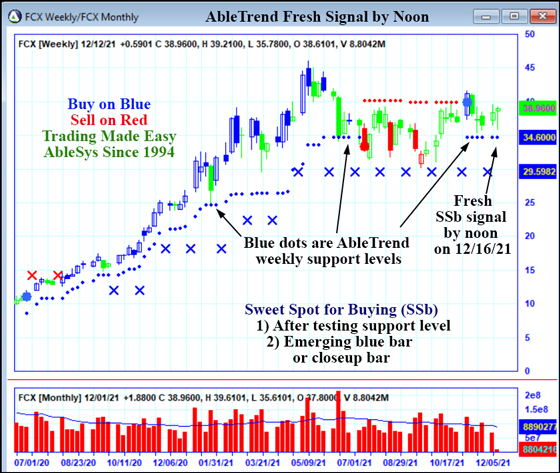 On 2/17/2022 we posted a Fresh Sweet Spot Signal for FCX by Noon in Progress: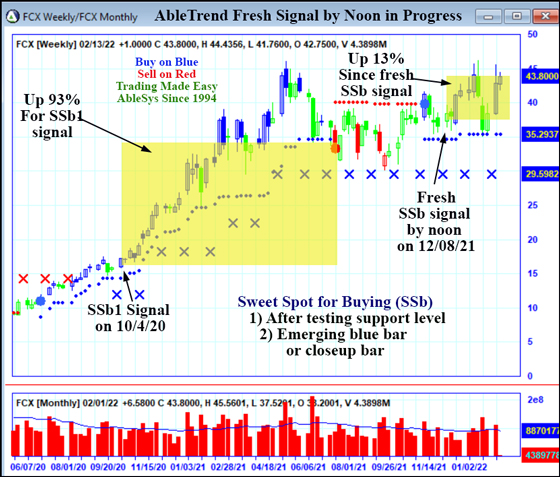 On 3/15/22 We posted a Fresh Sweet Spot Signal for AOSL by Noon: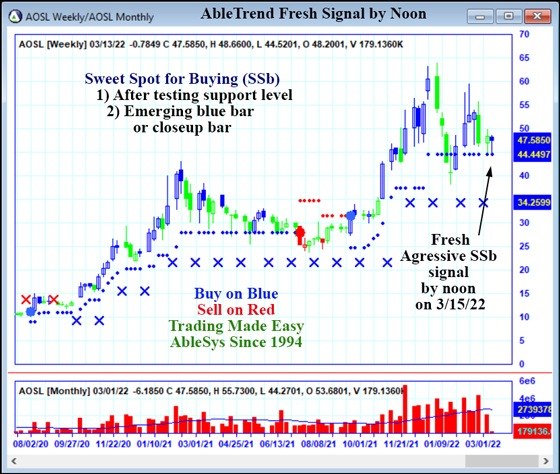 On 3/16/2022 we posted a Fresh Sweet Spot Signal for AOSL by Noon in Progress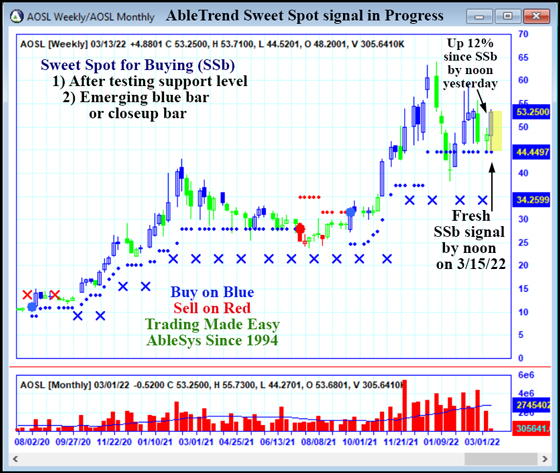 On 2/17/22 We posted a Fresh Sweet Spot Signal for WIRE by Noon: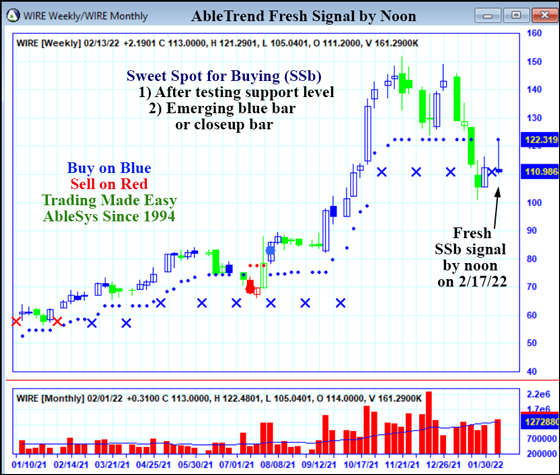 On 3/17/2022 we posted a Fresh Sweet Spot Signal for WIRE by Noon in Progress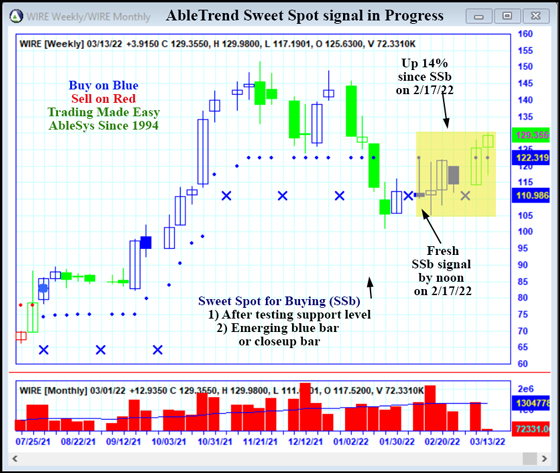 This is a valuable resource for stock traders who are seeking super stocks at bargain prices during market turmoil. You cannot find this kind information elsewhere. It is only available with AbleSys.
Activate your 30-day trial now.
5. How to
Use SQQQ and QID

to

protect one's stock portfolio

As mentioned above, the stock market had a rocky start to 2022, with the tech-heavy Nasdaq Composite Index being the hardest hit. Investors fear it could get worse, which has resulted in higher demand for inverse or inverse leveraged Nasdaq ETFs, as these can fetch outsized returns on quick market turns in a short span. Investors could go near-term short on the Nasdaq-100 Index with ProShares UltraPro Short QQQ SQQQ, ProShares UltraShort QQQ QID.

Strategies that offer inverse correlation to these technology stocks may have some upside during a crash. To hedge long positions, investors may protect themselves against downside risk without realizing profits and paying taxes. Ideally, a portfolio's beta (market risk) can be neutralized by placing 25% of assets in SQQQ and maintaining 75% of assets in stocks.

This could also be a decent strategy for investors concerned about downside risk but who are not interested in short-term speculation.

Following are AbleTrend fresh signals for SQQQ and QID.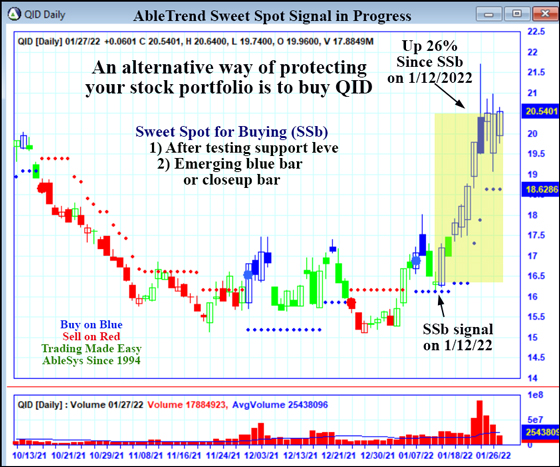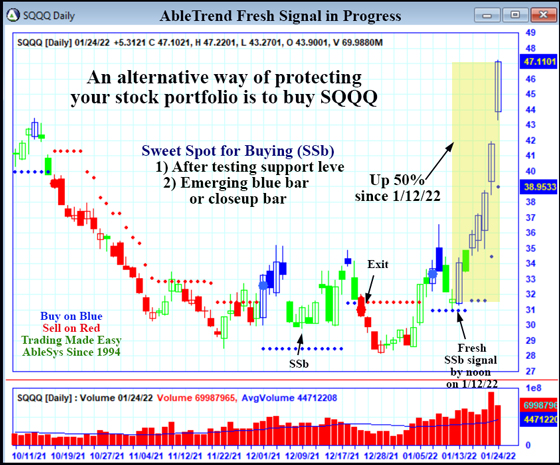 6.
An Advanced Tool

to

Turn a Crisis into Opportunity

To prepare for what may be the greatest financial crisis the modern world has ever seen, you need to use an advanced tool like AbleTrend for a ground-zero look at what's unfolding globally. AbleTrend gives you a more precise view of the markets than has ever before been possible! AbleTrend is your coolheaded guide, finding early trends around the world that offer the greatest investment opportunity, while helping you manage your risk. Click here to view AbleTrend signals in historical crises. Instead of following the crowd, you'll have a chance to get in ahead of the crowd as you find the early trends that most investors don't even yet know exist. And AbleTrend knows no bounds; it analyzes any type of market where profits can be found.
7. AbleTrend:
Trusted Award-Winning Trading Software for 26 years
AbleTrend is one of the greatest advances in computerized trading ever made. And using AbleTrend is one of the easiest and most accurate ways to make logical trading decisions. Buy on blue and sell on red. Make rational trading decisions based on the purest, most accurate signal in the world: price!
AbleTrend software isn't based on Elliott waves or Gann theory. Buy and sell signals are calculated by a proprietary, back-tested algorithm based solely on real-time or end-of-day price data - giving you timely, specific, and objective signals for every trade.
The AbleTrend algorithm is based on what may be the most important discovery ever made about trading: Early recognition of the market trend -- coupled with the ability to set optimal stops - can result in greater profit for the trader.
AbleTrend software reveals the fundamental principle of market movement, showing you the most probable course the market will take in the future. Proprietary indicators set optimal stops to minimize potential losses.
Activate your 30-day trial now.
8. AbleTrend makes trading easy:
buy on blue

and

sell red

AbleTrend projects trend directions on charts in color: Blue for buy and red for sell.

With most trading software, interpreting the charts - and what to do - is up to you, the trader. Your chart shows you the complete price history. But you have to decide whether the price movement is forming the particular pattern you trade on. Compare the two charts below, for an example of the difference AbleTrend makes.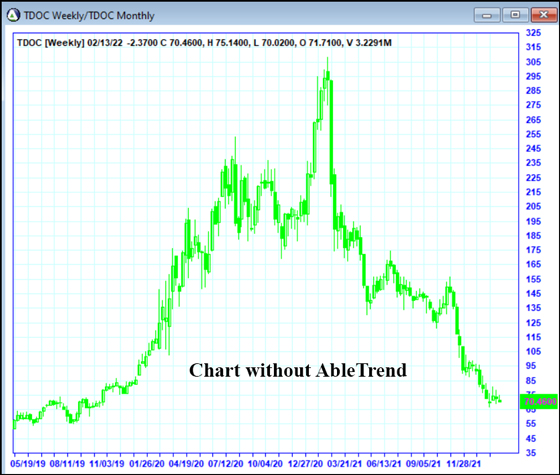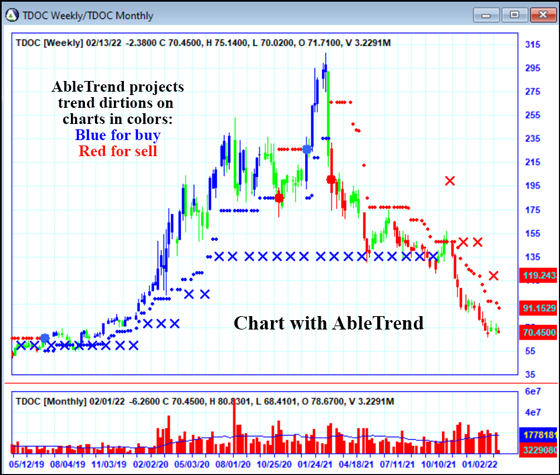 The chart on the left is without AbleTrend and the chart on the right is with AbleTrend. Which looks more useful to you - or easier to interpret?
For the left chart, what price pattern do you see? Unfortunately, interpreting chart formations is as much art as science. Ultimately, success in trading depends - to a large degree - on the trader's subjective interpretation of whether a pattern or signal is forming on the charts. And whenever decision-making is subjective, you risk having your emotions get in the way of making the correct move.
That's the difficulty in your trading that AbleTrend can help you solve. The chart on the right is the chart with AbleTrend which is color-coded to show resistance and support levels - and specific buy and sell signals that tell you exactly what to do... and when.
It's as simple as 1-2-3:
Buy on BLUE.
Sell on RED.
Seek more PROFIT from your trading.
Trade with greater confidence
Brightly color-coded buy and sell signals - displayed on every AbleTrend price chart -- help you:
Make more objective - and accurate - trading decisions
Precisely time entry and exit points
Trade with greater confidence, and less uncertainty and anxiety
Cut your losers early - to minimize losses on trades that don't go your way
Ride your winners longer - for greater trading profits
Exit when it's the right time to take profits - and not let greed make you irrational
Since 1994, tens of thousands of traders around world have trusted AbleTrend to help them make better trading decisions. Let me show how you can "test drive" AbleTrend for a full 30 days. Just click here to get started. For a 50% discount use code EBSW21
Yours for more profitable trading,
John Wang, CEO
AbleSys
Activate your 30-day trial now. Make the paradigm shift and learn to love volatility with AbleTrend. It's now or never!