Buy Bargain Stocks with AbleSys Signals
The shocking selloffs caused by COVID-19 pandemic has brought out the best buying opportunities since 2009. Few investors are able to take this great opportunity to buy the best stocks at bargain prices due to the associated volatility. AbleSys Signals solve this problem with the following advantages:
Buy at AbleTrend sweet spot to know right or wrong quickly
Your entry risk can be very small
Price is less likely to crash at the weekly support
Add to position at the sweet spots along the way in the uptrend
Here is the Clorox stock chart with AbleSys signals: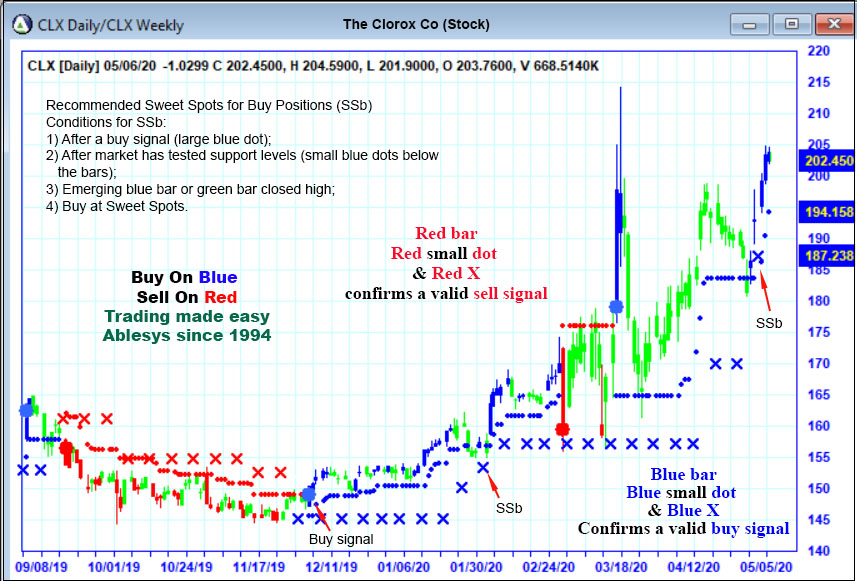 Buy at AbleTrend sweet spot to know right or wrong quickly
Why trade AbleTrend sweet spots? Because AbleTrend defines true market support levels objectively with blue X for weekly support so that you will know if your position is in the right direction or not quickly. Trend more likely to resume at the weekly support indicated by AbleTrend blue X. If it fails to resume, then the uptrend is more likely reversed, you need to exit the position.
Your entry risk can be very small
When you buy stock at its true support level indicated by AbleTrend signals, your risk can be very small because you know your position right or wrong quickly. Once you achieve this ability you gain the freedom of buy great stocks with bargain prices like now.
Price is less likely crash at the weekly support
Each AbleTrend blue X represents support level for each weekly bar. It's like a supporting floor that prices tend to stay above the support levels and cannot be easily broken. Therefore buying stocks at their weekly support levels is a safety measure.
Add position at the sweet spots along the way in the uptrend
All uptrend stocks have pull backs and retracements which creates sweet spots. For people who don't have AbleTrend signals it will scare them when the price drops at pull backs. But for people have AbleTrend, it's your golden regen of entries, the sweet spots. If the first entry is missed, the sweet spot provides a second chance to get on board the trade with relative safety. For traders who already have a position in the market, the sweet spots indicate that this is a good time to add to the position. That way it is possible for traders to buy with confidence – and expand your total gain on the trade.
The best way to learn a skill using trading software is by practicing it. Through the webinars and free one on one trading sessions it will help you to prepare for actual trading on the live markets and it will not tell you how your psychology will react to the experience. This insight is gained only through experience so give AbleSys trading indicators a try today.
---