AbleTrend Defines Trend-Changes Specifically
In a market of few opportunities with so many false claims, AbleTrend Fresh Sweet Spot Signal could be the exceptionally reliable source to make you hundreds of percent gains in the coming months. AbleTrend defines trend-changes instantly and specifically. Following are TSLA and META charts with AbleTrend sweet spot signals.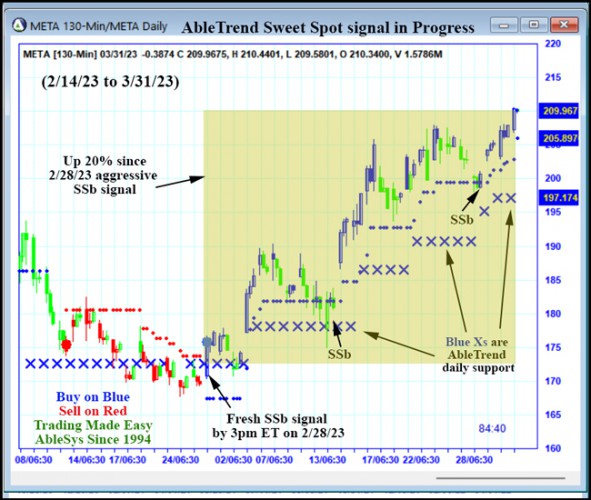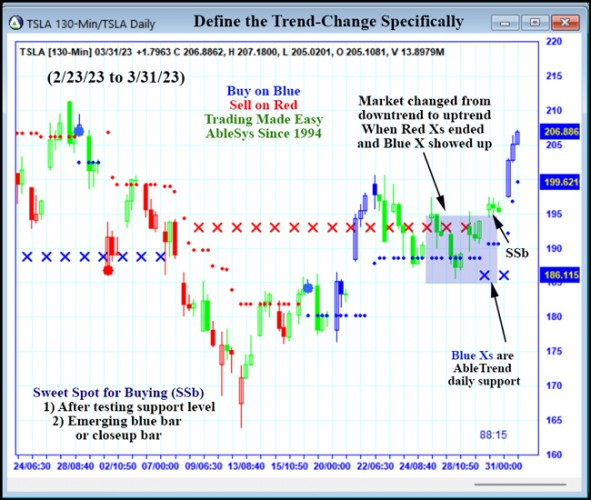 The Power of AbleTrend T2 Support Levels – the blue Xs
AbleTrend T2 is AbleSys proprietary indicator. It reveals the market's own support levels objectively.
Long time AbleTrend users commented "Never fight with AbleTrend T2"
When

blue Xs

emerge and

red Xs

end then the market trend change formed.
Because AbleTrend T2 support levels are the true market support levels, you will know if your SSb entries are right or wrong quickly, therefore your risks for the trade can be greatly reduced.
When you have AbleTrend T2

blue Xs

in your chart, you are viewing the market hidden orders in your vision.
You will be able to take the position less stressfully by knowing where the support levels are.
Now you have an objective measure for the market trends. Whenever you hear a recommendation from some market gurus, you check it against AbleTrend and you will know how absurd some of the recommendations are. Save a bundle and frustrations when you have AbleTrend in your hands. Best of all you have peace in mind by knowing where support levels for your stock holdings.
View more AbleTrend Sweet Spot signals for swing trading
Buy on blue sell on red. Imagine how much money can be saved and how big potential profits can be made with less guesswork when you have AbleTrend at your fingertips!
Being able to define the trend-change specifically is incredible, providing the support levels for your pyramid which is more beneficial to gain greater potential profits.
AbleTrend gives one more crucial benefit, that's risk control. Large red dot is your exit signal.
AbleTrend reflects all the information about the market in the price action. Make rational trading decisions based on the purest, most accurate signal in the world: Price! Using AbleTrend is one of the easiest and most accurate ways to make logical trading decisions, based on the purest market data known: price movements.
When you have the easy to read AbleTrend signals at your fingertips, you don't need to listen to news and commentaries about so called inside stories. AbleTrend reflects all the information about the market in the price action. Then, nobody can fool you.
Join us for Live Analysis & Education
Join us Tuesdays and Thursdays at 5pm ET (2pm PT)
Ron Carbone -Veteran Trader & Educator at AbleSys will go over the latest AbleTrend trades on the chart: Click here to sign up
You can also view the latest recordings on demand by accessing the webinar archive
Test Drive AbleTrend: 30-day Trial Offer
---