What is a Trading Software and How It Works?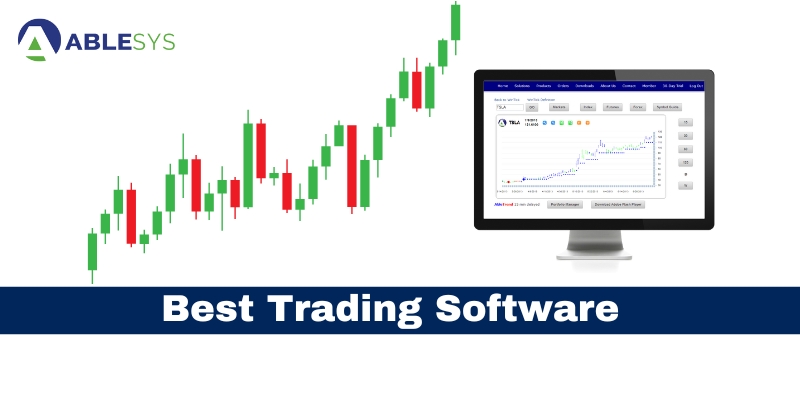 A trading software provides guidance, analysis and financial products to help you build your portfolio in a stock market. It can help you streamline the process of identifying, analyzing and buying stocks and other products, in one place.
If you are into day trading, an automated software can help you make decisions faster. This way, you would be able to take advantage of the market trends. Stock market is highly volatile, especially for day trading. Having a reliable system to make buying or selling decision can be helpful.
AbleSys is a stock trading software offering solutions to traders to buy, and sell stocks as per the market demand. It is an automated trading platform designed for day trading, swing trading, and position trading of all markets, such as stocks, futures, commodities, and bonds etc. You will get so many features with it to make your day trading more organized.
Using a trading software can help you make an informed decision based on actual data and analysis. You will get all the details and signals you need to make a profitable decision.
Trading market is volatile and predictions are not always reliable. But, with the right stock trading software, you can get the results you want to see.
What is The Best Trading Software?
As you already know, a trading software is an application that offers analysis of financial products and trading facilities. You can get a complete analysis of products like stocks, currencies, options, and futures, so that you don't have to do it separately.
There are all kinds of trading software with different features. The best trading software is the one that meets your requirements.
Features of a trading software includes:
Stock trading software is an online platform, but you can also download it to your system and use it.
A trading software or platform can be used to buy stocks, and other financial products.
It also offers technical analysis to indicate whether you should sell or buy. For instance, AbleSys trading software offers buy, sell, stop signals for day trading, swing trading, and position trading of all markets.
AbleSys trading software is also a fully computerized trading automation platform for self-directed traders.
With a trading software application, you can get detailed analysis of daily stock performance and market to make a decision
Choosing the right trading platform will make all the difference in your trading performance.
Benefits of Using a Trading Software
Using a trading software can minimize your cost on broker fees and improve performance. With tools like AbleTrend, you can easily analyze stocks and even get clear-cut signals on what to do. It is an excellent platform for day traders and swing traders.
Here are the benefits of using a trading software:
With a software, you can save plenty of time and money. No fee payment required. You buy the product, install it or access it on the web and you are good to go.
No need to get an appointment with a broker or go anywhere. You can check the analysis report on your device. This makes decision making easier.
Day trading is volatile and risky. But it is also highly rewarding. With AbleTrend, you get clear signals on where the market is going. This helps traders make decisions based on accurate data.
By using a stock trading software, you can avoid broker bias. For instance, a broker will always advise what is best for them, since they get the commission for each transaction. With a software, you can avoid the bias and take actions that suit your goals.
Real-time monitoring allows you to see the market trend as it happens. In an instance, you can check stock performance and where they are going. Also, you can also analyze your portfolio.
Trading platforms like AbeSys makes it easier for traders to use the features. You don't need technical expertise to use it. It is very easy and you will get all the support you need.
There are so many perks of using a trading platform.
Trading with AbleSys Trading Software
Trading with AbleSys is easy and effortless. It has been an award-winning trading software for 26 years. It is easy to use: buy on blue and sell on red. You will get a complete analysis on your screen to make a quick but right decision.
AbleTrend has been a trustworthy, time-tested software for the last 26 years. And, it works in all kinds of markets. In a volatile market situation, you need a clear picture. That's what AbleTrend offers: you get clear signals at your fingertips.
The best part is that you don't need to do calculation. It is done by the algorithm. It is a robust tool that has helped traders make profitable decisions for 26 years.
The Bottom Line
A trading software is a useful tool that can help you make trading decisions fast. A reliable software like AbleTrend can provide you with all the data and information you need to make an informed decision. Say goodbye to bias brokers and old system. Use an automated platform like AbleTrend to make profile with smart trading decisions. With the best trading software, you can save time and cost.
AbleTrend is a trusted, award-winning and highly efficient trading software that gives day traders the power to make smart decisions. You don't need to be a technical expert to use it. It has been designed to simplify trading analysis for all traders. You can use AbleTrend 30-day trial and see the difference it can make to your trading experience.
Start Your 30-Day Trial Today – More Here.
---