Today's Chart Spotlight January 20th 2021
After a couple weeks of uncertainty, leading up to the US Presidential inauguration, the market has extended it's rally to find new record highs.
To see how traders are using AbleTrend to capitalize on the moves, check out the resources linked below, including our Chart Library, YouTube page, and mini-course resources
Stocks Re-test at 120-min Support
After last week's sell-off, the major stock indices found the bottom, and prices started back up over the weekend/holiday trading session. Fortunately, there was second chance entry yesterday, just before the move really got going.
Tracing Signals on the Latest Winners
One of yesterday's featured charts was the Sweet Spot on NFLX. Despite missing on earnings, the stock is up over 18% on subscriber growth, and positive guidance. You can find featured charts like this, updated daily on our chart library.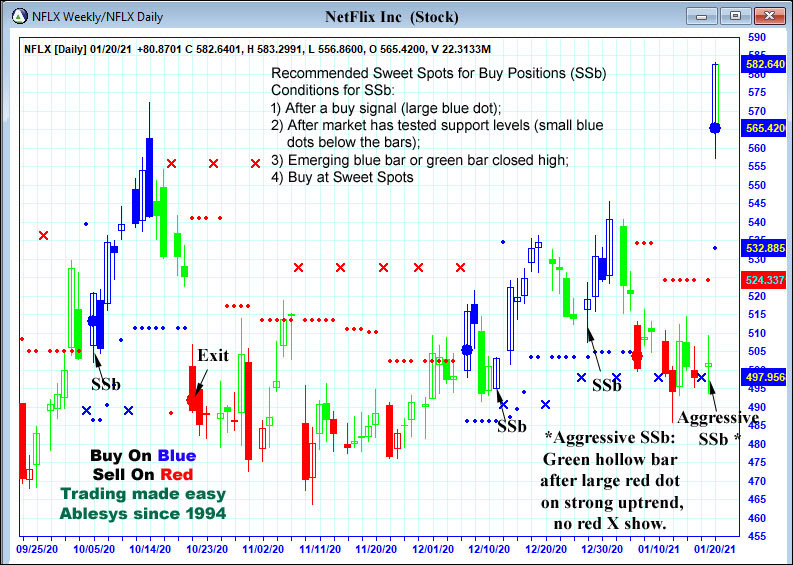 2020 is in the books

The mini-course page holds the updated table of weekly returns, and it's also where you'll find the trade reports available for download.
You can trust AbleTrend signals
Because once AbleTrend signals are generated and the bar closed; the signals will not change in the future.
Here is a 7-minute video
showing you how to systematically identify sweet spot and significantly improve your trading result.
Google organic search ranking 1st places
If you google search these key words: swing trading software, e-mini trading software or position trading software, AbleSys' WinTick are at the 1st places at present with organic searches. Again, this is no small achievement. You may spend hundreds of thousands of dollars to develop a program of your own or take advantage of this time-proven winning program.
FREE one-on-one consultation
In today's fast changing global market environment, having a million dollars in your account does not necessarily mean security. Rather, true security comes from possessing a winning system and the skills to manage your assets -profitably and prudently – especially in volatile markets like we are currently seeing.
To have a private consultant for building a life-time skill in managing your own financial assets could be expensive, – awfully expensive. That's why our value-added one-on-one consultation service makes owning AbleTrend software a cannot miss opportunity. Request a FREE one-on-one consultation with AbleTrend consultant at ronc@ablesys.com today.
View more Ablesys Signals for Top Stocks
---