Extreme Swing, Extreme Ways
In the last two days, the stock markets are panic, the Dow dropped 2000 points, then bounced back 1000 points, and plunge 1500 points again… Under such extreme market swing conditions, how do you deal and trade?
From yesterday, all three major indices were already down 20%, got into a bear market. At this time don't expect markets bounce back soon. Many good stocks prices are even down 30%. However it's a time so call too low to buy. Because next days the prices could be lower. The trend is going down, we will see lower highs and lower lows. Let's forget a position trading for a while, holding a lot of cash and do day trading or very short swing trading for SELL positions only at this time. We have today's e-mini Dow (YM) chart below. Take a close look the sell signals and stop values. Following the down trend, big profits could be made.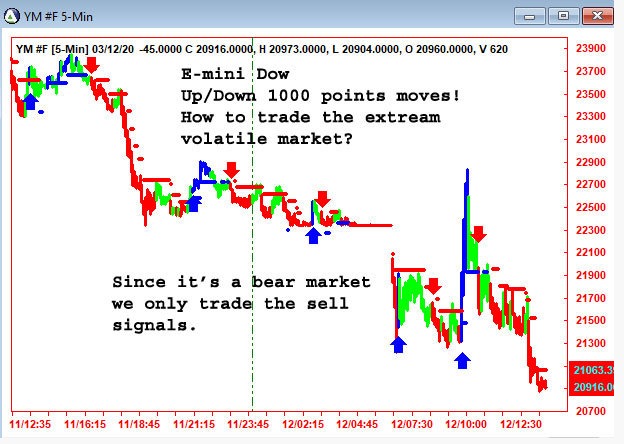 In celebration of AbleSys' 26 years of excellence in the trading software industry, we have released a Free 4-part mini-course for serious traders, The Blueprint for Day Trading Success.
And celebration is in order! Only AbleTrend has won Stocks & Commodities magazine Readers' Choice Awards of triple* trading systems for 24 years in a row (1997 – 2020).
*including stock trading systems, futures trading systems & option trading systems
AbleTrend 
30 day trial trial is available
.  The cost is a small fraction of a trade. At this extreme volatile time, you need this extreme time tested tool to help!
---