Trade with This Safety Measure now
Current highly volatile markets provide unprecedented opportunities for traders and investors as well as high risks. Trump impeachment fight, trade war with China, Fed interest rate and much more are on top news. It moves the markets daily or hourly. The following are a few charts with exact AbleTrend trade signals along with protective stop dots step by step for each trade. Learn more with 2-min video Introduction to AbleTrend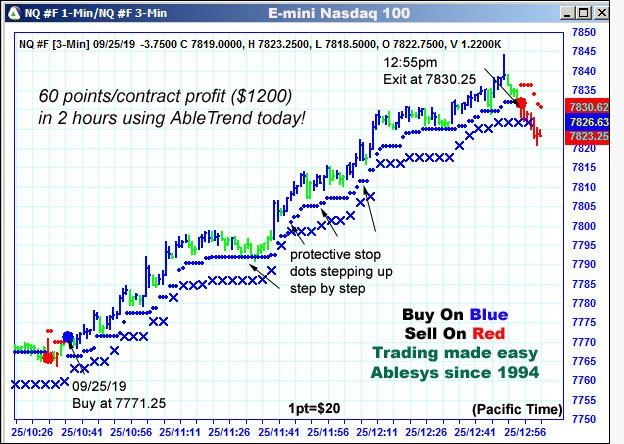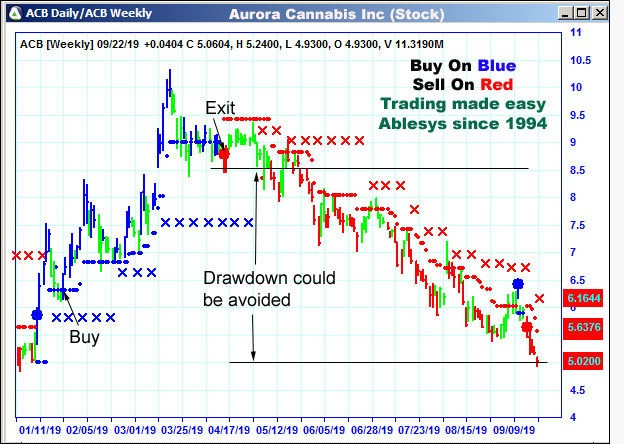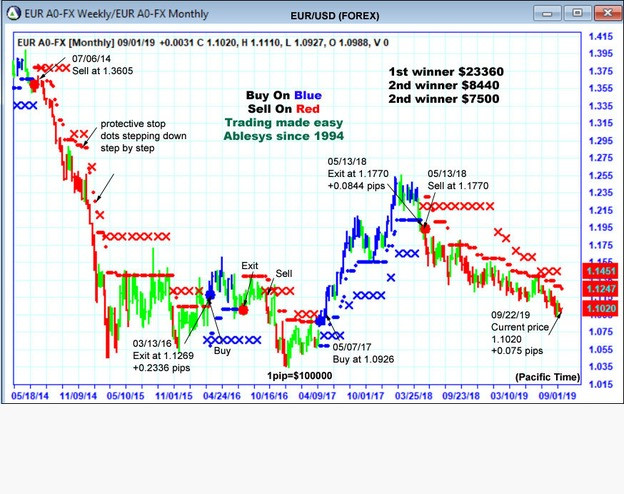 AbleTrend will tell you if your position is right or wrong quickly
You've entered a market and are holding a position. You want to know if the market will go your way. If it were in the wrong direction, how far is too far for holding. AbleTrend protective stop dots stepping up step by step to assure your position at all times. If price bars stay above AbleTrend protective stop dots, it is safe. If price broke through the support levels, price penetrate AbleTrend protective stop dots and stay below the blue dots, simply exit that market.
Why you can trust AbleTrend protective stop dots?
Because AbleTrend is 100% objective, it tells the current direction the market is heading and not where the market should be going. AbleTrend works with all markets therefore it's universal and non-curve-fitting. It updates instantly depending on what time frames you use. It can be updated by every tick if you use tick charts.
Proprietary for AbleTrend users only
Because AbleTrend is proprietary and well protected from general public, AbleTrend users have the privilege to use it for their trading success. "Never fight with AbleTrend protective stop dots" has been the comments of many AbleTrend users.
You don't have to stick with losing positions
Many trading advisers suggest holding positions when drawdowns occur, some even advocate adding more shares to the losing position with "cheaper prices" to averaging down your purchasing prices. This may sound like a good idea but adding to the losing position is never a good strategy because some stocks may never come back and be in losing positions so then you have lost opportunities to invest in the potential lucrative winners.
AbleTrend is a principle-based trading software which received Reader's Choice Award from S&C magazine for more than 23 years. Now is the perfect time to get prepared for the huge opportunities in today's chaotic global market. AbleTrend is designed for investors and traders to take advantages of volatile market.
The best way to learn a skill is by practicing it. Through guides and tutorials, we will help you prepare for actual trading on the live market so you`ll know how your psychology will react to the experience. This insight is gained only through experience so give AbleTrend a try today.
Get a trial with hands-holding one-on-one consultant today.$30 OFF discount code: DTHS69
Learn more with 2-min video Introduction to AbleTrend or get 30 day trial with hands-holding one-on-one consultant today.
With Warm Regards,
Grace Wang
AbleSys Corp.
grace@ablesys.com
Trading Futures and Options involves substantial risk. It is not suitable for all investors.
*HYPOTHETICAL PERFORMANCE RESULTS HAVE MANY INHERENT LIMITATIONS, SOME OF WHICH ARE DESCRIBED BELOW. NO REPRESENTATION IS BEING MADE THAT ANY ACCOUNT WILL OR IS LIKELY TO ACHIEVE PROFITS OR LOSSES SIMILAR TO THOSE SHOWN. IN FACT, THERE ARE FREQUENTLY SHARP DIFFERENCES BETWEEN HYPOTHETICAL PERFORMANCE RESULTS AND THE ACTUAL RESULTS SUBSEQUENTLY ACHIEVED BY ANY PARTICULAR TRADING PROGRAM.ONE OF THE LIMITATIONS OF HYPOTHETICAL PERFORMANCE RESULTS IS THAT THEY ARE GENERALLY PREPARED WITH THE BENEFIT OF HINDSIGHT. IN ADDITION, HYPOTHETICAL TRADING DOES NOT INVOLVE FINANCIAL RISK, AND NO HYPOTHETICAL TRADING RECORD CAN COMPLETELY ACCOUNT FOR THE IMPACT OF FINANCIAL RISK IN ACTUAL TRADING. FOR EXAMPLE, THE ABILITY TO WITHSTAND LOSSES OR TO ADHERE TO A PARTICULAR TRADING PROGRAM IN SPITE OF TRADING LOSSES ARE MATERIAL POINTS WHICH CAN ALSO ADVERSELY AFFECT ACTUAL TRADING RESULTS. THERE ARE NUMEROUS OTHER FACTORS RELATED TO THE MARKETS IN GENERAL OR TO THE IMPLEMENTATION OF ANY SPECIFIC TRADING PROGRAM WHICH CANNOT BE FULLY ACCOUNTED FOR IN THE PREPARATION OF HYPOTHETICAL PERFORMANCE RESULTS AND ALL OF WHICH CAN ADVERSELY AFFECT ACTUAL TRADING RESULTS. STAFFORD TRADING HAS HAD NO EXPERIENCE IN TRADING ACTUAL ACCOUNTS ON THIS SYSTEM. BECAUSE THERE ARE NO ACTUAL TRADING RESULTS TO COMPARE TO THE HYPOTHETICAL PERFORMANCE RESULTS, CUSTOMERS SHOULD BE PARTICULARLY WARY OF PLACING UNDUE RELIANCE ON THESE HYPOTHETICAL PERFORMANCE RESULTS. PAST PERFORMANCE IS NOT NECESSARILY INDICATIVE OF FUTURE RESULTS
---