Signal Charts for Today's NQ Day Trading & Hot Stocks
Following is AbleTrend Signal Chart for today's NQ daytrading: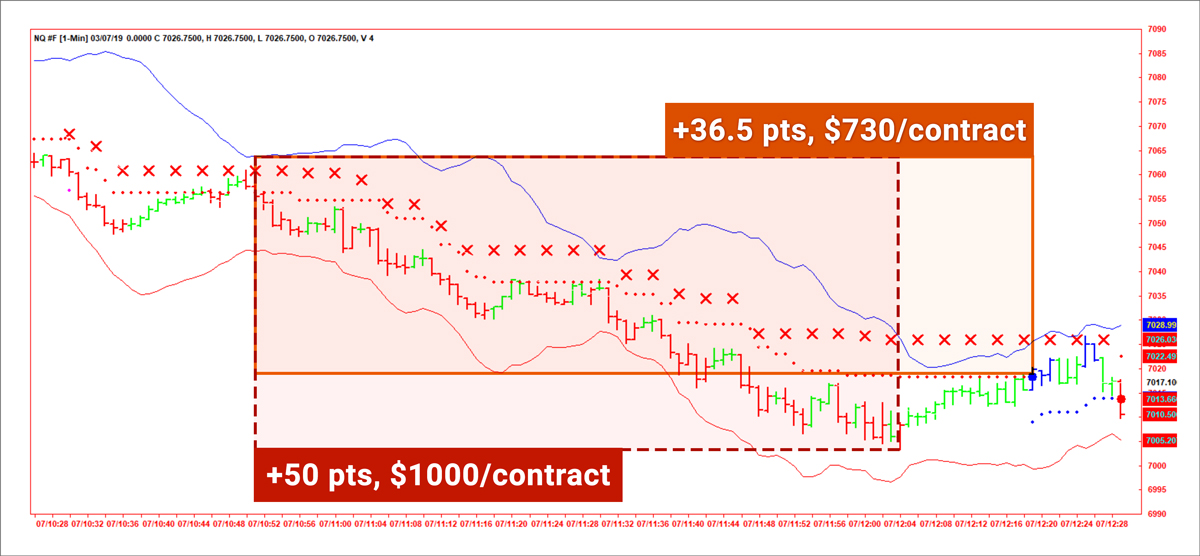 The sell signal comes in to start the afternoon session @7055. It trades down to a low of 7003, over 50 points lower or $1,000/per contract. Ultimately the trade ends @7019 for a 36.5 point gain or $730/contract.
As you can see, the AbleTrend stops trail the price down, helping to secure profit and leaving open the potential for a home run like we had today.
It's not always this way.   When the price action is choppy or directionless, trading can feel like a struggle. But, when we have a trend, trading the trend signal feels effortless. If you traded this, you may wonder how I can get this feeling more often?
What may not be obvious is about this trade is that it was really part of a larger move, a swing trade.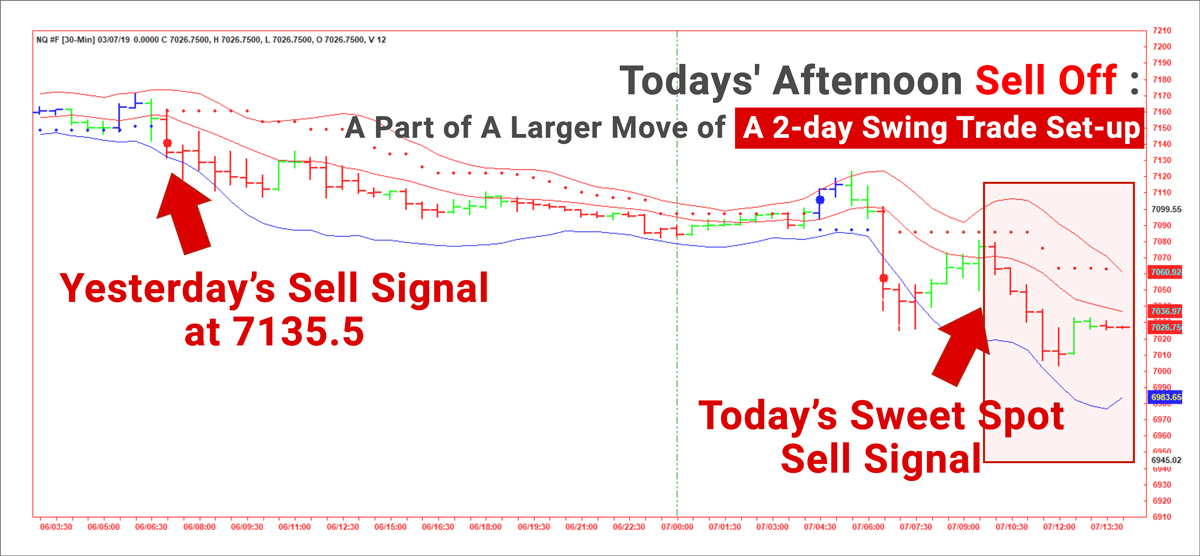 Todays' afternoon sell off was really part of a 2 day sell off. The swing trade may have taken days to set up. It was an intraday move where day traders and swing traders converged on a path.
The 1/3 min signal was able to catch the same move, but with greater precision, smaller initial risk, but it will do so with a greater number of attempts.
The swing trade may have started yesterday at 7135.5, with a greater allowance for risk. It may also look for prices to continue down beyond   support @6993. 
Following is the AbleTrend Signal Chart for TGT: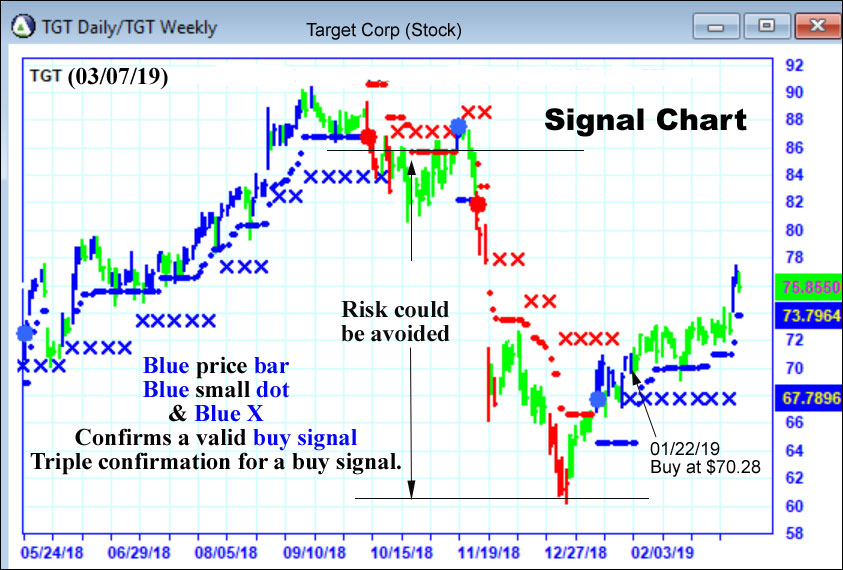 As you can see in the above charts, the AbleTrend Guidance Chart combines 2 time frames into 1 chart and helps to filter out false signals. Within one chart it helps traders to detect the market trend with longer time frames (avoiding market noise with shorter time frames), and yet it empowers traders to manage risks with tighter stops (compared to stops with longer time frames) and to get better entry prices.
Once you have a blue price bar/ blue small dot and blue X that would be triple confirmation for a valid AbleTrend buy signal. Similarly, once you have a red price bar/ red small dot and red X that would be triple confirmation for a valid AbleTrend sell signal.
Save a bundle with AbleTrend triple confirmed sell signals.
Invest relentlessly with AbleTrend triple confirmed buy signals. 
Normal Chart Vs. Signal Chart
Here is the comparison between an ordinary chart and AbleTrend Signal Chart. With AbleTrend Signal Chart you see the trends blatantly clear with dynamic support and resistance levels.

View more recent Signal Charts for hot stocks or learn more in AbleTrend webinars, or give a Trial with hands-holding one-on-one consultant today. Use Promo Code:March to get 50% off of the Trial Package!
Stock Clinic for the stocks you trade
You may request a Signal Chart for the stocks you trade, email your request at gracew@ablesys.com
Limit up to 3 stocks.
Traders Rave Over AbleTrend at Trustpilot
Those times that I lose money are usually because I haven' followed the signals being generated by Ablesys. It's a very dependable system. – Peter
Best ever helper for my stock Entry and Exit executions. -Neil
This system is absolutely amazing, I have been trading for over twenty years and nothing can come to the accuracy of this awesome system. -Customer
Great tool without bias. Extremely easy to use. -Steve
I've been using the product for many years and it exceeds my expectations with a high degree of profitable results. -Anthony
I am extremely happy with AbleTrend software. It has changed my trading in the best possible way. -Francesco
I have used it for 10+ years and have tried many other trading software systems. This is by far the very best system that can adjust to any market condition…I am exceptional pleased with its results. -Joe S
I have been using AbleTrend for 13 years! Primarily for day trading stocks…I could not do without it! -Ricardo DaSilva
Have been using Able Trend for 20 years and it is just as effective and accurate as it was in 1999. I have used it profitably for day trading for futures, just as I have for position trading stocks…Use every day whether trading that day or not. -Dan Sayyer
I never make a trade without checking with Ablesys. The program is my important guiding light and has been for over 10 years. -Harvey Saff
---