Trading Strategies for E-mini NQ and S&P with AbleTrend Guidance Chart
Figuring out the basics of day trading can be intimidating. There are many sets of data that have to be tracked regularly in order for a trader to make a truly informed decision if one is to have success day trading E-min S&P and NQ. AbleTrend trading software is designed to simplify these essential tasks and to make trading a lot more convenient, intuitive and dynamic. Here are yesterday's E-min NQ and S&P day trading with AbleTrend Guidance Chart.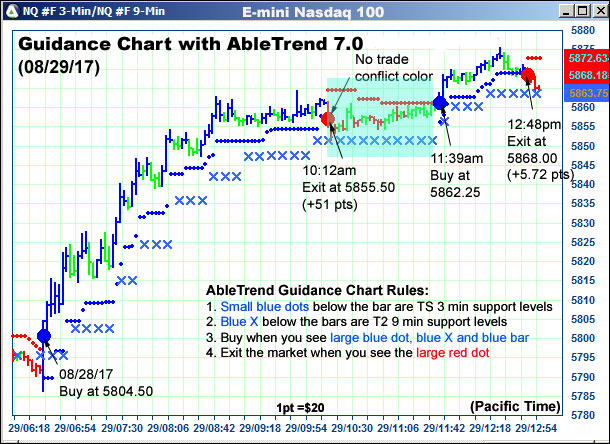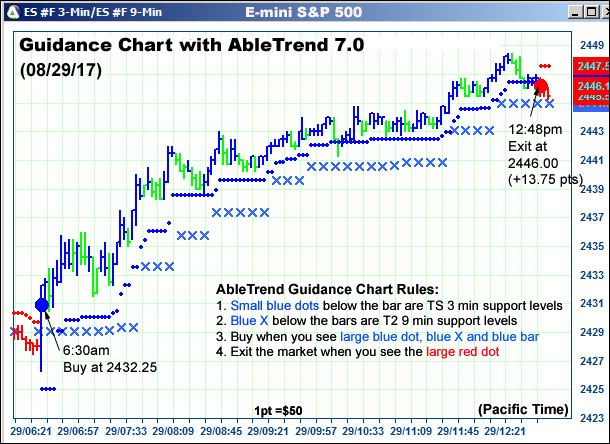 The examples above show the effect of the T2 signals on a hidden guidance chart. The trading charts are 3-minute charts of E-mini NQ and S&P. The hidden guidance charts are 9-minute charts of E-Mini NQ and S&P.
The best way to learn a skill is by practicing it. Though guides and tutorials will help you prepare for actual trading on the live market, they cannot tell you how your psychology will react to the experience. This insight is gained only through experience, so give AbleTrend a try today.
View AbleSys YouTube
Explore Trade Setups and Outcomes
As always, please feel free to forward this email to your friends.
With Warm Regards
AbleSys Corp.
Grace Wang
gracew@ablesys.com
---