Why GDP Was at the Weakest Yet Stock Market Reaches Near All-Time High
According to FOX NEWS US. "US economy expanded at weakest pace in 3 years. Slowdown primarily reflected slower consumer spending which grew at a seasonally adjusted annual rate of 0.3 percent after a growth rate of 3.5 percent in the fourth quarter. It was the poorest quarterly showing in more than seven years." But the stock market has reached near an all-time high. Following is a trade setup with AbleTrend trading software.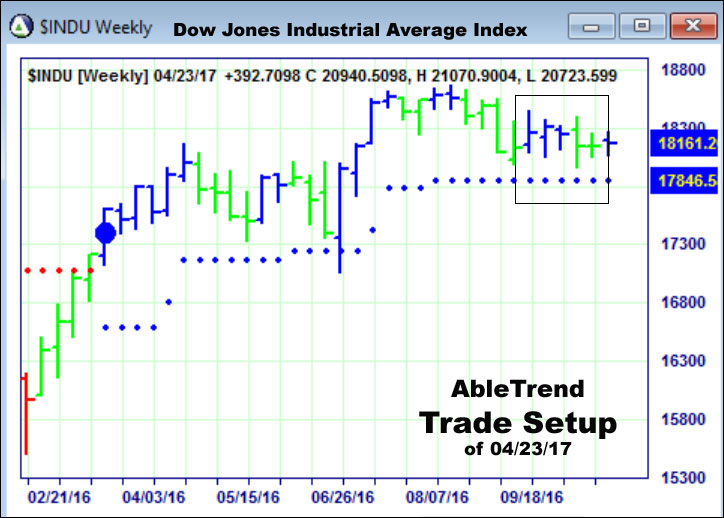 What would you do base on this setup? It shows strong up trend with long term key support defined by small blue dots of AbleTrend. Here is the outcome.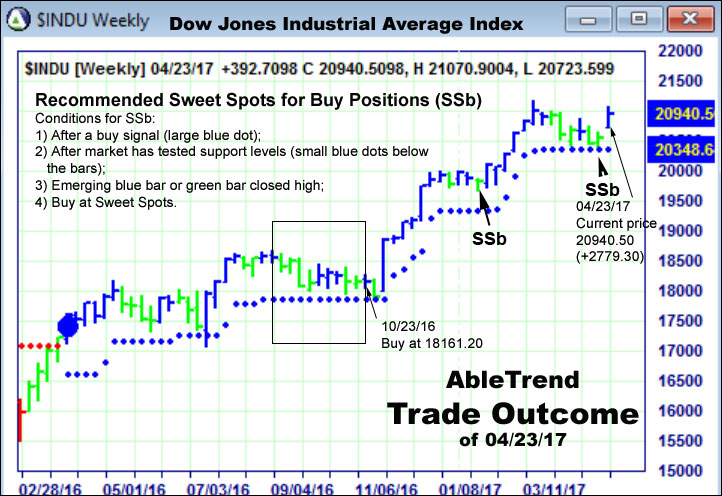 Why was GDP at the weakest yet the stock market reaches near an all-time high? The reasons could be various, no one could actually answer that question. The important thing is how to see the true market trend was without being confused by noise.
Many traders make their trading decisions based on news and commentaries. As the result, they may short the market going against the market trend; or they may stay aside and watching the market soar without participation.
You would do the opposite if you have AbleTrend as a guide. You would buy at the sweet spots with reduced risk as indicated by AbleTrend signals. AbleTrend provides clear buy signals with blue bar and blue dots, along with dynamic support levels with small blue dots.
In addition, you may monitor your portfolio positions with AbleTrend AutoScan to stay on top of your positions with a glance. With simple clicks you see the clear buy/sell signals along with support levels for each stock you hold.
Markets are ever-changing but AbleTrend rules remain the same. Practice one Trade Setup and Outcome a day. Taking small steps, not big ones, are the fastest, and simplest way to build success momentum. Ready? Here are some Trade Setups and Outcomes with AbleTrend indicators applied.
With Warm Regards
Grace Wang
AbleSys Corp.
---