Breaking out the Range
We finally have a breakout, following the last week and a half of consolidation. Major Indices had a quieted down significantly, following the fireworks at the start of the month, narrowing into an extremely tight range. We have been waiting for something to break one way or the other to get things going again.
Today's remarks from President Biden seemed to be enough to shake things up. We had a nice move up through the channel that AbleTrend was able to catch intraday.
With May options expiration Friday morning, we're looking for prices to get back up into resistance on the top end of the range for SPX and ES, which is around 4200 and 4215 respectively.
From there, we will need to see if bullish positioning gets rolled out, or if this little rally runs out of gas. Downside is also looking juicy so it will be wise to stay nimble the next couple weeks.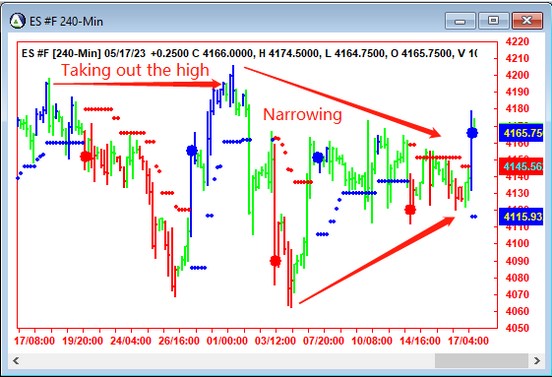 Join us for Live Analysis & Education
Join us Tuesdays and Thursdays at 5pm ET (2pm PT)
Ron Carbone -Veteran Trader & Educator at AbleSys will go over the latest AbleTrend trades on the chart: Click here to sign up
You can also view the latest recordings on demand by accessing the webinar archive
Test Drive AbleTrend: 30-day Trial Offer
---
Comments are closed.