Stocks Gap & Fade on News AbleTrend Nails the Intraday Moves Anyway
Stock Indices have been largely pretty sideways since the start of the month. Last week we had a short week, and waiting for CPI this week. While the street had expect a cooler CPI print, this morning, we got an even cooler than expected headline number, sending stocks up pre-market.
That quickly faded, and following the open, the market dipped to fill the gap. While the market's reaction may be perplexing, the spike in volatility created more room to trade, which AbleTrend signals were able to capitalize on. Nearly $3k/contract on the moves in NQ this morning.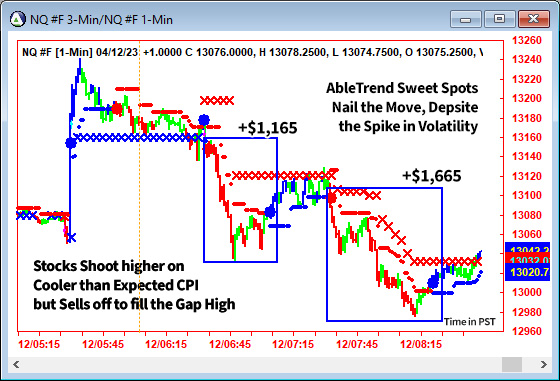 We saw a similarly perplexing market reaction on Thursday last week, selling off on pre-market news, and rallying back stronger. While the big picture is still being sorted out, the slight expansion in intraday volatility is welcomed, after the extended rally in the second half of March, which killed volatility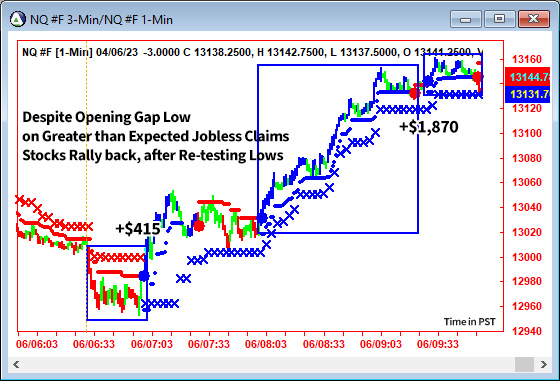 Join us for Live Analysis & Education
Join us Tuesdays and Thursdays at 5pm ET (2pm PT)
Ron Carbone -Veteran Trader & Educator at AbleSys will go over the latest AbleTrend trades on the chart: Click here to sign up
You can also view the latest recordings on demand by accessing the webinar archive
Test Drive AbleTrend: 30-day Trial Offer
---
Comments are closed.