How to Use SQQQ and QID to Protect Your Retirement Portfolio
The stock market is having a very rocky start to 2022, with the tech-heavy Nasdaq Composite Index being the hardest hit. Investors fear it could get worse.
Below you can see the latest AbleTrend weekly/monthly chart for NQ market.
NQ #F (Nasdaq futures) had penetrated the long-established monthly support level and has remained below the blue Xs, AbleTrend monthly support level indicators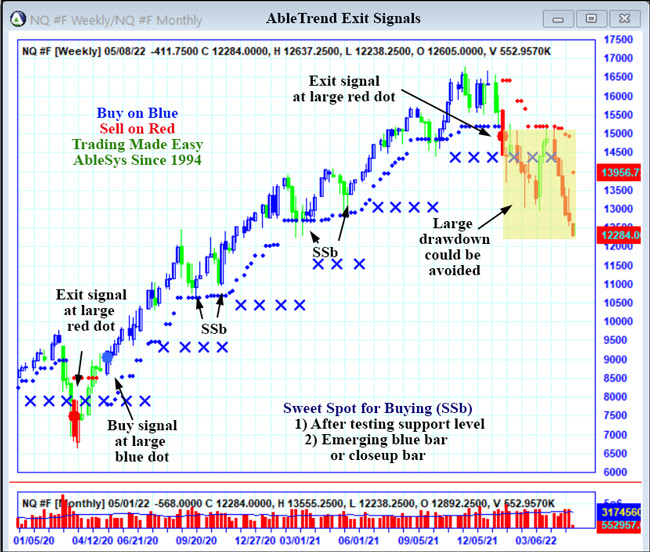 With stocks and bonds down at the same time, and hedges like gold not performing, investors have been scrambling to figure out what to do. One solutions is to hedge stock portfolios directly, with the leveraged inverse etfs such as, SQQQ (3x), or QID (2x).
With the 3x inverse exposure, one could for example, neutralize the risk by placing just 25% of assets in SQQQ, without having to liquidate the other holdings. It can also be a good way to make some quick speculative gains as stocks break lower.
The following are AbleTrend fresh signals for SQQQ and QID.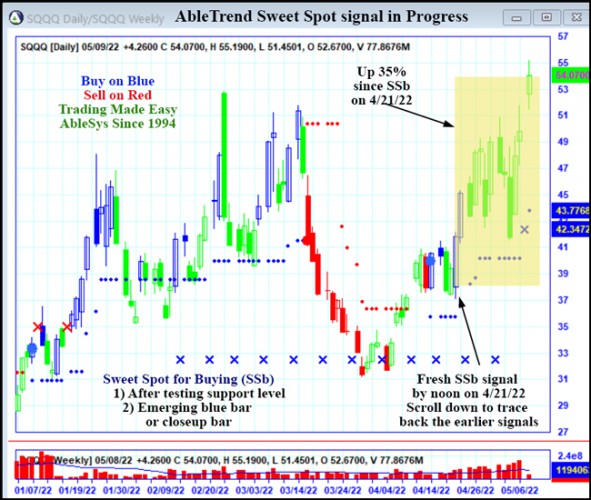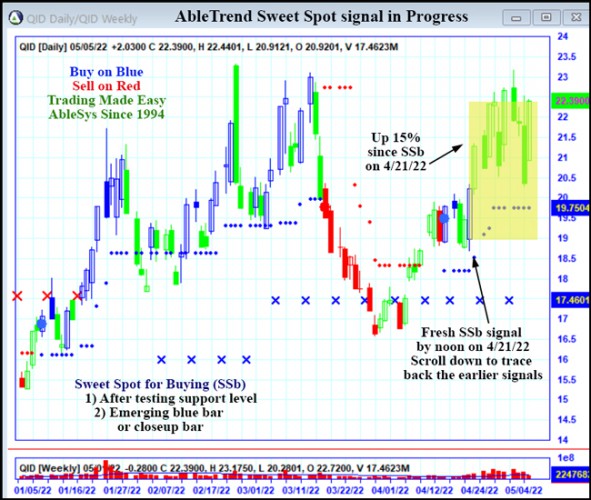 If you are an AbleTrend user You will know your position right or wrong quickly with the AbleTrend support level signals, thus the risks for each trade are greatly reduced.
"I have been an AbleTrend subscriber for over 20 years. Since I position trade equities, I look at both the Daily and Weekly charts to make sure both are in a "Sweet Spot" before initiating a trade.
Once I am in a position, AbleTrend is the best system I have ever found for Protecting Profits and Stopping Losses. While I do not day trade, it works equally well for trading on shorter time frames. I can't imagine trading without this excellent trading system."
-Gerald D Wollert
FREE one-on-one consultation
In today's fast changing global market environment, having a million dollars in your account does not necessarily mean security. Rather, true security comes from possessing a winning system and the skills to manage your assets -profitably and prudently – especially in volatile markets like we are currently seeing.
To have a private consultant for building a life-time skill in managing your own financial assets could be expensive, – awfully expensive. That's why our value-added one-on-one consultation service makes owning AbleTrend software a cannot miss opportunity. Request a FREE one-on-one consultation with AbleTrend consultant at ronc@ablesys.com today.
---