Were you there for this massive trade?
This morning, stocks sold off heavily, giving back the weekend gains.  Initially, futures opened higher on optimism of a trade deal with China, but that optimism faded in the morning, ostensibly due to economic data.
To me, this reads as a manic market reacting irrationally to small bits of news, while the main story is still incomplete.  Add to that, stocks are trading a key testing level & there may be some natural resistance above the current price.  This makes for the potential for wild price swings, which are just what day traders want.
Case and point, this morning saw a short term AbleTrend sell signal on NQ futures that would have resulted in an 80-point gain in just over an hour.  That's over $1,600 per contract!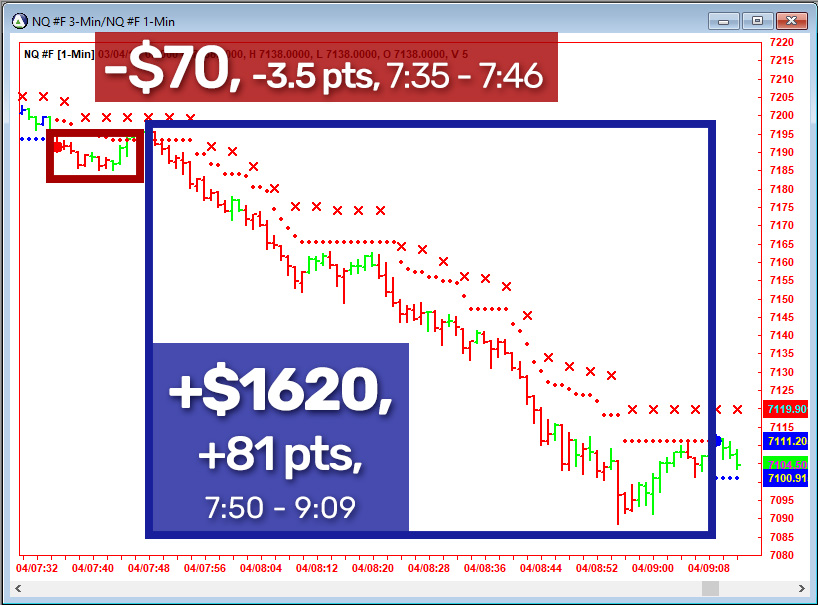 Were you there for this move?  If you were, did you take advantage of this opportunity?
With AbleTrend, you could have spotted this move early, and most importantly, you may have held through the whole move with the aid of AbleTrend's intelligent stop signaling.  No one can predict when the big moves will hit, but it is possible, as we've shown, to catch the big winners.
The key is having a systematic approach to help you participate regularly in the markets.  Be there to trade the big moves, while keeping risk limited.  AbleTrend can help you achieve this, and it can also help you identify when not to trade.  To better understand how it works, you can test drive AbleTrend for yourself.
If you're already using AbleTrend signals, you can reference our recent blog content for additional guidance, including last week's post, which charts all of the signals following the 1/3 min guidance chart signals.
Check out our Bi-weekly Webinars on Youtube
And check out the day trading mini-course page for more details from the model performance.
---