Picking stocks in the Finance Sector or the Technology Sector?
Many Analysts Recommend: Buying Bank Stocks and Stocks in the Financial Sector
That's because the Fed will raise interest rate four times this year, and three times next year. The Fed funds rate has been up from 0.75% of last year to current 2.0%, and will be up to 3.75% next year (2019). Based on the fundamental knowledge, if the interest rate is going up then bank's revenue will be up too therefore it makes sense to buy bank stocks.
The actual stocks of the financial sectors have been trending down
In reality bank stocks and stocks in the financial sector have been lagging. ETF of the financial sector (XLF) dropped 4.83% this year, and in contrary, the technology sector XLK has been up 9.66% this year so far. Here are the current charts with AbleTrend indicators applied. Blue indicating buying and red indicating sell.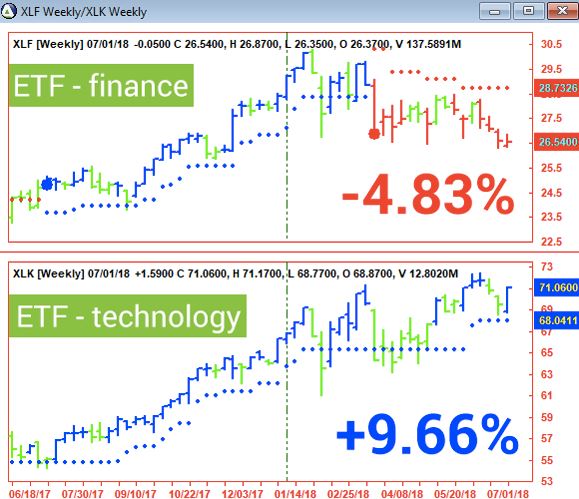 As you can clearly see from the above two charts, AbleTrend red signal shows a down trend for XLF – the ETF Finance, and AbleTrend blue signal shows an uptrend for XLK -the ETF- Technology.
AbleTrend Indicates Trend Changes Instantly Without Human Bias
To prevent making wrong decisions in stock selection, AbleTrend is a great tool to use. AbleTrend identifies trend direction by color: Blue signals an UP trend, Red signals a DOWN trend, and Green signals a SIDEWAYS market. When you look at the above two charts it becomes clear which stock is trending down and which is trending up, therefore your stock selection becomes an easy job and you can do it with confidence.
Why AbleTrend Indicators can be trusted?
Stock markets or any markets can be chaotic and unpredictable but the way of AbleTrend makes its calculations remain the same. They work for all markets and all-time frames, it's timeless and universal. Based on this nature you can apply AbleTrend to any market to see how it works. Because you have seen it happen time and time again you will have confidence to use it in your real trading.
---