AbleTrend Signals for the Recent Market Turmoil
Last Thursday the Dow dropped 724 points and Friday continued to drop another 425 points. All three major indices the Dow, S&P 500 and Nasdaq have now dropped below the end of last year. The market has lost more than $3 trillion in total value since the S&P 500 index peaked on January 26 this year. Rising interest rates and possible trade war with China had market watchers warning that volatility was back and here to stay.
The CBOE Volatility Index ($VIX), which measures market expectations of volatility and is often referred to as Wall Street's fear gauge, spiked to a multi-year high during the recent market sell-off. It stood at 24.87 at the end of last week while it was around 10-12 for a long time previously.
Is this an opportunity to buy stocks cheap, or is it the beginning of a down trend?
AbleTrend can help. It's the best time for AbleTrend signals when markets become volatile – big swings up/down and when the big money can be made. AbleTrend is designed for volatile markets.
View the chart below for recent Dow index: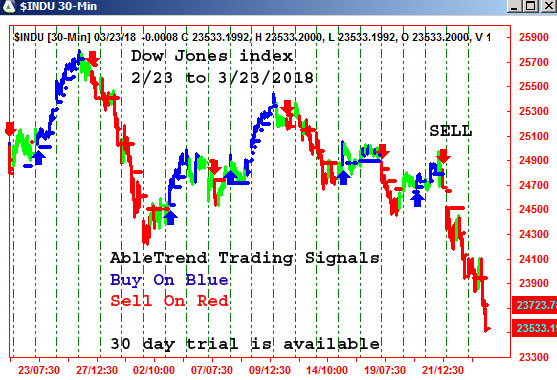 The best way to learn a skill is by practicing it. The 2 new weekly webinars every Tuesday and Thursday are free and the live one on one trading sessions will greatly help you to prepare for actual trading on the live market and it will tell you how your psychology will react to the experience. This insight is gained only through experience, so give AbleTrend a try today.
As always, please feel free to forward this email to your friends.
With Warm Regards
AbleSys Corp.
Grace Wang
gracew@ablesys.com
---