Buy/Sell Alerts Just Before the Sweet Spots
Wasting time and energy by waiting along in a sideway market isn't just frustrating, it's the number one problem that day traders face.
Sideways markets and false breakouts can trap traders into losing trades.   This unproductive noise drains resources & traders are often worn out when real opportunities show up.
With this message we'll show you: 1) What a Sweet Spot Trade Setup looks like; 2) How you can get a customizable Sweet Spot alert. Here is an example: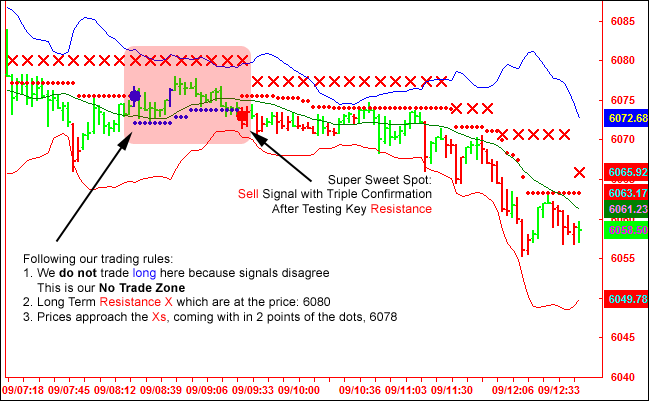 The key to the sweet spot is low risk & high potential for reward.  In the sample chart above, the long term direction is down, defined by the red Xs above the price.  We don't buy on blue here because there is disagreement between the long term and short term signals (No Trade Zone), but we can pay attention to what happens as prices test the Xs.
In this example, we have what we call our super sweet spot:
Prices finished testing the dots and started down
We get a binary sell signal from our trading time frame
There is just 2.5 points risk on the trading time frame
Previous roadblock on the chart is 7 points away, so there is a favorable risk/reward to start the trade
In this example, the trend breaks through the previous low, and trades down over 20 points
As you can see in this example, the main work is done in that period leading up to the sell signal.  Wouldn't it be nice to have a customized alert to tell you to pay attention?
Sweet Spot Alert Helps You to Focus on the most relevant
Trading execution is now so good that it can take just a fraction of a second to place and fill an order. But the real work in trading is knowing when not to trade. Out of the 6 and half regular trading hours, a good trade setup to the trend for day trading might only takes about 20-30 minutes – the rest of the time is noise. As you can see in the chart below, you can set up Sweet Spot Alerts (the black x, marked "sell alert") calling for your attention to take an upcoming sweet spot sell signal. You don't need to stare at the computer because you can get the Sweet Spot Alert. Just estimate how much money can be saved and make more by doing less.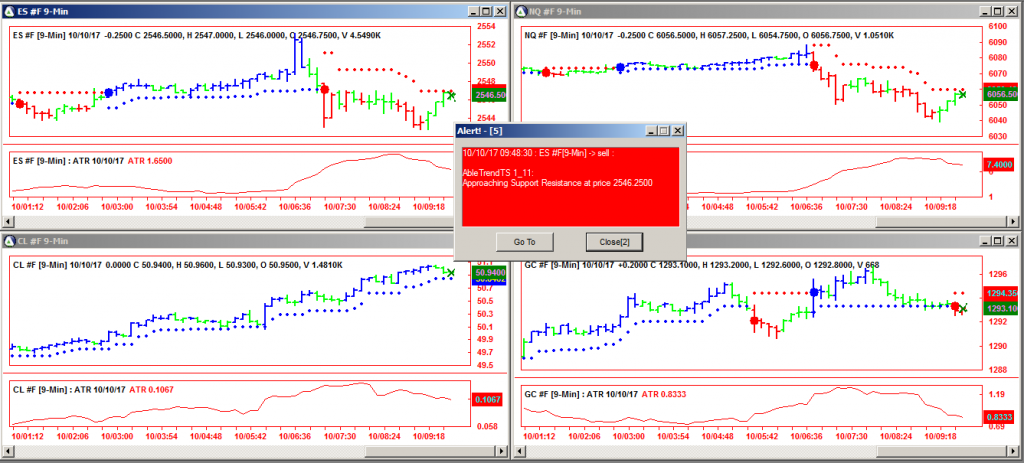 Sweet Spot Alert is Customizable
You can customize the Sweet Spot Alert by value, how close to the support/resistance levels. It shows up in real time.
Click here to see the next post on how to set up the Sweet Spot Alert in AbleTrend
You can also view new content each week, on demand from our youtube channel
With Warm Regards
AbleSys Corp.
Grace Wang
gracew@ablesys.com
---