Are you Ignoring Trade Opportunities in the E-mini Russell?
Today's post is inspired by yesterday's price action which stood out as extremely flat & choppy.  In most of the products that we follow to trade intraday, prices failed to go anywhere directionally.  Whether you followed ES, NQ, CL or GC, from the morning all the way to the end of the trading session, prices never provided any meaningful moves that could be traded profitably.
One major exception yesterday was in the E-mini Russell 2000 (RTY)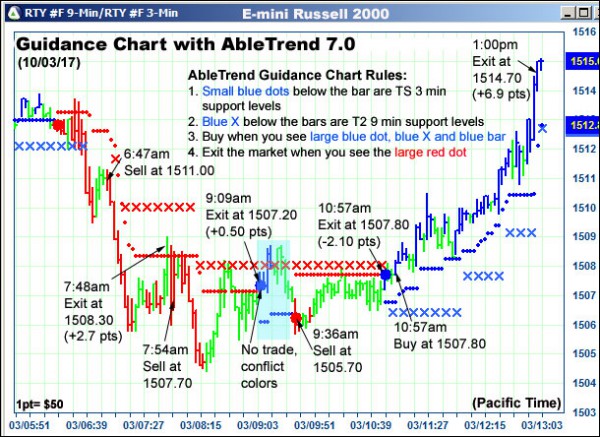 Here we see a nice move to the downside in the  morning, a nicely filtered No Trade Zone,
and then a new signal back up that could have been traded for a nice profit.
However what we found when talking with users, was that many people missed this opportunity yesterday because they didn't have RTY set up in the workspaces.  People who stopped following the Russell in recent years due to data/exchange fees should check to see if you have access.  In July, RTY started trading on CME, and most traders should have access to it with their CME bundle.
The Russell has been a very good product to trade, and in July it got a lot more accessible when it started trading on CME.  Since AbleTrend is universal and we want to take advantage of that fact by staying open to the different opportunities that may present themselves.
The best way to learn a skill is by practicing it. Though guides and tutorials will help you prepare for actual trading on the live market, they cannot tell you how your psychology will react to the experience. This insight is gained only through experience, so give AbleTrend a try today.
View AbleSys YouTube
Explore Trade Library
As always, please feel free to forward this email to your friends.
With Warm Regards
AbleSys Corp.
Grace Wang
gracew@ablesys.com
---