Take or Not Take Profit
Last Friday on May 5th we have recommended a Sweet Spot Entry for NVDA in our blog and it's up $23.46 by now for the week! Take or don`t take profit? It's a controversial topic. Some say:   taking profit never makes you broke; take profits and run, while others say: cut losses short but let profits run; sit tight with your winners…
AbleTrend trading software makes profit taking strategy simple, that is Buy at Sweet Spot and Take Partial Profit when price hits Bollinger Bands. Here is today's NVDA chart with AbleTrend.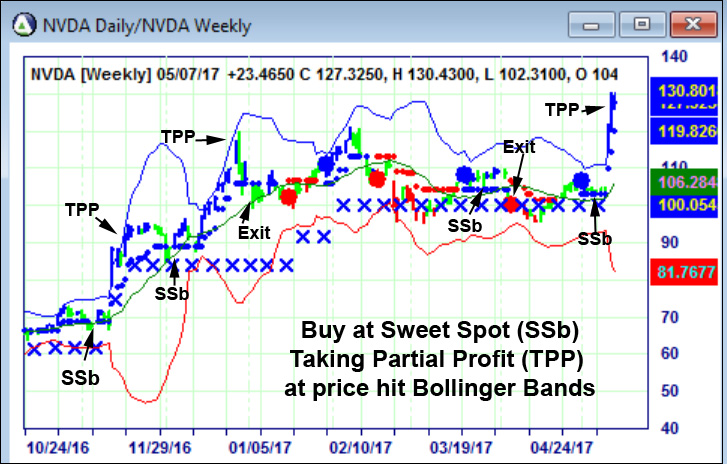 When you take partial profits off the table and leave the other half in the market, you now have the luxury to risk the market capital for the potential that the market could go without risking your own money for the trade. It's a wonderful feeling of staying on top. It's that kind of mental stage that makes all the efforts you have been making worth taking. In addition, if you have practice AbleTrend trading software rules long enough, you'll know by heart that these trading rules are real and can be applied with discipline.
To learn what the Sweet Spot looks like and how to find more of them, and how these trades evolved in the recent trades, visit our Trade Setups and Outcomes examples.
With Warm Regards
Grace Wang
AbleSys Corp.
Gracezh@ablesys.com
---