An "Ordinary Day" of E-mini Day Trading
If you are a counter-trend trader, you might experience your "worst days on trending days" because you might keep adding positions onto your initial position as you follow the "average down" strategy. You might spend your day on edge, being whip-sawed as the market develops.
But when you trade with the AbleTrend Guidance Chart, you only have ordinary days. You avoid being caught up in most of the choppiness, and therefore eliminate having "worst days."
Here are two E-mini day trading charts from last Friday with AbleTrend Guidance Chart rules applied. These are examples of how AbleTrend Guidance Charts can put you in an ordinary E-mini day trading situation. Both charts show how conflict in colors on the Guidance Charts would have kept you out of taking low probability trades throughout the day.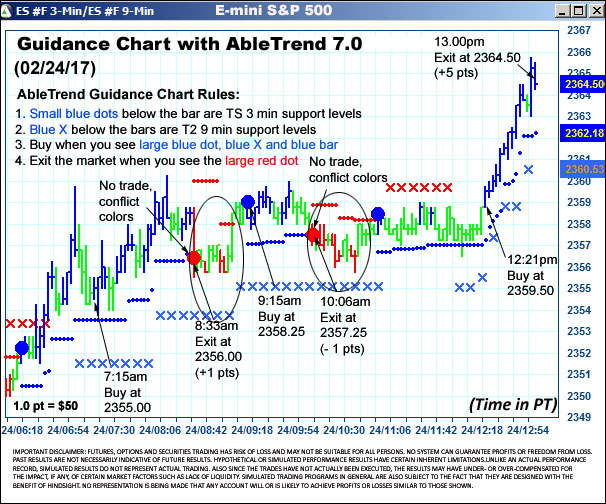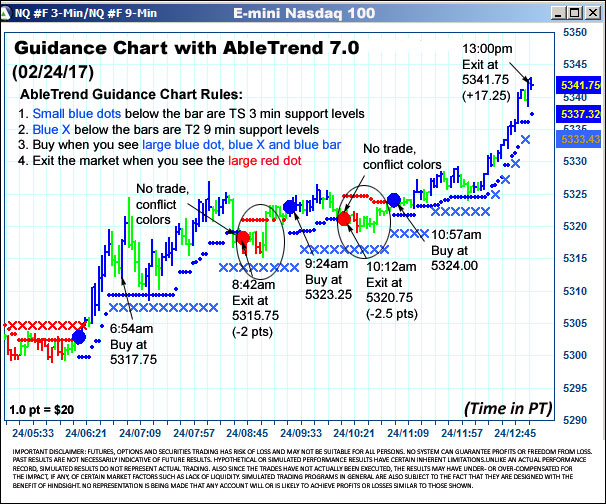 AbleTrend Guidance Charts Help You Take Only High Probability Trades
Keep in mind that none of us can make the market go our way. Profits are given by the markets, and every position generates risk. All you and I can do is to get onboard the high probability trades, avoid low probability trades, avoid market noise as much as possible, and know where to stop with discipline. 
An "Ordinary Market" Is a Good Market for Getting Your Feet Wet
With AbleTrend you have a system to follow consistently. Learn how to survive the markets with relentless discipline. Gain the ability to stay in the market for a big hit, and not get killed on your losses. Train yourself to be a relentless trader.  
Do Your Homework!
In order to harvest "effortless rewards" in real trading, you need to put in the effort to do your homework. You need to see enough AbleTrend "hindsight charts" to be convinced that they really work. Then you will have the internal strength to follow the trading signals. Trading can be learned just as driving a car can be learned. With AbleTrend, trading can be made just as automatic and just as reliable. 
AbleTrend Guidance Chart Rules Are Simple and Consistent
AbleTrend Guidance Charts consolidate all the market information into clear trade signals that are simple and consistent, so that you can easily learn and master a skill that will serve you well throughout your trading career. 
Get Prepared Now for the Upcoming Market Trends
President Trump's pledge for "phenomenal" tax reform pushed stocks to record highs. This is good news for traders because nobody can win when the market doesn't move. But how do we recognize real moves from short-term blips? AbleTrend Guidance Charts help you filter out false signals in choppy markets. When a real market trend begins, AbleTrend trading software will quickly identify it with multiple time-frame trend alignments, allowing you to trade in harmony with the "Smart Money."
With Warm Regards
Grace Wang
AbleSys Corp.
Gracezh@ablesys.com
---
Comments are closed.