Trading AAPL with AbleTrend Guidance Chart
Using daily and weekly time frames with AbleTrend Guidance Chart has been popular for swing trading stocks. Here is an example with AAPL.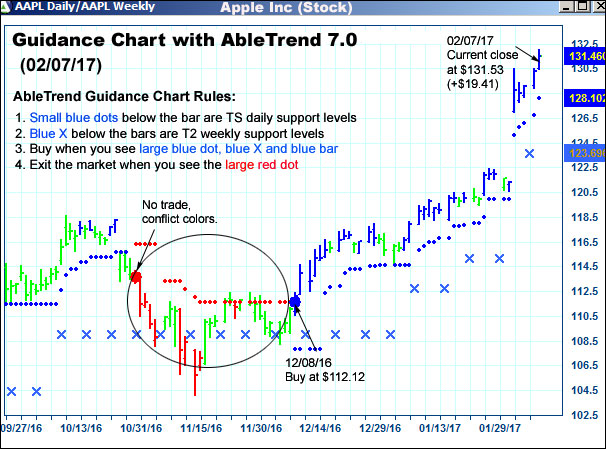 The reasons that traders and investors like to use AbleTrend Guidance Chart are many, here are the four main reasons.
Benefit 1: It Filters out false signals and choppiness
What's makes AbleTrend Guidance Chart so special vs everything else is that it helps to filter out false signals and choppiness for entries. It combines two independently calculated indicators with two different time frames in one chart to generate a final entry signal. It greatly reduces risk leaving only lower risk AbleTrend buy/sell signals
Benefit 2: It provides Double or Triple confirmation for the entries
Multiple time frame trend alignment with different indicators, AbleTrend Guidance Chart sometimes even offers triple confirmation for an entry to trade in harmony with "Smart Money".
Benefit 3: It synchronizes the most relevant info into a simple glace
AbleTrend Guidance Chart trading rules are simple and straight forward. It helps you to focus on the most relevant information about the market in a timely manner so that you can build executable skills for trading investing.
Benefit 4: It helps you to Know the major support levels at your finger tip
Whether you have a position in the market or not, AbleTrend Guidance Chart shows you the true market support and resistance levels at glance. So that you are always aware how much you are risking and where to add to positions or where to take partial profit.
With Warm Regards
Grace Wang
AbleSys Corp.
Gracezh@ablesys.com
---