How to trade Dow 20K and after?
On the Fed news day the Dow index was 50 points away from 20,000. Now that U.S. stocks recovered some of the decline, the Dow Jones Industrial Average (DJIA) increased 60 points (0.3%) to 19,852, the S&P 500 Index gained 9 points (0.4%) to 2,262 and the Nasdaq Composite added 20 points (0.4%) to 5,457. In heavy volume, 987 million shares were traded on the NYSE and 2.1 billion shares changed hands on the Nasdaq.
Most likely the Dow will reach 20,000 very soon. How to trade the Dow 20K? What stocks do you buy? Some analysts suggest the financial (bank) stocks – XLF, some said the financial have gone up too fast, they suggest the lacking health sector – XLV etc. In fact the ETF for Dow is DIA and it's working very well with AbleTrend signals. See below the daily chart of the DIA with AbleTrend's signals.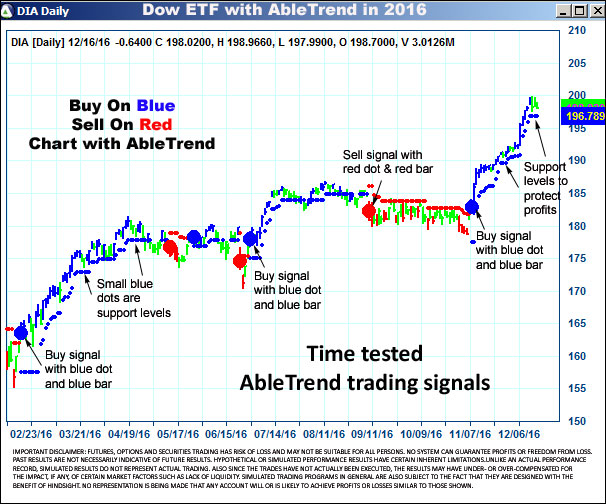 Since the Dow is likely going to reach 20K, the way to trade is simply following the "Buy On Blue, Sell On Red" rules. Follow the signals to buy or sell the DIA for the Dow 20K and after. You may use the daily chart as guidance chart and buy at dip with 30-minute chart. Use 30-minute support levels as your protection. We may have a Santa Claus Rally in the market and we wish that you do well at the conclusion of the year 2016.
Even better news is that at the end of the trial period you may apply the trial price towards lease price with the biggest sale and lowest prices of the year now. Take this special offer now by test Driving the software for yourself and you'll never see the market the same way again!
With Warm Regards,
Grace Wang
AbleSys Corp.
gracezh@ablesys.com
---