Take It When It Comes
Last Friday we posted a nice chart for TF guidance chart signals. A reader sent me an email asking for more charts of "not perfect days." I totally understand, sure there are many days that the markets are under choppy conditions and that's where the guidance chart really helps the most being you won't get many signals on those days. That's why AbleTrend trading software is known for dealing with choppy markets with its "Low risk or no trade" concept powered by the AbleTrend Guidance Chart. When uncertainty increases, volatility surges. Today was another nice day for day traders using the AbleTrend signals.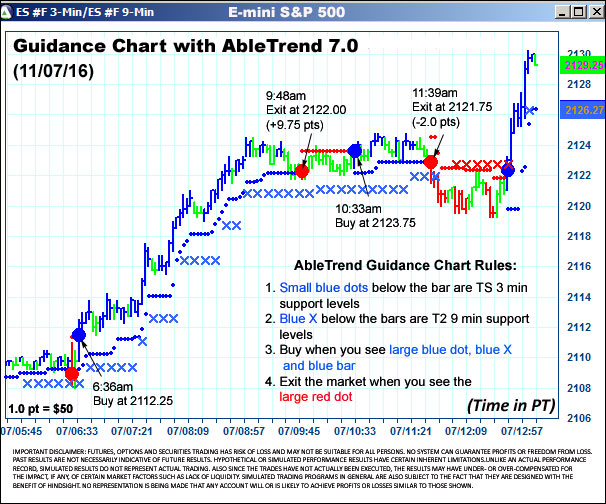 Take it when it comes
Opportunities are for those who are ready. When the nice trade setup comes you need to take it without hesitation. We are in the information explosion era so if you don't have specific rules to follow you'll surely miss the moves. As one of our users told me "before I used AbleTrend, I talked myself out of each and every trader by seeking for the agreement of different indicators" There are just too many things to consider before making any quick and definite decisions. With AbleTrend you have specific rules to follow in choppy or trending markets – specific rules to follow.
Difficult Task Made Easy
Trading is one of the most difficult things in the world but AbleTrend makes the difficult task easy. As you get more and more familiar with the software, you'll be able to discover the characteristics of the market you are trading. The markets act random but the underline principle of the AbleTrend signals remain the same.
To help you to take advantage of the volatility of the election year this November we are making this special offer for you. Test Drive AbleTrend for 30 days, just $99!
With Warm Regards,
Grace Wang
AbleSys Corp.
---