A Follow Up Study of Disney Stock
On August 9 we posted a blog article "Is Now Good Time to Buy Disney Stock?"
and commented that although Disney reported quarterly earnings and revenue that beat analysis's expectations on that Tuesday, after market its price dropped 1.78%. AbleTrend trading software gave a sell signal on January 10, 2016. Following is the current Disney chart.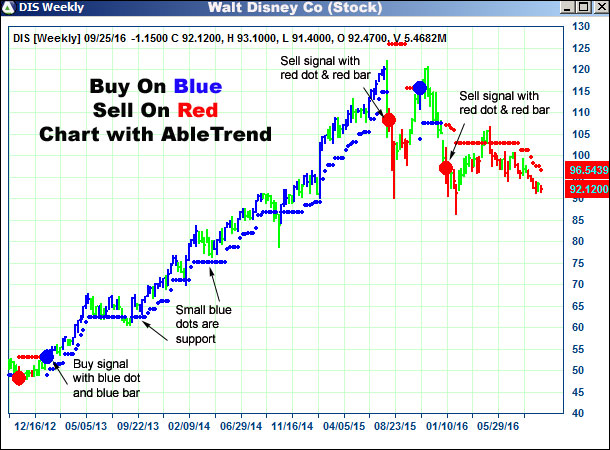 This is just one example of AbleTrend signals. Market could go against the news and market commentaries might have some bias opinions but AbleTrend trading software gives objective and consistent signals that you can rely on. Here are some of the benefits to have AbleTrend trading software as your private counselor:
If the AbleTrend signal agrees with the stocks you were going to buy, it confirms your position with confidence;
If the AbleTrend signal is in conflict with the stocks you were going to buy, it brings caution to you.
You can apply AbleTrend to the historical charts of the stocks that you are now trading and build confidence for your future trading.
AbleTrend's objective support and resistance levels help you to evaluate if your stock holding is in the right or wrong direction during the course of reaching your ultimate profits.
With Warm Regards,
Grace Wang
AbleSys Corp.
---