Trade Signals for Sugar Futures
No one makes money if the market you trade does not move. An uptrend with momentum delivers opportunity in the market place and yet it comes with volatility and risks. Therefore you need to trade the market with volatility and armed with a reliable device to manage the risk and that's AbleTrend trading software. Here is the current Sugar Futures chart with AbleTrend signals.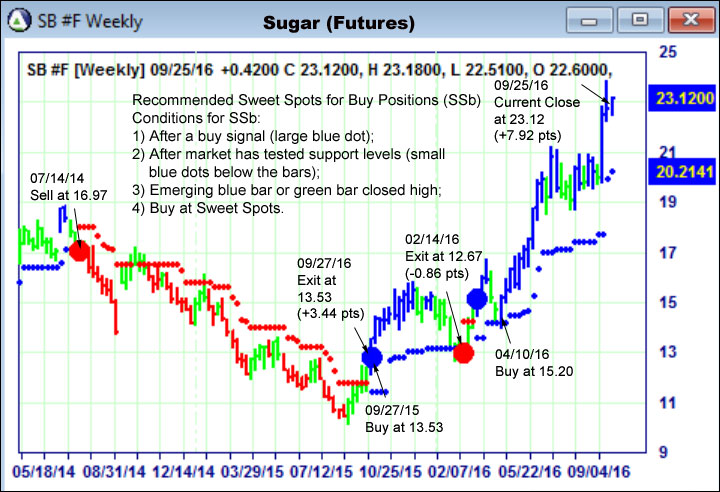 AbleTrend trading software provides the two key things: early recognition of the trend and objective market support/resistance levels. One of the benefits using AbleTrend trading software is that the distance between the entry price and the market support levels are small therefore the risks are greatly reduced.
Buying at AbleTrend Sweet Spot is Buying at Dip with Uptrend
Knowing the true market support levels, you have the power to find the lowest risk entry spots with the assurance of uptrend momentum. Yet the best advantage is that you know whether you're right or wrong right away. You may place your stop at the 2nd level of the blue dot as your protective stop with peace in mind. If it reverses direction you will stop out with a smaller loss.
AbleTrend is a principle based trading software which received Reader's Choice Award from S&C magazine for more than 19 years. Now is the perfect time to get prepared for the huge opportunities in today's chaotic global market. AbleTrend trading software is designed for investors and traders to take advantages of volatile market.
With Warm Regards,
Grace Wang
AbleSys Corp.
---