Don't Depend on Fund Manager to Protect Your Accounts
Last week panic pushed U.S. stocks into a bear market on Friday with the S&P 500′s decline from its all-time high in reaching 20%. Dow index has been down for 8th consecutive weeks, it's the first time since 1923. Nasdaq index is down 30% from its 52-week high.
As the market situation is deteriorates, many people are panicking as their retirement accounts shrink week by week, but unable to do anything about it. They expect their investment managers will take care of their accounts. These losses may have seemed tragic to you when they happened. But here is the real tragedy: Many of these losses are unnecessary! AbleTrend gives specific exit signals for the markets. Here are just two of them.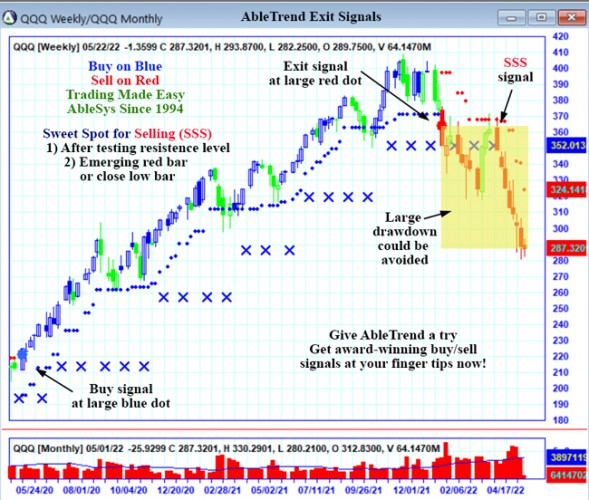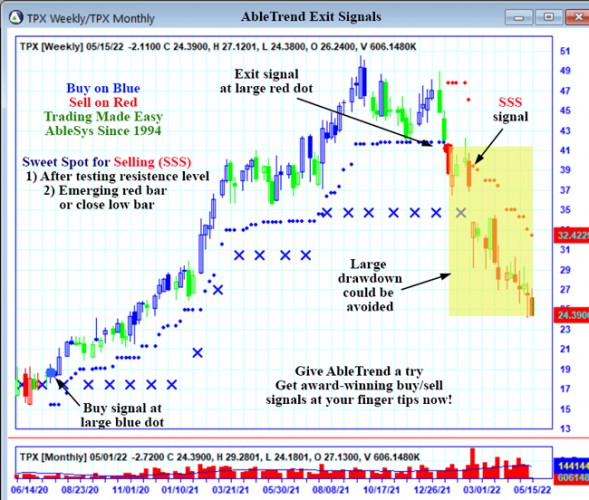 Armed with AbleTrend in the stormy weather, you'll be protected with the exit signals. It's time to own AbleTrend as a precautionary measure. It gives clear and specific exit signals during the market turmoil. When you are prepared and have tested the signals, you gain the confidence in your self and the market. Take initiative now. You are the master of your own accounts, not your fund manager. You are the only one who is responsible for your accounts. You need to know how to deal the bear market, which has just begun
Add us to your email list as I will show you how AbleTrend signals worked at the end of historical bear markets. With AbleTrend, you'll never miss any big trend at their early stage.
---
"I have been an AbleTrend subscriber for over 20 years. Since I position trade equities, I look at both the Daily and Weekly charts to make sure both are in a "Sweet Spot" before initiating a trade.
Once I am in a position, AbleTrend is the best system I have ever found for Protecting Profits and Stopping Losses. While I do not day trade, it works equally well for trading on shorter time frames. I can't imagine trading without this excellent trading system."
-Gerald D Wollert
---
FREE one-on-one consultation
We're the people you can reach for one-on-one help! Whether you're new to this, or you'd just like to have some assistance with software, we're here to help.
In a world that has been increasingly difficult to get real help from a knowledgeable service representative, our customers are amazed that we still offer good old fashioned service!
Request a FREE one-on-one consultation with AbleTrend consultant at ronc@ablesys.com today.
View more Ablesys Signals for Top Stocks. You will discover more "Fresh Signals By Noon" and "Signals in Progress".
Give it a try! You will be able to see AbleTrend support dots for your stock holdings on your own and save capital by cutting losses short. You will be able to generate more Fresh AbleTrend Launch Point Signals on your own as well. We'll be there to hold your hand through the learning process.
---