Risk Market's Money to Win with AbleTrend
Buy on Blue and Sell on Red, Winning with AbleTrend
AbleTrend uses red bar, red small dot and red X to confirm a valid sell signal.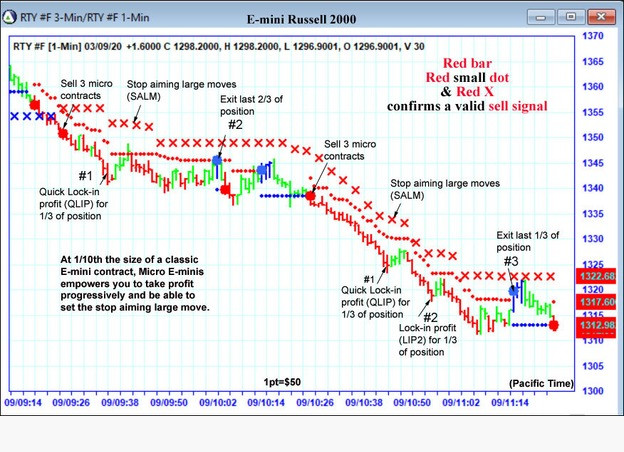 Quick Lock in Profit (QLIP)
Not able to stick with the winners due to fear is one of the major obstacles in trading. If one can find an entry point where he can quickly lock in partial profit and let the other half of the position risking the market's money, trading fear will greatly be reduced and profit takes care of itself.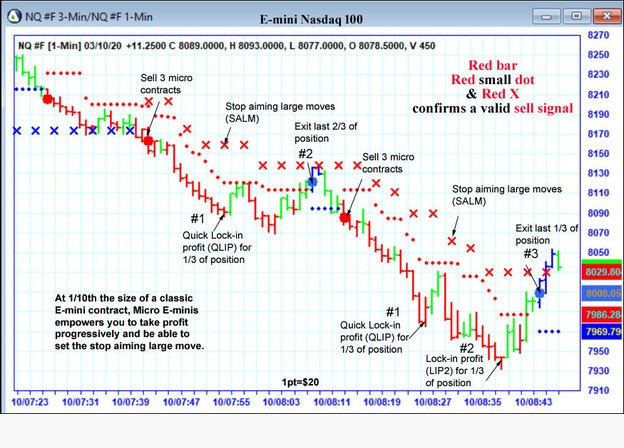 Stop aiming large moves (SALM)
Ones you have locked in profit for 1/3 position, you now have the freedom to move your stop to the longer time resistance level which is the red X for the potential to stick with the large move. Because you have locked some profit for the trade you are risking the market's money for the trade.
ECM has introduced the new Micro E-mini Futures. This new instrument has made it possible for individual traders to take advantage of the market volatility with lower risk.
Give it a trial! We'll be there to hold your hand through the learning process.
---