High Volatility Breeds Super Trades Recently
AbleTrend is designed for you to turn volatility into low risk opportunities. Today's E-mini NQ chart is a perfect example.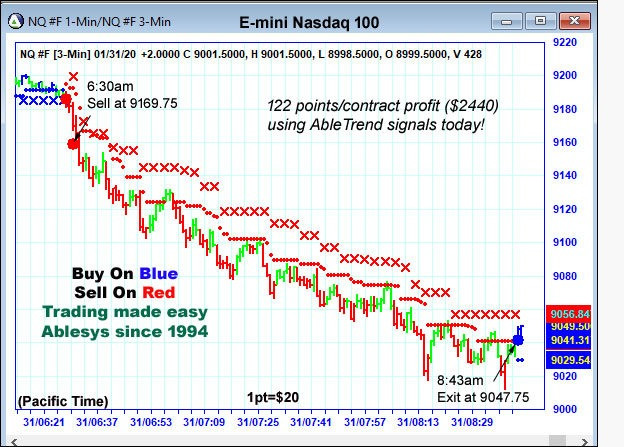 Buy on blue and sell on red. Add a few positions at the sweet spots and stay out at the No Trade Zone. The current high uncertain volatile market provides the perfect environment for day traders to ride the trends. Sharpen your day trading skills with AbleTrend.
Opportunity is only for those who have prepared for it and who have powerful tools and 
know how
 to use them. AbleTrend can help you to capture the profit when low risk opportunities come.
AbleTrend is designed for volatile markets and is a time-tested tool to capture big trends with calculated risk for futures, stocks, commodities and Forex.
In celebration of AbleSys' 26 years of excellence in the trading software industry, we have released a Free 
4-part mini-course
 for serious traders, The Blueprint for Day Trading Success.
And celebration is in order! Only AbleTrend has won Stocks & Commodities magazine Readers' Choice Awards of triple* trading systems for 23 years in a row (1997 – 2019).
*including stock trading systems, futures trading systems & option trading systems
In this mini-course you will learn:
1. How to define the onset of a real trend so you can make an early entry
2. How to manage trading risk effectively
3. How to identify choppiness using the AbleSys Guidance Chart
4. How to spot low risk entries by identifying Sweet Spots
---