Introducing AbleTrend Performance Portfolio (APP) Series (6)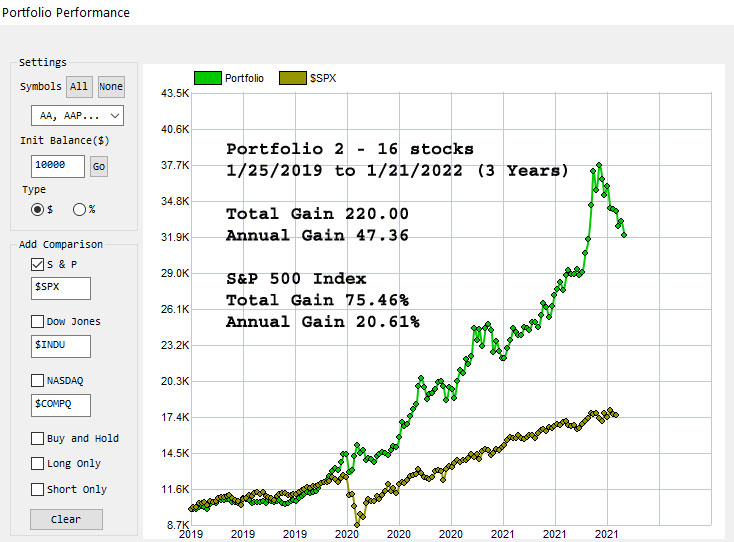 Manage Your APP Portfolio
Once you have AbleTrend and APP as your trading tool trading becomes easy and fun. Above is one of the recent APP examples.
Rules to follow
Establish a watch list with good performing stocks. The stocks much have high historical annual return with APP back testing record and historically trending well indicated by AbleTrend colored charts. AbleTrend colored charts help you to prevent choppy stocks. If AbleTrend colored chart shows the stock changing colors back and forth frequently historically then avoid select it.
Buy stocks at sweet spots
Buy stocks with 1/4 of APP recommended shares for momentum stocks in the middle of up run
Add shares at sweet spot for winners
Exit when you see the large red dot appear
Exit ¾ of the shares when unexpected events happen
Sit tight with the stocks are testing daily support and does not penetrate the support level.
Advantages of trading with APP
You know exactly the true market support levels as AbleTrend shows you with the small blue dots. Therefore, you know what's the risk amount before you even enter the market
APP shows you the recommended shares for each stock that your portfolio should buy according to your account size. You can adjust your holding accordingly
Never again will you feel helpless when you see the market soaring high and higher without your participation; neither will you see the market drop like rock still holding them with the hope of "will be back someday for long term".
AbleTrend and APP provide you the easy to use tool that professional investors lack.
Here is a 7-minu video showing you how to systematically identify sweet spots and significantly improve your trading results.
Give a trial with hands-holding one-on-one consultant today. $30 off discount code: DTHS69
With Warm Regards,
Grace Wang
AbleSys Corp.
grace@ablesys.com
---