The New Micro E-mini Futures Edge Now
The New Micro E-mini Futures Edge
for the Current High Volatility Now
ECM has introduced the new Micro E-mini Futures. This new instrument has made it possible for individual traders to take advantage of the market volatility with lower risk.
At 1/10th the size of a classic E-mini contract, Micro E-minis require less cash to enter the market with lower margins. If you are a NQ trader, the following chart of 6/11/19 shows you an example how it gives you a powerful edge to lock in profit quickly and be able to set the stop aiming big move.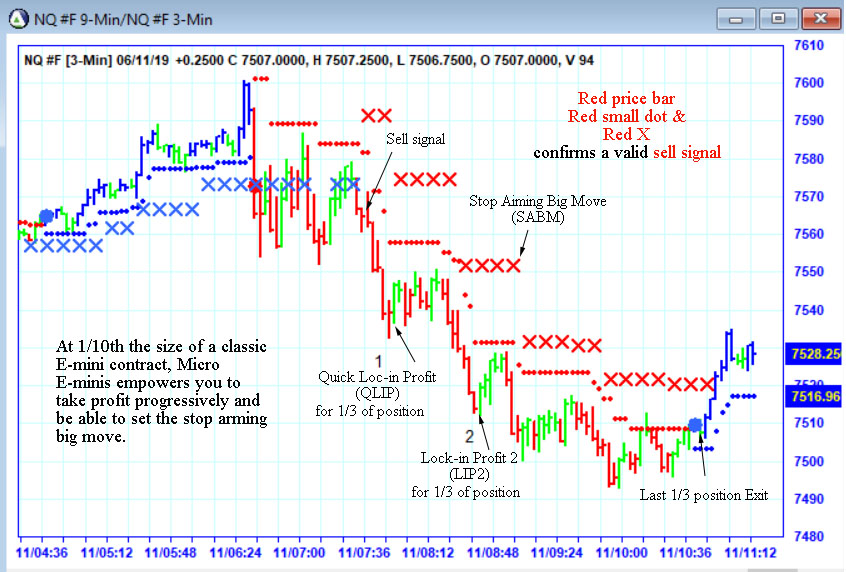 This progressive profit taking strategy empowers you to lock in profit quickly for the first 1/3 of position right away at arrow 1, lock in profit for another 1/3 of the position at arrow 2, and make the last 1/3 position with stops in place to catch a big trend for the optimal profit.
This progressive profit taking strategy will help boost your winning confidence shortly after you open a position. If you use AbleTrend sweet spot entry, the probability of taking the 1st 1/3 of profit is very high.
After you take the 2nd profit you are now be able to set the Stop Aiming for a Big Move (SABM). It was very difficult to set a SABM when you trade the normal E-mini contract because usually the risk is too high for smaller account traders. Now with the progressive profit taking strategy that the Micro E-min futures, with the 2/3 of the profit been taken, you have 1/3 of the position using the markets money which is what this trade has produced. What a luxury situation that you have created for the trade.
Long-time AbleTrend Users Sharing at Trustpilot
I have used it for 10+ years and have tried many other trading software systems. This is by far the very best system that can adjust to any market condition. -Joe S
I have been using AbleTrend for 13 years! Primarily for day trading stocks…I could not do without it! It is an invaluable tool that complements my trading…it confirms other programs signals. -Ricardo DaSilva
I have been using AbleSys since 2009. In my humble opinion, AbleSys offers the best trend software available on the market today. -Frank
I have been using the AbleTrend software since 2015. I have used several charting software and trading plans, and no one comes close to AbleTrend. This software is: • Simple to use. • High reliable buy/sell signals. • This charting software has a trading advantage by using Guidance Charts. • Excellent customer support. Try it out for yourself and you will not be disappointed. -Vinko
I have used AbleSys software professionally for 10 years and now personally in retirement for 2 years. AbleSys gives you disciplined entry and exit points for the security and time frame that fits your reward risk profile. I trade the TS system with weekly stock charts with a monthly guidance chart. I never very from the TS discipline laid out by AbleSys. I consistently win over time as I am always in stocks that are acting well technically and never very from what the TS software discipline says. -Mike
I never make a trade without checking with AbleSys. The program is my important guiding light and has been for over 10 years. I highly recommend this program. -Harvey Saff
I am a long-time user of AbleSys. The buy and sell algorithms are reliable. There is still an art to trading in that you need to put the signals in context of price action but having the support and resistance levels printed on the chart really "frames" the trade. The signals work the same on all charts whether a 5 minute or a monthly chart. This allows you to trade short or long term depending on your goals. Seeing the trend clearly is a great help. I would not recommend trading without AbleSys. -Skip
Have been using Able Trend for 20 years and it is just as effective and accurate as it was in 1999. I have used it profitably for day trading for futures, just as I have for position trading stocks. If you truly want excellent results, then you need to follow the coaching instructions given in their book or by their own traders (see website ). Use every day whether trading that day or not. -Dan Sayyer
I have been using AbleTrend for several years. AbleTrend plots support and resistance in real time and I would not enter a trade without AbleTrend bars in agreement. Ron Carbone offers excellent training while Eric offers excellent support. Trading in real time with price action beats lagging free indicators every time. The fact that they have been in business for over 20 years validates the software. -John W
I own this program over ten years It helps me to stay in trade longer excellent customer support by RON very honest and always upgrading for better results. It works for Day trades as well for stocks and Options very helpful!! By far one of the most Honest company in the Industry. -Vassilis T.
I have been using your product for over 6 years. It is an excellent product which help me make decision of stock trading. -Wen
I've owned it for at least six years. Very accurate and I can trust using it.-Leonard
This has been a very reliable system for over 15 years. I use it every day to determine stocks to buy, hold or sell. -LeBlanc
I've used AbleTrend for many years, and I never buy a stock without checking the signals first. There's nothing better than when a good story lines up with the signals for a low risk buying opportunity. Thanks for the great product and support. -Sam
Give a trial with hands-holding one-on-one consultant today.
Special $69 trial discount code: DTHS69 
With Warm Regards,
Grace Wang
Co-founder of AbleSys Corp.
gracew@ablesys.com
510-962-5904
---