Signals for Today's Stock Market
The big S&P index was 13.65% higher in the first quarter which is the best Q1 in decades while stocks ended 2018 in equally unusual fashion, finishing the calendar year with the worst quarter since 2008. How to participate in this market relentlessly for profit and exit the market decisively with confidence is every trader's dream.
The ordinary chart vs AbleTrend Signal Chart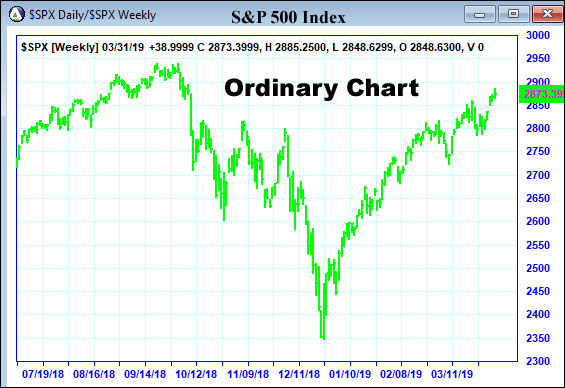 The chart above is an ordinary chart
With an ordinary chart, success in trading depends on the trader's subjective interpretation of whether a pattern or signal is forming on the chart. Whenever decision-making is subjective you risk having your emotions getting in the way of making the correct move.
That's the defect in your trading that AbleTrend 7.0 can help you solve. AbleTrend signal charts are color-coded to show resistance and support levels, specific buy and sell signals that tell you what to do and when as well as proper stop loss management. Just take a look at the chart below and compare it with the chart above. Which looks more useful to you or easier to interpret?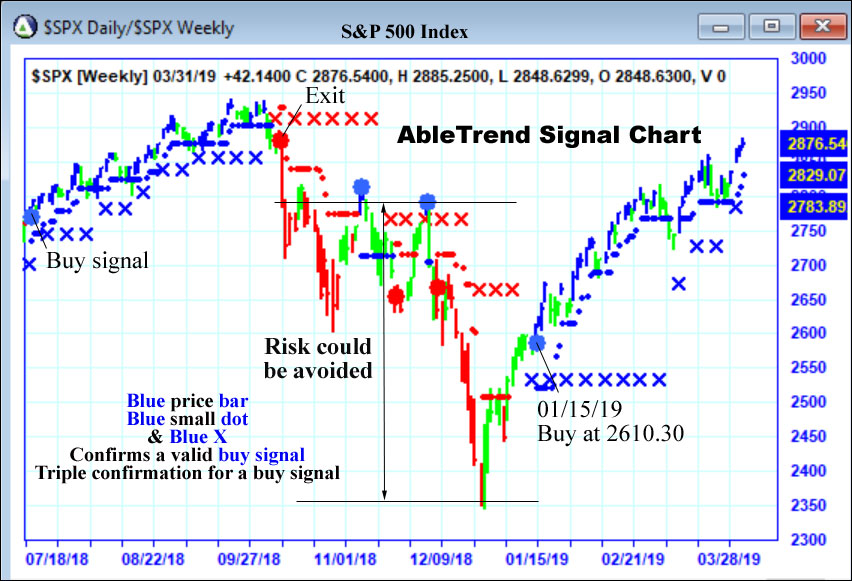 The chart above is AbleTrend Signal Chart
Here are more AbleTrend Signal Charts for Hot Stocks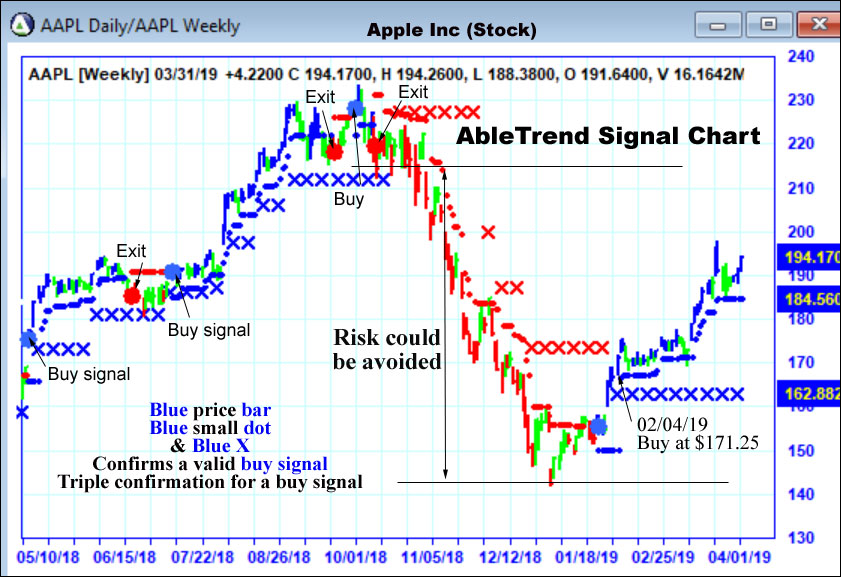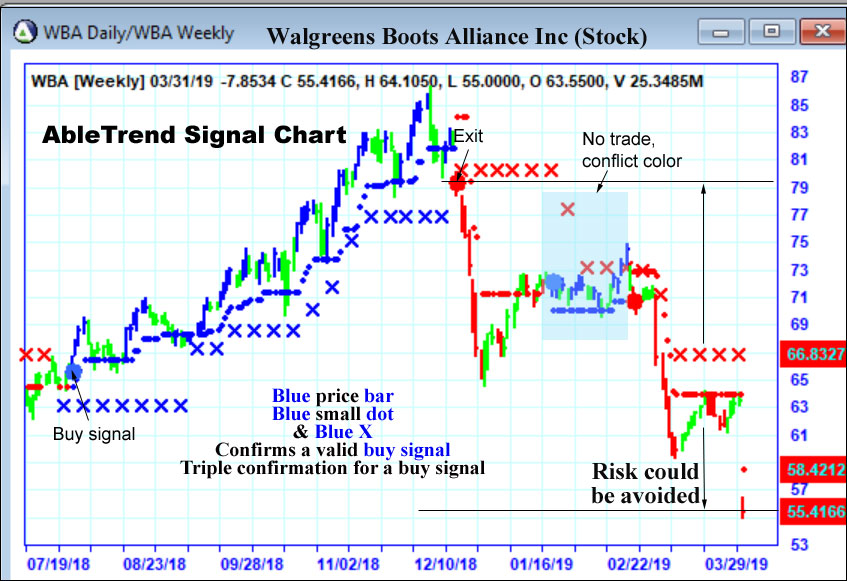 Save a bundle with AbleTrend triple confirmed sell signals.
Invest relentlessly with AbleTrend triple confirmed buy signals.
What is AbleTrend Signal
AbleTrend signals may be one of the most important trading discoveries ever made about markets which was first revealed in 1995. The discovery is the early recognition of the market trend coupled with the ability to set optimal stops that escort the trader toward ultimate profit.
Multiple time frame trend-alignment 
Blue price bar,
Blue small dot,
Blue X confirms a valid buy signal
Red price bar,
Red small dot,
Red X confirms a valid sell signal
Reliable
You can trust AbleTrend signals, because once AbleTrend signals are generated and the bar closed, the signals will not change in the future. This is an important criterion in evaluating if the trading software is reliable.
Robust
AbleTrend signals are universal, working with any markets and with any time bars. It makes no difference whether the markets are bonds, stocks, commodities, currencies or any other freely traded markets. This tool makes all markets tradable. 
View more recent Signal Charts for hot stocks. Give a trial with hands-holding one-on-one consultant today. Special $69 trial discount code: DTHS69
Stock Clinic for the stocks you trade
You may request an AbleTrend Signal Chart for the stocks you trade, email your request at gracew@ablesys.com
Limit up to 3 stocks.
Traders Rave Over AbleTrend at Trustpilot
Those times that I lose money are usually because I haven' followed the signals being generated by Ablesys. It's a very dependable system. – Peter
Best ever helper for my stock Entry and Exit executions. -Neil
This system is absolutely amazing, I have been trading for over twenty years and nothing can come to the accuracy of this awesome system. -Customer
Great tool without bias. Extremely easy to use. -Steve
I've been using the product for many years and it exceeds my expectations with a high degree of profitable results. -Anthony
I am extremely happy with AbleTrend software. It has changed my trading in the best possible way. -Francesco
I have used it for 10+ years and have tried many other trading software systems. This is by far the very best system that can adjust to any market condition…I am exceptional pleased with its results. -Joe S
I have been using AbleTrend for 13 years! Primarily for day trading stocks…I could not do without it! Ricardo DaSilva
Have been using Able Trend for 20 years and it is just as effective and accurate as it was in 1999. I have used it profitably for day trading for futures, just as I have for position trading stocks…Use every day whether trading that day or not. -Dan Sayyer
I never make a trade without checking with Ablesys. The program is my important guiding light and has been for over 10 years. Harvey Saff
My experience has been totally first class. The software and the timely staff responses all have exceeded expectations. This corporation really cares but more importantly delivers big time! Using the daily, Weekly charts I follow 42 commodity futures worldwide. Including Currency futures , Energies , Metals ,Stock Indices , Grains, European Bonds and Softs.-Jim
Give a trial with hands-holding one-on-one consultant today.
Special $69 trial discount code: DTHS69
---