10-Minute Stock Check Ups
Stay on Top of Your Stock Portfolio
With Ten-Minutes a Day
How to keep track of your stock holdings with a clear view of each position's status is one of the major tasks that investors need to handle. Are all the stocks you bought still in the right direction as you initially perceived? Is there any stock hitting the profit target that you need to take some partial profit; or are there any stocks that are in the sweet spot needing to add more positions? or if there is a stock that reversed direction and needs to exit immediately… AbleTrend AutoScan helps you to glance your positions with clear buy/sell/hold signals, so that you manage your sizable stock portfolio efficiently as little as 10-minutes a day. Here is what AbleTrend Auto Scan looks like.
Better yet the Guidance chart has become very popular among AbleTrend trading software users, to find meaningful trends in the market, for both intraday trading and swing trading. The benefit of using guidance chart is that it uses longer time frame to define the trend and uses short time frame to get a better entry price when the market pulls back. You can view market with the perspectives of both long term and short term. AbleTrend trading software users love it and said they could not find anything like that in the market.
Here is an example of investing in stock TAL with Daily/weekly guidance chart.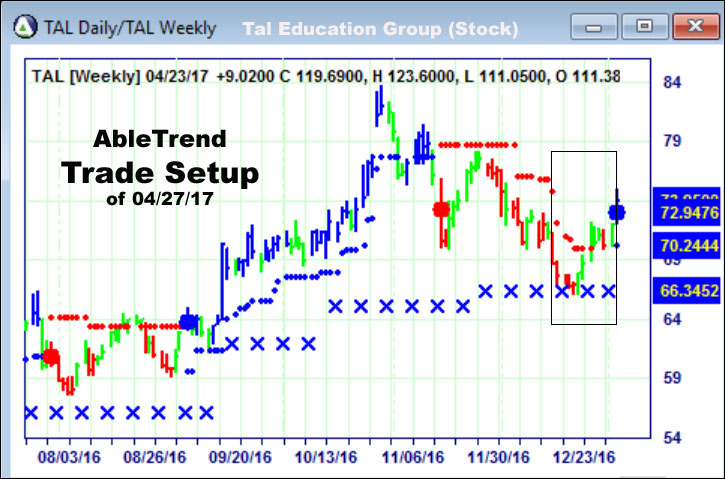 What would do based on this chart?
See the outcome for the result of this trade below.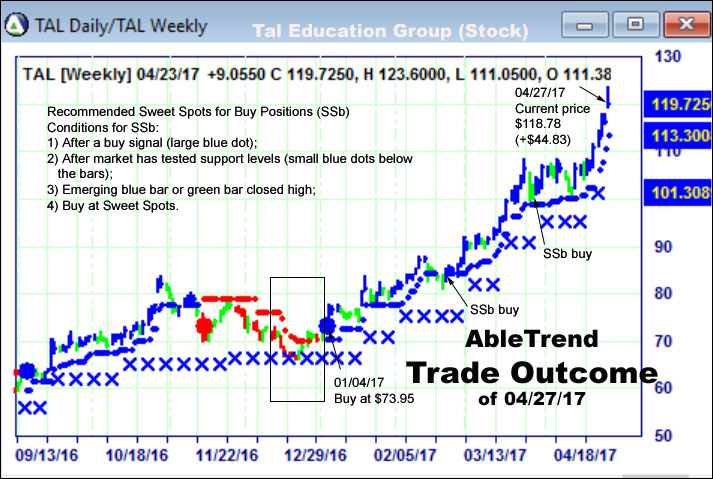 Markets are ever-changing but AbleTrend rules remain the same. Practice one Trade Setup and Outcome a day. Taking small steps, not big ones, are the fastest, and simplest way to build success momentum. Ready? Here are some Trade Setups and Outcomes with AbleTrend indicators applied.
With Warm Regards
Grace Wang
AbleSys Corp.
---