AbleTrend Fresh Signals by 3pm ET October 24, 2022
AbleTrend defines market monthly support with blue Xs which provide an unfair advantage for distinguishing an uptrend from a down trend. TSLA's current price is below the blue Xs therefore it is not ready to buy yet. Below is today's chart for TSLA with AbleTrend signals.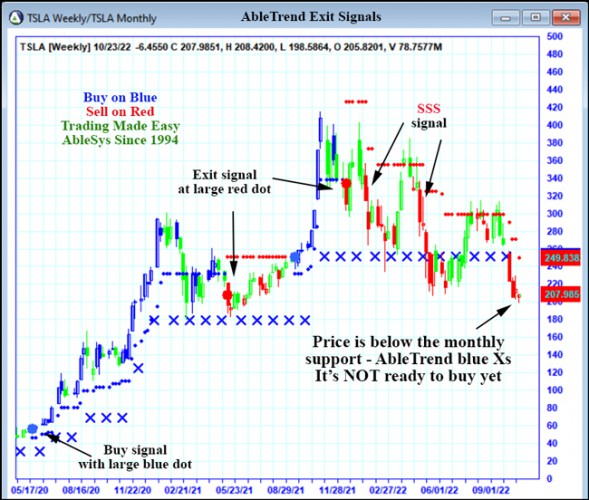 AbleTrend defines market weekly support with blue dots. Strong uptrend stocks pull back to test the weekly support and continue the trend up. AbleTrend sweet spot signals can be found along the way up. You can pyramid and buy more along the way in an uptrend. See today's chart below.
AbleTrend Fresh Stock Signals by 3pm ET, in Progress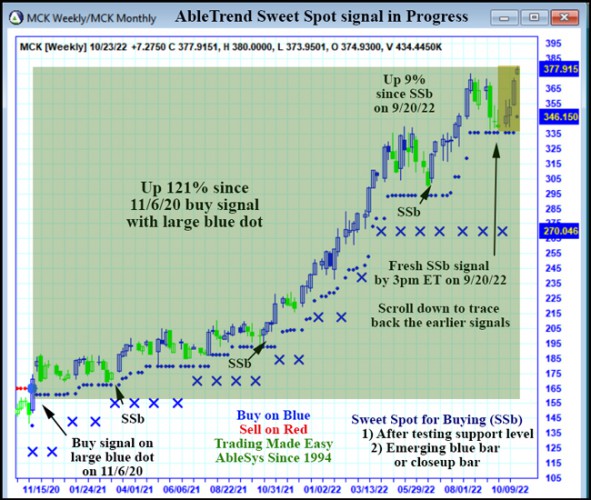 Now You Can Get Latest 5 Days Fresh Signals by Sign Up Here
Join us for Live Analysis & Education
Join us Tuesdays and Thursdays at 5pm ET (2pm PT)
Ron Carbone -Veteran Trader & Educator at AbleSys will go over the latest AbleTrend trades on the chart: Click here to sign up
You can also view the latest recordings on demand by accessing the webinar archive
---