Delve into the Library of Featured Charts
As we observe the rotation out of small caps, the NASDAQ & S&P 500 are pushing into to record highs. This, we attributed to the earnings catalyst, which will continue for the next several weeks.
Thus far, things have broadly been favorable, and we've also seen that reflected in the individual names, as well as the trading signals produced by AbleTrend. You can see some of the signals in our feature chart library, capturing snapshots in the movement, of the developing trends.
Because AbleTrend signals never change after the fact, you can review the signals to see what came before the move, during the move, and after the move.
See these signals & signals on any other publicly traded names, on demand with our
Risk-free 30-day Trial offer. Discover the secret to your future trading success.
Check out the Latest Featured Charts for Stocks & E-minis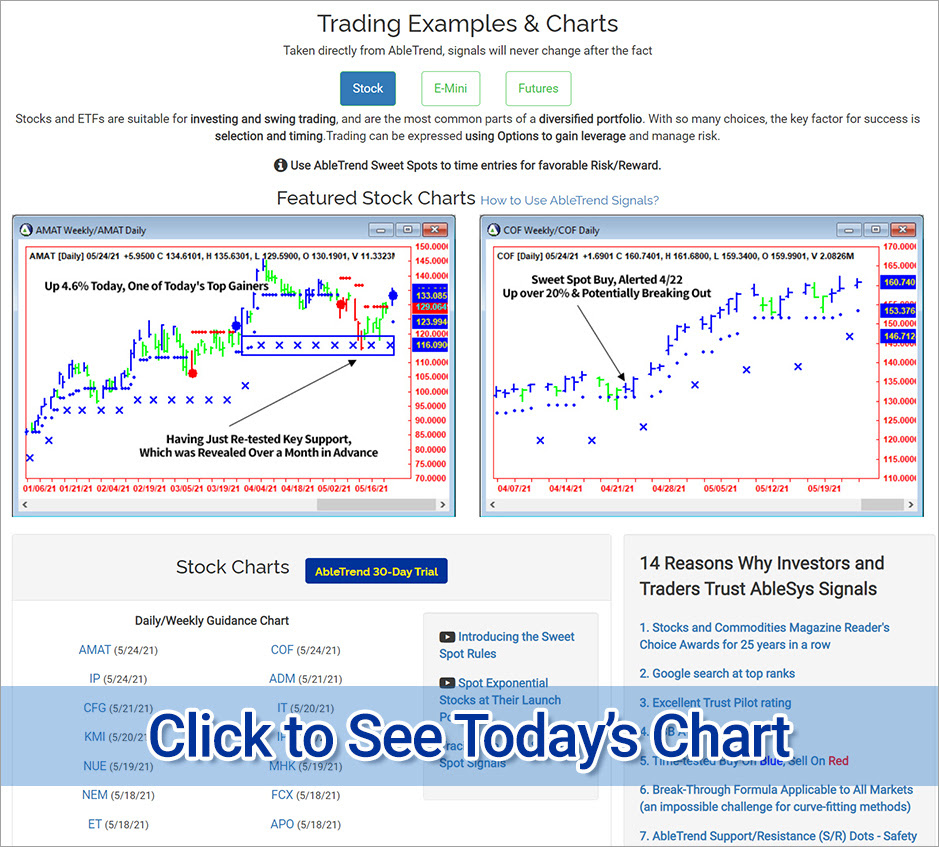 FREE one-on-one consultation
In today's fast changing global market environment, having a million dollars in your account does not necessarily mean security. Rather, true security comes from possessing a winning system and the skills to manage your assets -profitably and prudently – especially in volatile markets like we are currently seeing.
To have a private consultant for building a life-time skill in managing your own financial assets could be expensive, – awfully expensive. That's why our value-added one-on-one consultation service makes owning AbleTrend software a cannot miss opportunity. Request a FREE one-on-one consultation with AbleTrend consultant at ronc@ablesys.com today.
---