Find the True Support Levels of Your Stocks
Support and Resistance Levels are used by many traders and investors to form their trading decisions. However arbitrary Support and Resistance can be harmful and you should never feel comfortable using them.
Instead AbleTrend Support and Resistance levels are defined by the market's own nature which are dynamic and they are calculated automatically with the built-In feedback loop of the software as prices change.
Let me show you how the true market Support and Resistance levels can help your trading. The following are today's super stock charts with AbleTrend signals.
Do you feel that markets are chaotic and you are often on the wrong side of the markets? Do false signals lead you into the wrong entry and exit time and time again? Try AbleTrend the award winner trading software and you will never see the market the same way again.
The best setups are when prices are near the blue Xs because we will know whether we are right or wrong very quickly. If you know when and where to exit you will then have the freedom to enter the market at sweet spots.
If you don't know the true market support levels…then fear will drive you out of market when you should stay, or you will stay in the market too long with losing positions. AbleSys blue dots are clearly showing on your chart, if you can read the chart you could do better than most fund managers.
Check out the Latest Featured Charts for Stocks & E-minis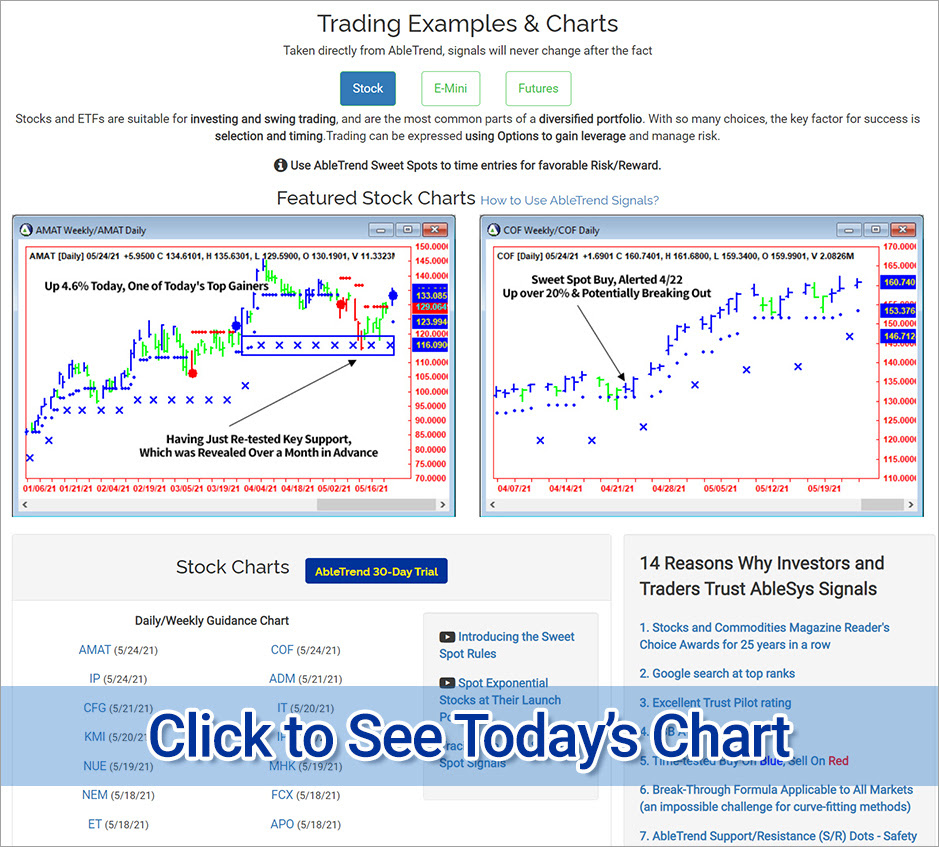 FREE one-on-one consultation
In today's fast changing global market environment, having a million dollars in your account does not necessarily mean security. Rather, true security comes from possessing a winning system and the skills to manage your assets -profitably and prudently – especially in volatile markets like we are currently seeing.
To have a private consultant for building a life-time skill in managing your own financial assets could be expensive, – awfully expensive. That's why our value-added one-on-one consultation service makes owning AbleTrend software a cannot miss opportunity. Request a FREE one-on-one consultation with AbleTrend consultant at ronc@ablesys.com today.
---