An Observation of Recent Market Directions
Today we observed new record highs in the Dow and the Russell, SPX at the time of writing was about flat, and the NASDAQ was down sharply.  This is an interesting signal, but what does it mean?
To start, we currently have NQ trading at AbleTrend support on our daily chart, which means prices may be able to stabilize for a period.  We would expect prices to find support, and bounce slightly, before determining the next leg up or down.
If alternatively, prices continue down through to a deeper level of support, we may expect a short-term reversal signal, but prices would still likely see a bounce up to a newly defined price ceiling.
To put this further into perspective, we can take a step back to consider the story for the market this year.  This year has been all about equities, and recent reports show there is little money left on the sidelines that are not positioned in stocks.  Comparing YTD returns by the major US indices, we see a clear winner: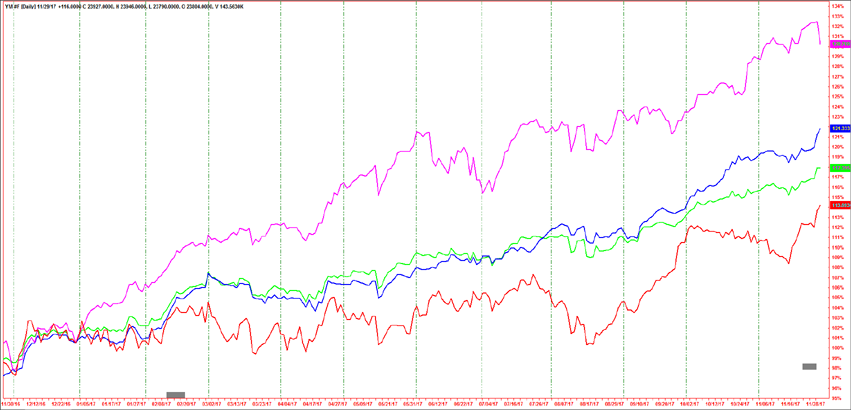 YM(Dow) – Blue, ES – Green, NQ – Pink, TF – Red
NQ (in pink) was up over 32% YTD before this pullback, and has led the market all year.  If we are to believe reports that there is little cash left on the sidelines, we may conclude that investors are heavy into tech.  Some have suggested that if investors wish to continue seeking returns, they may have turn to consider rotating into something else.
Investors may rotate from equities to some other asset class – but today we didn't see assets go into bonds and gold.  In fact, both bonds and gold traded lower today.  Alternatively, investors may rotate into a different sector within equities.  It may be difficult for tech to keep going up at this pace, but Dow and Russell components showed us today that prices can still go higher.
Heads Up at This Market Turning Point with AbleTrend
The important thing going forward is to be alert. a) Pay close attention the support levels of tech stocks, taking partial profits when they hit AbleTrend daily support; b) rotate some funds to stocks in the DOW and Russell with AbleTrend buy signals; c) take advantages with the day-trading volatilities with E-mini markets. Here is today's E-mini NQ day trading guidance chart with today's AbleTrend buy/sell signals that was +86 points using AbleTrend signals.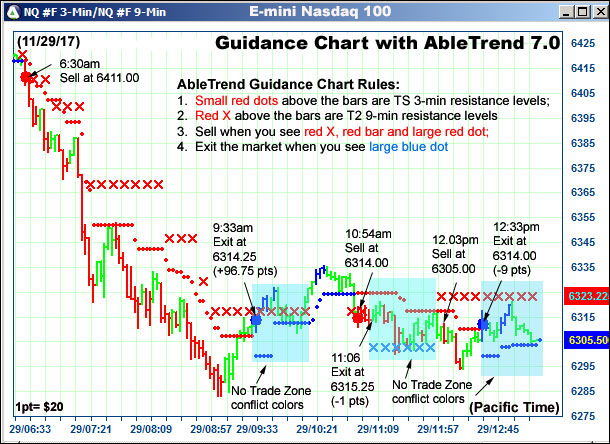 AbleTrend is easy to learn and follow and yet it is very powerful.  This may prove to be one of the most lucrative skills you can learn & the best way to learn a skill is by practicing it. Through guides and tutorials, we will help you prepare for actual trading on the live market so you`ll know how your psychology will react to the experience. This insight is gained only through experience so give AbleTrend a try today.
With Warm Regards
AbleSys Corp.
Grace Wang
gracew@ablesys.com
---