No More Roller Coaster Again in Trading
What's the best price to buy at the dip in the market? How far is too far for the stock pullbacks? When to sit tight with the winners? When to cut the losers short? These are common questions that traders and investors have in mind. 
Trading Like Roller Coaster Without Proper Risk Management
Trader Steve who bought 500 shares of IBM on November 8th, 2016 at the price of $155, by February 2017, the stock went up to $180. Without proper risk management, on the beginning of May 2017, Steve's buy position went down to $150, lower than his entry price. No trader likes to experience a Roller Coaster ride with his or her positions. See the IBM stock chart below.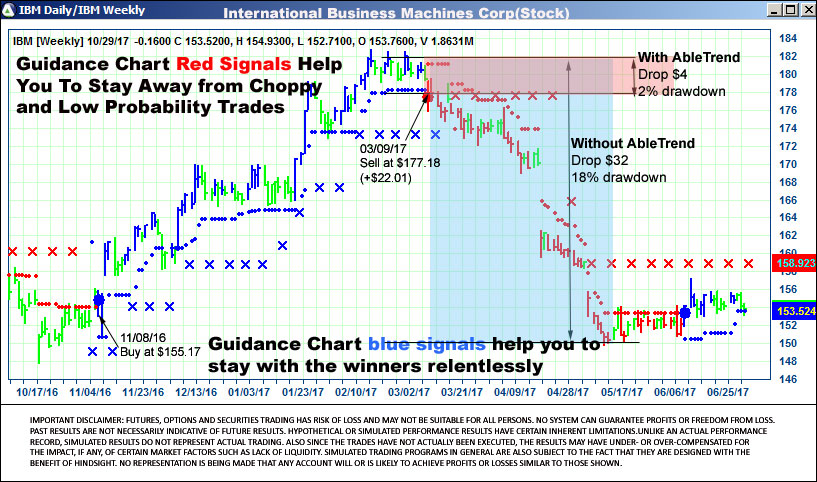 AbleTrend Guidance Chart Rules for Sell Position:
Small red dots above the bars are TS daily resistance levels;
Red X above the bars are T2 weekly resistance levels;
Sell when you see red X, red bar and large red dot;
Exit the market when you see large blue dot
AbleTrend Guidance Chart Rules for Buy Position:
Small blue dots below the bar are TS daily support levels;
Blue X below the bars are T3 weekly support levels;
Buy when you see large blue dot, blue X and blue bar;
Exit the market when you see the large red dot.
As you can see the chart above, AbleTrend helps you to stay away from choppy and down trends with a clear large red dot exit signal. No hesitation, no guess, straight forward signals. You can see a similar situation with AAPL during later October 2012 and early 2013.
You may learn more details about AbleTrend guidance chart with this Free 4-Day Mini-Course the Blueprint for Trading Success ($500 value. Limited offer.)
The best way to learn a skill is by practicing it. Through guides and tutorials, we will help you prepare for actual trading on the live market so you`ll know how your psychology will react to the experience. This insight is gained only through experience so give AbleTrend a try today.
Ablesys Blog
As always, please feel free to forward this email to your friends.
With Warm Regards
AbleSys Corp.
Grace Wang
gracew@ablesys.com
---