Benefits of Using Universal Trading System
Universal Trading System Works in Every Market
AbleTrend is a principle-based system therefore it works in all market conditions – bull or bear; and it works for any market in the world and any time frames, it's universal. It makes no difference whether you are trading bonds, stocks, commodities, OREX, the Eminis, the ETFs… or any other freely traded markets. Following are two examples of recent charts for ES and FOREX.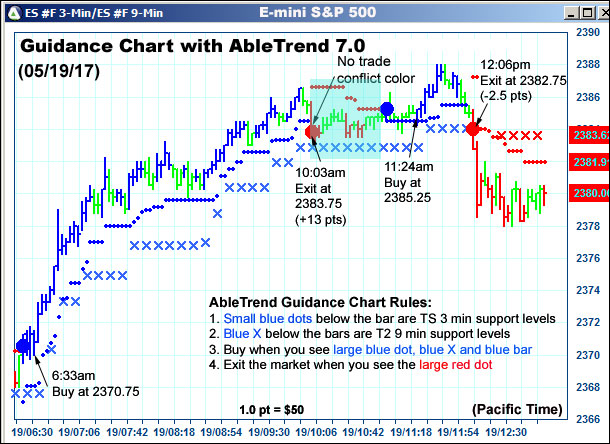 Universal System Is an Antidote to Curve Fitting
If a trading system is designed for a particular market with a particular time interval, the programmer can easily "curve fit" the historical data and come up with an unrealistic, overly optimized program.
A program based on curve-fitting is worthless. Why? Financial markets are dynamic and constantly changing. An algorithm based only on historical data ideally world work well only during that historical period. Only algorithms based on timeless and universal market principles work in today's markets and in all markets, all the time.
Buy One Universal System AbleTrend to Cover All Trading Needs 
You can use AbleTrend trading software to seek profits in any freely traded markets anywhere in the world. You can trade all stocks, Eminis, and futures markets including QQQQ, SPY, DIA, S&P500 index futures, NASDAQ 100 index futures…
You can trade commodity markets like gold, crude oil, natural gas, sugar, silver… You can also trade FOREX any pairs.
That means you only have to buy one system to cover all your trading needs. No need to shell out more money for a different system for every market you trade.
With Warm Regards
Grace Wang
AbleSys Corp.
Gracezh@ablesys.com
---