The Importance of Sticking with The Winners
The stock market surged after President Donald Trump's address to Congress on Tuesday and the Dow skyrockets 300 points higher and breaks above 21,000 as stocks hit all-time highs. Below is the $SPX swing trading chart with AbleTrend Guidance Chart trading signals.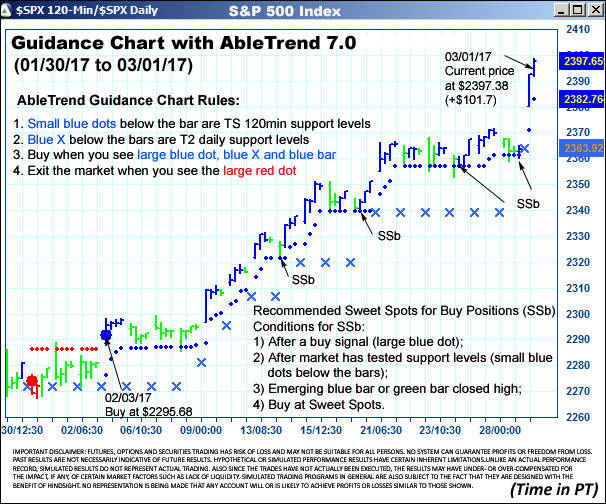 AbleTrend gave a buy signal on Feb. 3, 2017 at 2295 with a gain of $101 without pyramid. AbleTrend trading software provides both 120 minutes and daily support levels each step of the trend. You may add positions at the Sweet Spots as pointed in the chart. Riding on the trend like this is why we are in the business of trading and it is the opportunity that we take risk for.
Is This Rally on Real Thin Ice Or Not?
People keep asking this question along the way with market going up. Most traders and investors took small profits and ran in the fear of losing. The market may offer them a cup of coffee and shakes hands with them going away sour without them participating. But not for AbleTrend trading software users because if they follow the rules of the Guidance Chart they are able to sit tight with the winners and not be scared and were there to enjoy a big winner.
Adding positions with AbleTrend Sweet Spot
AbleTrend users not only will be able to stick with the winners, but also they have more opportunities to add more positions along the way up. You can see the simple rules of Sweet Spot rules in the above chart. The power of the pyramid is enormous.
AbleTrend reveals the true market support levels
Why AbleTrend users can be so fearless? It's all because AbleTrend trading software reveals the true market support and resistance levels. For a buy position the small blue dots below the bars are 120-minute support levels and the blue X are daily support levels. The benefits of knowing support levels are two folds, 1) You will be able to locate the Sweet Spot entries (please see the Sweet Spot rules in the above chart) to minimize the risk of trading; 2) you can cut losses short if the price breaks the support. It's like having a compass sailing in the ocean. 
Do Your Homework!
In order to harvest "effortless rewards" in real trading, you need to put in the effort to do your homework. You need to see enough AbleTrend "hindsight charts" to be convinced that they really work. Then you will have the internal strength to follow the trading signals. Trading can be learned just as driving a car can be learned. With AbleTrend trading can be made just as automatic and just as reliable. 
AbleTrend Guidance Chart Rules Are Simple and Consistent
AbleTrend Guidance Charts consolidate all the market information into clear trade signals that are simple and consistent, so that you can easily learn and master a skill that will serve you well throughout your trading career. 
Get Prepared Now for the Upcoming Market Trends
President Trump's pledge for reforms pushed stocks to record highs. This is good news for traders because nobody can win when the market doesn't move. But how do we recognize real moves from short-term blips? AbleTrend Guidance Charts help you filter out false trading signals in choppy markets. When a real market trend begins, AbleTrend trading software will quickly identify it with multiple time-frame trend alignments, allowing you to trade in harmony with the "Smart Money."
With Warm Regards
Grace Wang
AbleSys Corp.
Gracezh@ablesys.com
---
Comments are closed.