Effective Signals for Catching the Recent Day Trading Trends
Markets have recently provided very good trends for day trading. Markets continue to rally, just as AbleTrend trading software has been signaling. To illustrate, here are the E-mini S&P and NQ day trading charts with AbleTrend Guidance Chart signals applied.
E-mini S&P chart with AbleTrend Guidance Chart signals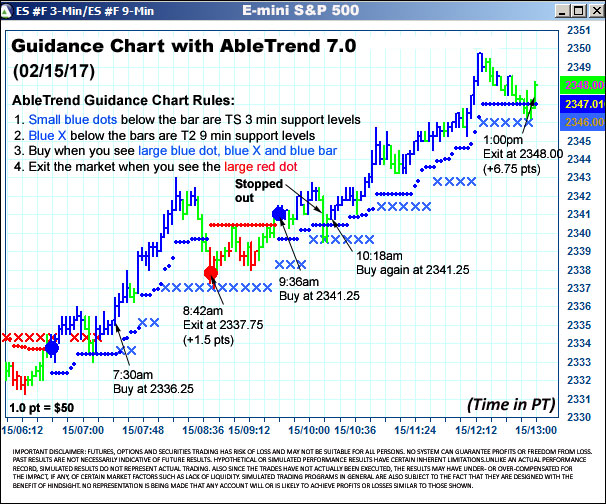 E-mini NQ chart with AbleTrend Guidance Chart signals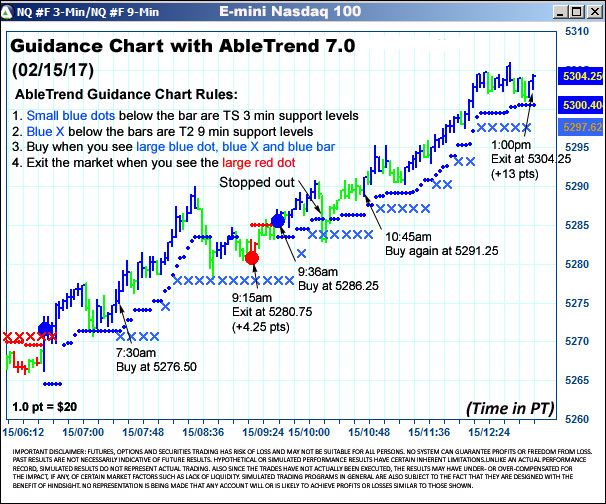 Catching the Trend While Protecting Your Position
One reason why AbleTrend Guidance Charts are popular is that they allow you to catch market trends while showing you how to protect your position. Even before you place your trades, and as you follow each step of the move, each market's Guidance Chart clearly shows you where to place your protective stop and the exact location of market support and resistance levels.
AbleTrend Guidance Chart Rules Are Simple and Consistent
AbleTrend Guidance Charts consolidate all the market information into clear trade signals that are simple and consistent, so that you can easily learn and master a skill that will serve you well throughout your trading career.
Get Prepared Now for the Upcoming Market Trends
President Trump's pledge for "phenomenal" tax reform pushed stocks to record highs. This is good news for traders because nobody can win when the market doesn't move. But how do we recognize real moves from short-term blips? AbleTrend Guidance Charts help you filter out false signals in choppy markets. When a real market trend begins, AbleTrend trading software will quickly identify it with multiple time-frame trend alignments, allowing you to trade in harmony with the "Smart Money."
With Warm Regards
Grace Wang
AbleSys Corp.
Gracezh@ablesys.com
---
Comments are closed.