Among overwhelming information every day, which two information do you really need to make your own successful trading decisions?
Real time (up-to-ticks) market trends with Buy/Sell signals.
Dynamic optimized stops (key support/resistance levels).
ASCTrend - the most important discovery ever made about the market, was first revealed in 1995. The discovery is the early recognition of the market trend coupled with the ability to set optimal stops that escort the trader towards ultimate profit. ASCTrend reveals the fundamental principle of the market move. ASCTrend is a proprietary trading software package, which contains four indicators: ASCTrend1, ASCTrend2, ASCTrend3 and ASCTrendSig indicators.
Please click here if you don't use TradeStation 8, 9, or 10.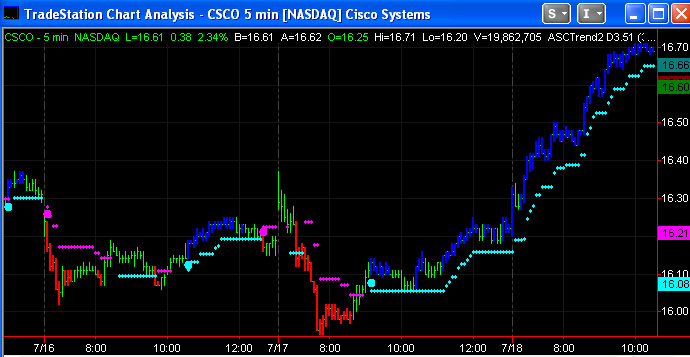 ASCTrend identifies trend direction by color: Blue signals an UP trend, red signals a DOWN trend, and green signals a SIDEWAYS market.
STOPS are indicated by red dots and blue dots. Red dots are sell positions stops for down trend. Blue dots are buy position stops for up trend. AbleTrend stops are designed to help you stay in the big move with a minimum risk, yet not get stopped out.
ASCTrend uses the state of the art features of AbleSys trading platform to generate bar and dot colors on your choice of 1-minute, 5-minute, tick, daily or weekly bar charts.
The Benefits About ASCTrend 3.5
---

Only AbleTrend has won Stocks & Commodities magazine readers' choice awards of triple* trading systems for 27 years in a row (1997 - 2023).
*including stock trading systems, futures trading systems & option trading systems

AbleTrend has been ranked #1 in the Top 10 Most Popular Trading Systems by Stocks & Commodities Magazine
ASCTrend 3.5 is an indicator package for TradeStation 8.0 or 9.0 charting software. All indicators could be overlaid on the TradeStation charts. Since the TradeStation has its own data feed, ASCTrend 3.5 could be used without need of its own data feed. Unlike AbleTrend 7.0, ASCTrend 3.5 will be locked on a PC. That is why one ASCTrend 3.5 license could be run on one PC only. In some cases, one trader may have multiple PCs. We will make special arrangement for trader who wants to run multiple licenses on multiple PCs. Please call 510-495-0976 or send e-mail to
sales@ablesys.com
for further information.